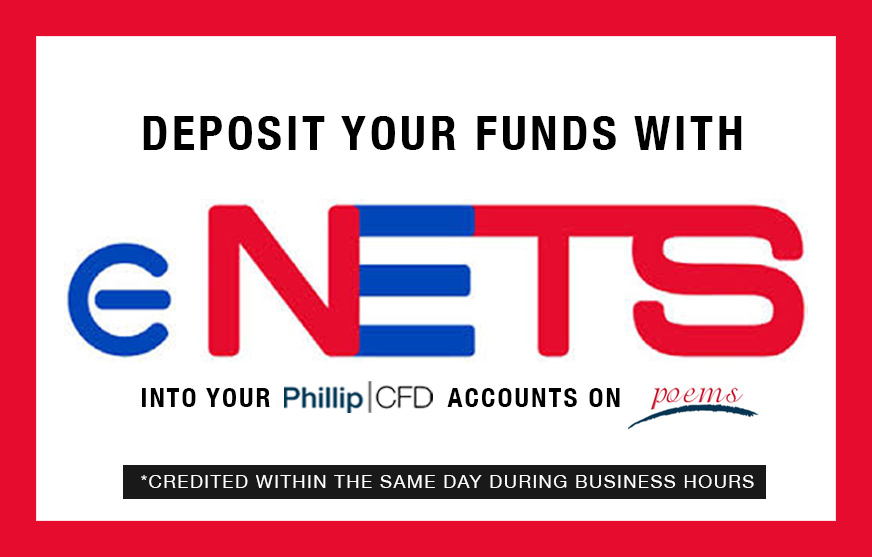 Fund your CFD accounts with eNETS on POEMS 2.0!
Phillip CFD is pleased to announce that eNETS is offically available on POEMS 2.0, and clients are able to deposit their funds into their CFD accounts directly *within the same day now!
How to use this new feature:
Login to POEMS 2.0
Go to Acct Mgmt > Deposit Fund
Select CFD account and indicate the account (in SGD) to transfer
Tick the Terms & Conditions checkbox, then click on the "Continue to eNETS" button
The eNETS transaction page will appear as a pop-up window
Select your bank and continue with the transaction. You will see the confirmation page if the transaction is completed successfully.
*Things to take note:
For business hours (08:45am to 05:00pm, Monday to Friday), deposited funds will be credited on the same day.
For non-business hours, deposited funds will be credited by the next working day.
The maximum transaction amount depends on your account limit and varies across different banks. Please check with your respective bank to ensure successful deposit for high-value transactions.
Minimum amount to deposit is SGD $1000.
eNETS payments can only be made in Singapore dollars through participating banks.