Access the market directly with DMA CFD
As the name suggests, Direct Market Access (DMA) CFD allows investors to have a direct access to the cash market via CFD. When a DMA order for buying long and shorting stocks is submitted to Phillip CFD, a corresponding stock order is sent to the exchange. When the order is filled on the actual exchange, the investor's trading platform would be updated accordingly. Phillip CFD provides DMA CFD on Singapore contracts only.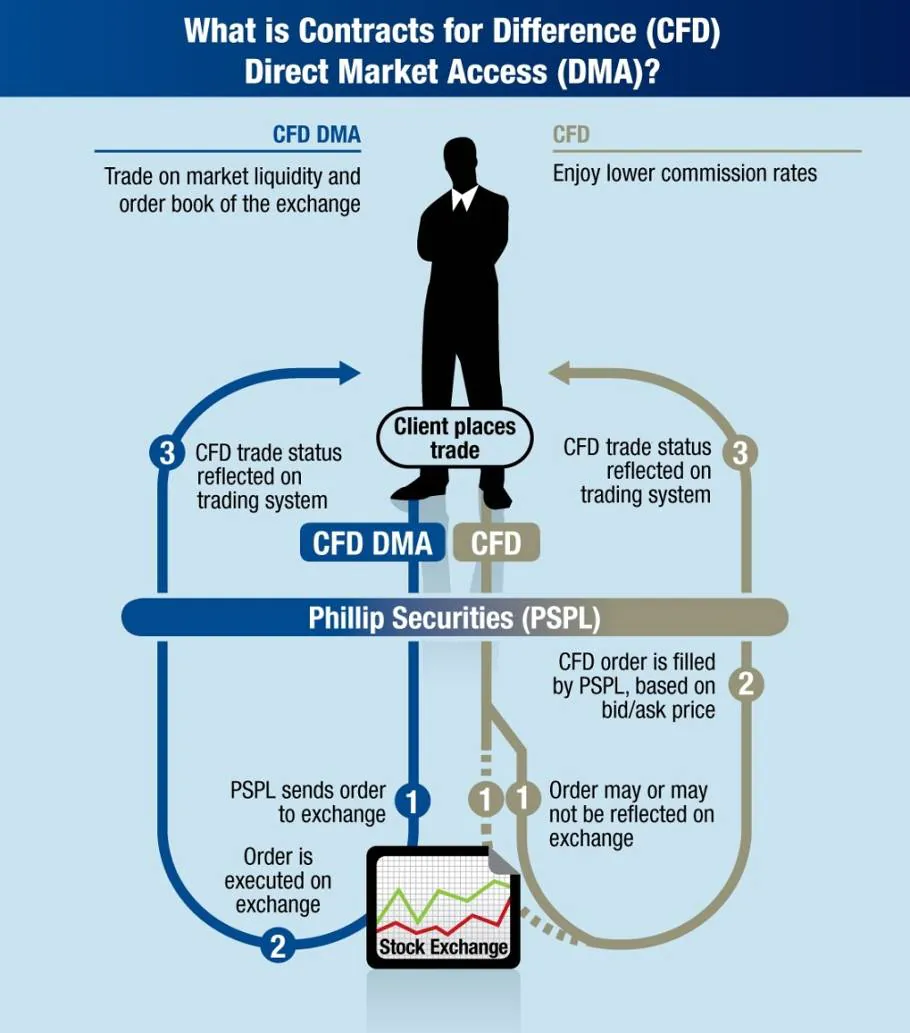 Key differences between DMA CFD and CFD:
Phillip CFD will send the corresponding DMA order to the exchange
Orders for DMA are done based on last done price, based on price/time priority while CFD orders are based on bid/ask prices.
DMA orders can be submitted during the pre-opening and pre-closing periods
Commission rates are lower for CFD
Prices shown on the DMA CFD platform also mirror the cash market prices, which provides you with full transparency and the ability to trade at market prices with no additional spreads. You are able to improve the bid and ask prices by submitting orders at desired price and quantity. Your orders will participate in the order book of the exchange and market liquidity, which makes DMA CFD trading transparent for you. Once a DMA CFD order is submitted, the order would appear in the market depth of the particular counter.
Order Types & Submission
Customers are able to trade DMA CFDs on POEMS 2.0, POEMS Mobile 3.0 (iOS & Android), POEMS Pro and POEMS CFD MT5. There are advanced orders types such as Stop Limit, One-Cancel-Other (OCO), Trailing Stop Limit, If Done, and Contingency to choose from for DMA CFD. Please refer to Phillip CFD Information sheet at the bottom of this page for more information.
Contract List, Specifications & Trading Hours
The details displayed below are indicative only. Please call our CFD dealing desk or use the live chat function to confirm the trading times for the respective markets.
Contract Specifications
Trading Hours

| | |
| --- | --- |
| Pre-open session | 08:30-08:58 |
| Non-cancel period | 08:58-09.00 |
| Trading session | 09:00-12:00 |
| Pre-open session | 12:00 – 12:58 |
| Non-cancel period | 12:58 – 13:00 |
| Trading session | 13:00 – 17:00 |
| Pre-close session | 17:00-17:06 |
| Trade At Close (TAC) session | 17:06-17:16 |
| Close session | 17:16 |

Settlement Currency
Singapore Dollars, US Dollars or Hong Kong Dollars (based on contract traded currency)
Contract Size
Minimum 100 contracts
Margin Requirement
From 10%
Product List
Singapore DMA CFD Product List
Contract Specifications
Trading Hours

| | |
| --- | --- |
| Pre-open session | 08:30-08:58 |
| Non-cancel period | 08:58-09.00 |
| Trading session | 09:00-12:00 |
| Pre-open session | 12:00 – 12:58 |
| Non-cancel period | 12:58 – 13:00 |
| Trading session | 13:00 – 17:00 |
| Pre-close session | 17:00-17:06 |
| Trade At Close (TAC) session | 17:06-17:16 |
| Close session | 17:16 |

Settlement Currency
Singapore Dollars, US Dollars or Hong Kong Dollars (based on contract traded currency)
Contract Size
Minimum 100 contracts
Margin Requirement
From 10%