Technical Analysis: DXY & Gold update – Low interest rate environment set the tune for the precious metal
Posted on 27 Jul, 2020, Monday
The U.S Dollar index fell further by breaking below the 95.00 support level.
Further downside of the dollar to be seen as the world is battling the ongoing COVID-19 pandemic.
The European Union has agreed on a €750bn recovery fund which sees the EUR soaring above 1.16 against the dollar.
Gold has overcome all obstacles by trading above US1,900 before Friday's market close.
With dollar weakening, safe haven asset such as Gold will continue to maintain its bullish outlook.
The main highlight the past week was the rollout of the Eurozone's and United States' aggressive fiscal policy to strengthen their weakening economy. The Eurozone has pledged a total amount of €750bn to rescue smaller economies within the Eurozone, while in the U.S, the White House and Congress has set aside partisan bickering to work together to bring another round of stimulus package.

The hope of a stimulus package brought relief to the U.S market, but economic uncertainty and a low interest rate environment continue to pressure the U.S dollar downwards as there have been outflows of the USD to the emerging markets as well as China (Fig 1).

The uncertainty also resulted in a rise in Gold prices to a historical high which has invalidated the corrective nature of the Monthly wave theory mentioned on 20th July, indicating a gloomy outlook ahead.

Figure 1: Net USD fund outflow is huge in the 2 largest BRIC nation, China and India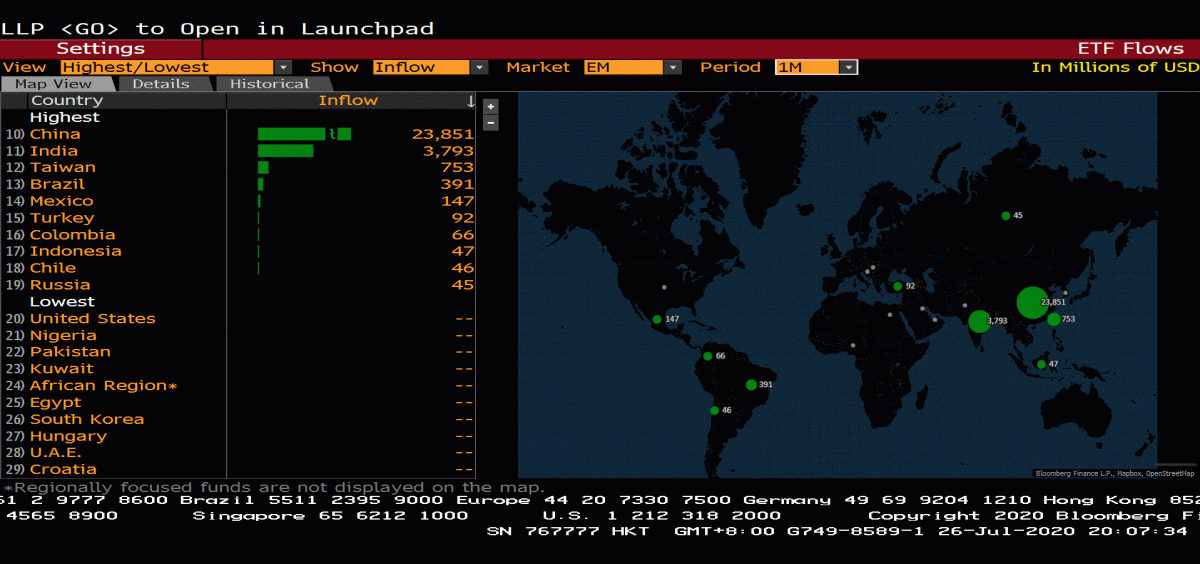 Source: Bloomberg, PSR
Figure 2: Dollar Index – Elliott weekly wave analysis pointing to lower price target at 90.00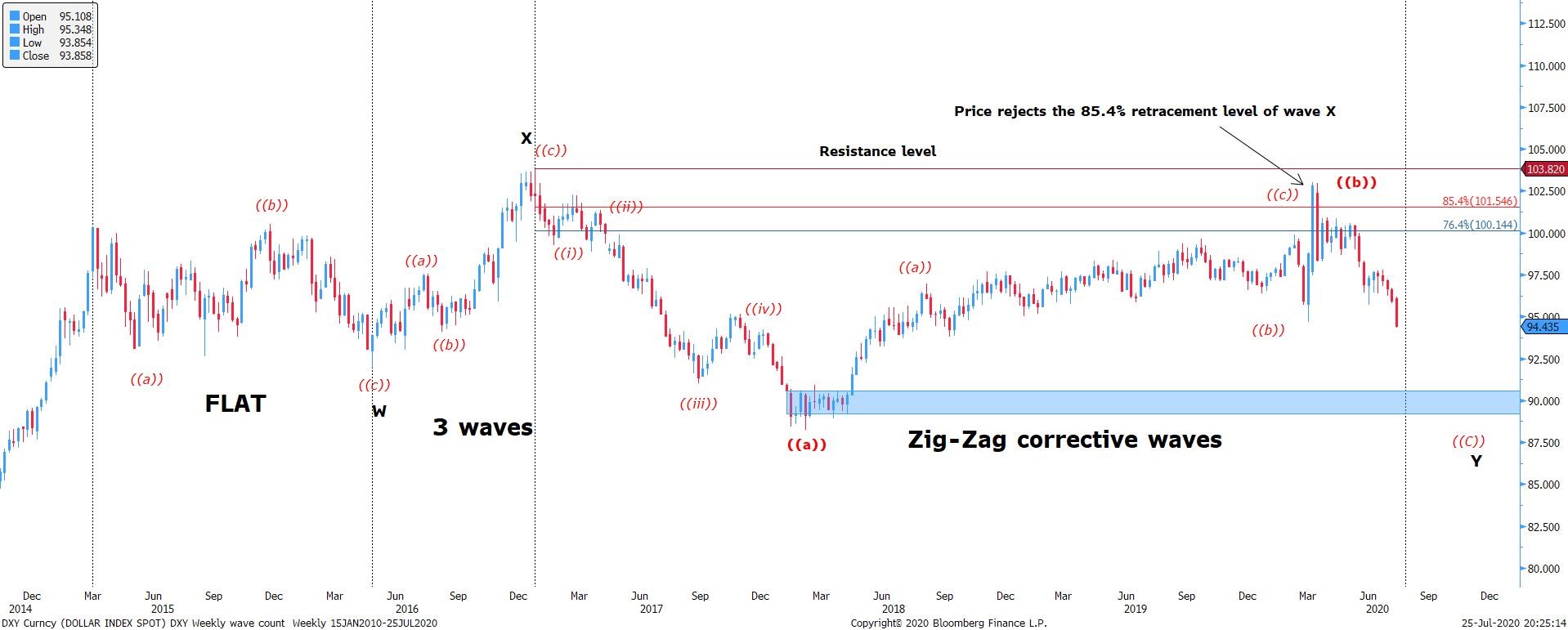 The dollar index has completed almost 80% of the double three corrective waves and is set to test 90.00 in the long run. Current wave analysis also suggest that the last leg of the sub-c wave has begun and is on the way to the 90.00 support region after prices broke below the 95.00 psychological support level.

Figure 3: Dollar Index Daily chart – wave count suggest a strong bearish impulse after 95.00 is invalidated last week




Previous wave count of "ABC" which was highlighted on 20th July has been marked as a 5-wave impulse wave as the 95.00 psychological level has been broken. As such we are looking at a continuation of the 3rd impulse wave. Short-term target is at 92.93 and 91.05, which are the 161.8% and 200.0% expansion target of wave 1-2 respectively.

Bearish death cross of the 200-day and 50-day moving average has further confirmed the strong bearish outlook ahead but we expect a pullback back to the support-turned-resistance zone after prices has reached its target at 161.8% expansion level.

Figure 4: Gold Monthly chart – ABC zig-zag corrective wave might be an expanded/running flat as US$1,900 has been invalidated




Gold's bullish sentiment is more or less cemented as price had traded way past the 85.4% retracement threshold of A. Should August see prices trading above the high of B at US$1,921.50, which happens to be the highest in the past 10 years, then Gold's bullish sentiment will carry on.

Mid-term target of Gold reaching the high as US$2,000 is not too far-fetched after it broke the major resistance level of US$1,921.50. Long-term target of US$2127.58 at 123.6% extension of A will indicate a strong possibility of an expanded or running flat corrective pattern.

*Should Gold reject the US$1,921.15 resistance level, then the next level to be watched is US$1,794.00. Breaking this level will see Gold resuming the sub 5-wave of C.

Figure 5: Gold daily chart – potential upside in play




The daily chart of Gold has indicated the invalidation of the extension level of 200.0% of the previous range but the formation of a daily hanging man signifies a correction which will see prices correct further towards US$1,850.00. Should price correct further, the next rebound will be at the support zone of US$1,762.31-US$1,779.31.



Disclaimer

This material is provided to you for general information only and does not constitute a recommendation, an offer or solicitation to buy or sell the investment product mentioned. It does not have any regard to your specific investment objectives, financial situation or any of your particular needs. Accordingly, no warranty whatsoever is given and not liability whatsoever is accepted for any loss arising whether directly or indirectly as a result of your acting based on this information.

Investments are subject to investment risks. The risk of loss in leveraged trading can be substantial. You may sustain losses in excess of your initial funds and may be called upon to deposit additional margin funds at short notice. If the required funds are not provided within the prescribed time, your positions may be liquidated. The resulting deficits in your account are subject to penalty charges. The value of investments denominated in foreign currencies may diminish or increase due to changes in the rates of exchange. You should also be aware of the commissions and finance costs involved in trading leveraged products. This product may not be suitable for clients whose investment objective is preservation of capital and/or whose risk tolerance is low. Clients are advised to understand the nature and risks involved in margin trading.

You may wish to obtain advice from a qualified financial adviser, pursuant to a separate engagement, before making a commitment to purchase any of the investment products mentioned herein. In the event that you choose not to obtain advice from a qualifies financial adviser, you should assess and consider whether the investment product is suitable for you before proceeding to invest and we do not offer any advice in this regard unless mandated to do so by way of a separate engagement. You are advised to read the trading account Terms & Conditions and Risk Disclosure Statement (available online at www.poems.com.sg) before trading in this product.

Any CFD offered is not approved or endorsed by the issuer or originator of the underlying securities and the issuer or originator is not privy to the CFD contract. This advertisement has not been reviewed by the Monetary Authority of Singapore.