US-China Trade War Timeline: A New Hope?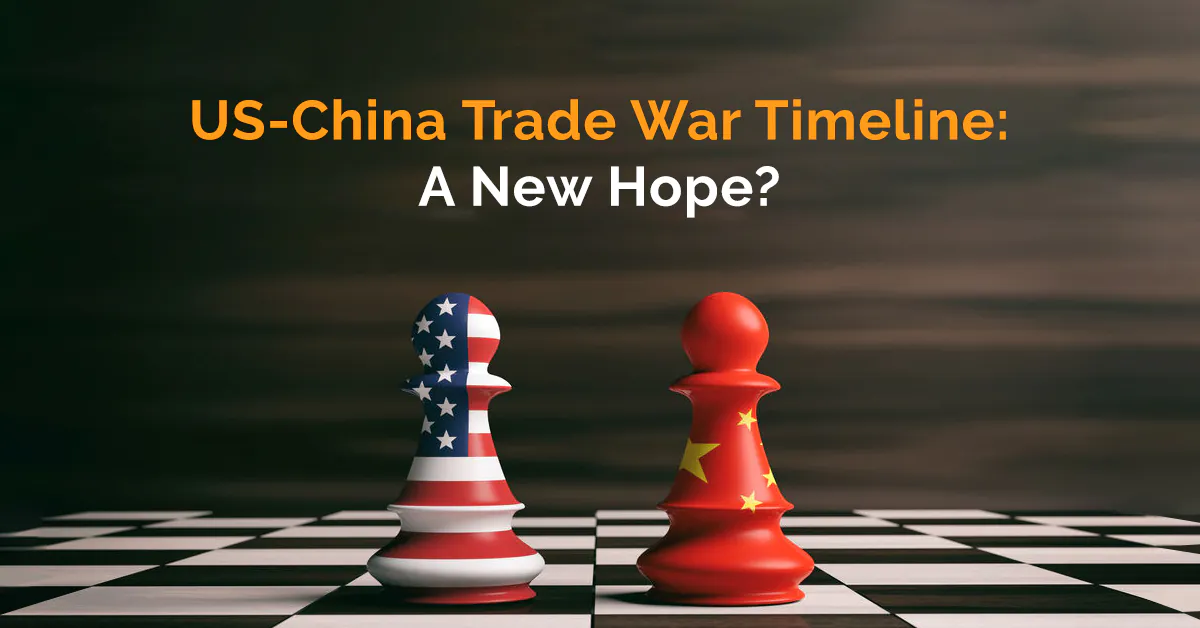 Published On: 29 September 2020 | 5:00 PM
Lester Chua, Dealer
Lester Chua graduated from Singapore Institute of Management (University of London) with a Bachelor's Degree in Accounting and Finance (FCH). He possesses over 5 years of trading and investing experience with in-depth knowledge in stocks and various investment products. In his free time, he researches on value investing, focusing on the fundamental analysis of companies.
This article is part of the US election series brought to you by POEMS. #USElection2020
What the report is about:
Timeline of US-China trade developments from July 2019 to August 2020
2020 US-China outlook
How to gain exposure to US and China markets
Phase 1 of the US-China trade deal was signed under the old normal, when additional tariffs could be absorbed by both sides. Since then, Covid-19 has turned the world topsy-turvy and overshadowed everything else. US-China relations have also deteriorated to below pre-trade-deal levels.
With US presidential elections round the corner, President Trump will likely ratchet up the heat on China to widen his appeal with his brand of populism. A Biden win, however, may well alter the course of relations. While the world watches in anticipation, check out our latest summary of trade developments from 2019 to 2020. Our article on trade developments from January 2018 to June 2019 can be found here.
2019 - silver lining at the end of the year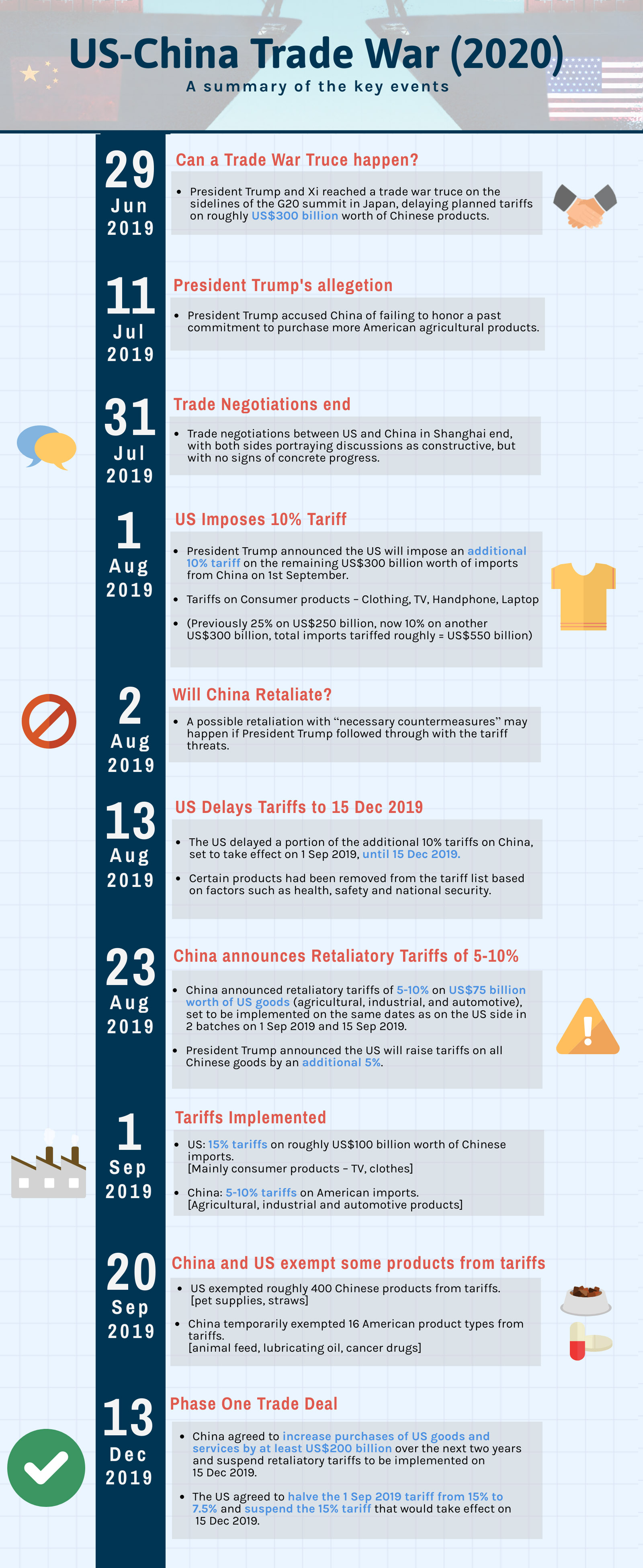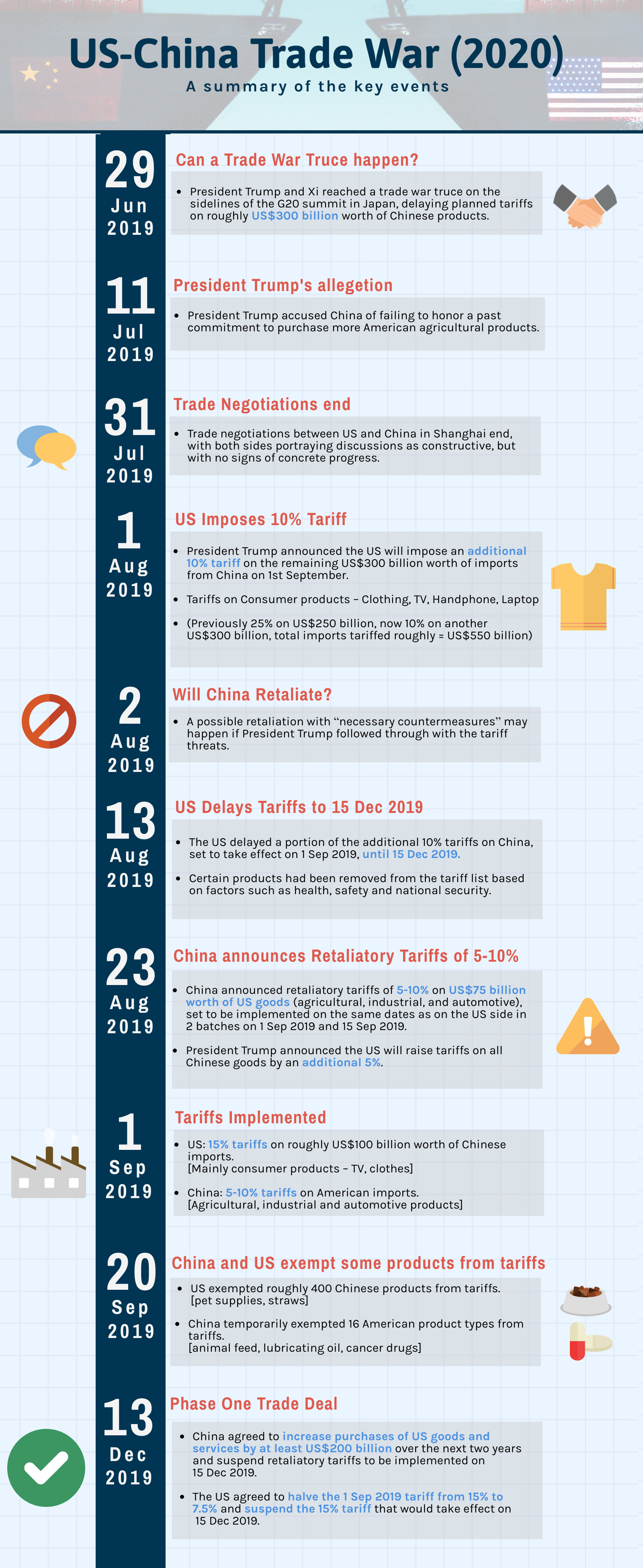 2020 - a new hope?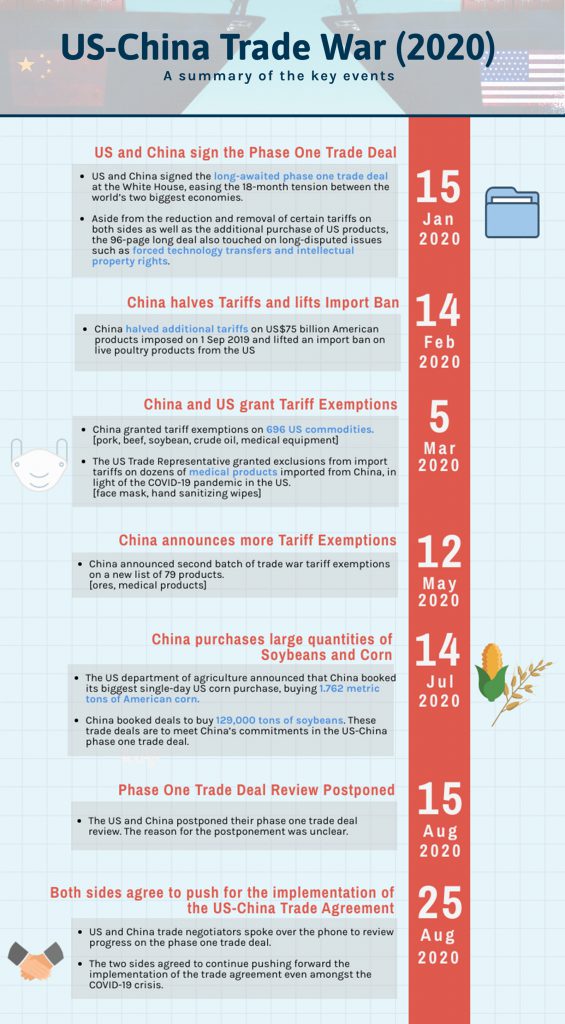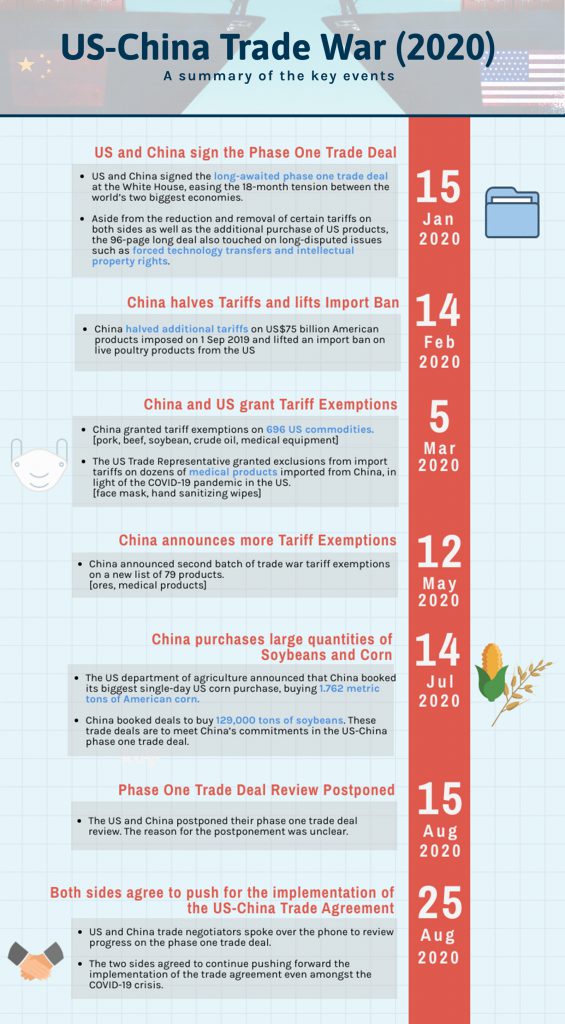 US-China outlook
The coming elections could be a crux for trade relations. If President Trump serves a second term, China is likely to face additional pressure, especially in the tech space. If Biden takes over, he would face the challenge of having to differentiate his China policy from Trump's. Possible moves include getting rid of Trump's policies to show goodwill, since the Democrats have long stood for stronger US-China relations. With further progress on trade talks unlikely due to the Covid situation, we can only wait and see.
What you can do
Investors can gain exposure to the upside and downside of markets, by hedging their positions with a wide range of World Indices Contracts For Differences (CFDs) which allows you to track and trade the underlying Index. These include the Wall Street Index CFD, China A50 Index CFD, US Tech 100 Index CFD and US SP 500 Index CFD. Alternatively, there is a whole range of equity CFDs under US Equity CFDs and China Equity CFDs. Speak to your Phillip Capital consultant today for details or drop us an email at cfd@phillip.com.sg.
Gain exposure to US & China markets with our new USD/CNH FX CFD pair!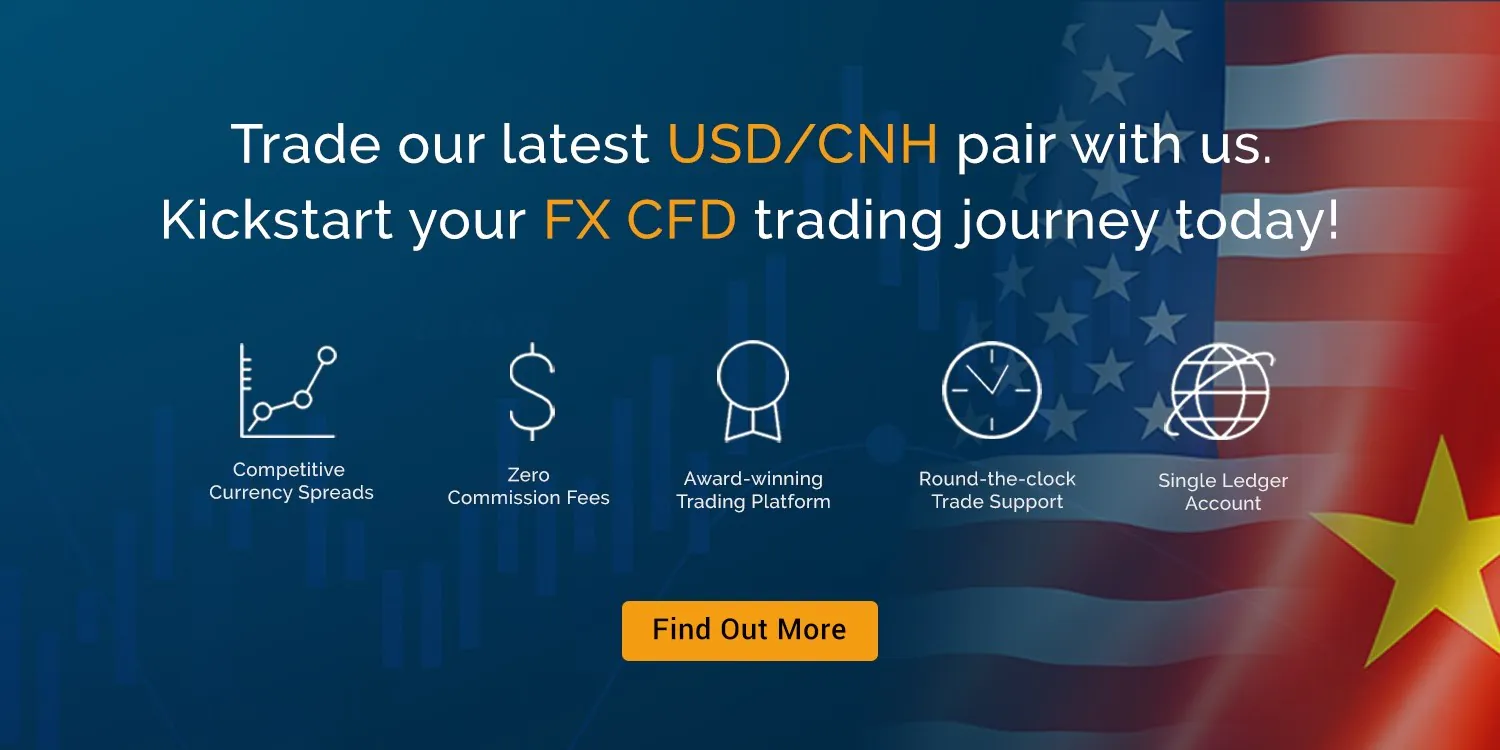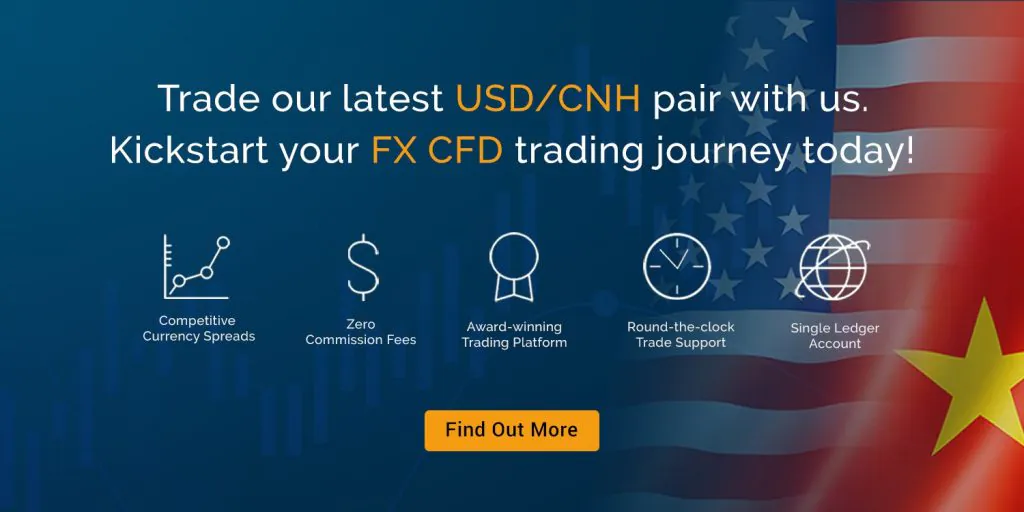 Another way to gain exposure to both the US and China markets is via our recently launched USD/CNH FX CFD pair.
Forex CFDs or FX CFDs, allow you to participate in the price movements of an underlying forex (FX) pair. It is the exchange of one currency for another at a current quoted/market price where it is always traded in pairs. The FX market is open 24 hours a day, five days a week. It is the world's largest market in terms of daily transaction volumes, providing high liquidity for trading.
To understand more about the benefits of FX CFD trading, check out our articles, "What is FX CFD & Why You Should Trade Them"  and "A Beginner's Guide to Profit from FX Swap Points".
Gain access to a wide variety of currency pairs and trades across 36 FX pairs in total. Enjoy up to 20 times leverage, tight spreads and zero commissions when you trade FX CFDs with us!
https://www.china-briefing.com/
https://www.scmp.com/
https://markets.businessinsider.com/
Disclaimer
This material is provided to you for general information only and does not constitute a recommendation, an offer or solicitation to buy or sell the investment product mentioned. It does not have any regard to your specific investment objectives, financial situation or any of your particular needs. Accordingly, no warranty whatsoever is given and not liability whatsoever is accepted for any loss arising whether directly or indirectly as a result of your acting based on this information.
Investments are subject to investment risks. The risk of loss in leveraged trading can be substantial. You may sustain losses in excess of your initial funds and may be called upon to deposit additional margin funds at short notice. If the required funds are not provided within the prescribed time, your positions may be liquidated. The resulting deficits in your account are subject to penalty charges. The value of investments denominated in foreign currencies may diminish or increase due to changes in the rates of exchange. You should also be aware of the commissions and finance costs involved in trading leveraged products. This product may not be suitable for clients whose investment objective is preservation of capital and/or whose risk tolerance is low. Clients are advised to understand the nature and risks involved in margin trading.
You may wish to obtain advice from a qualified financial adviser, pursuant to a separate engagement, before making a commitment to purchase any of the investment products mentioned herein. In the event that you choose not to obtain advice from a qualified financial adviser, you should assess and consider whether the investment product is suitable for you before proceeding to invest and we do not offer any advice in this regard unless mandated to do so by way of a separate engagement. You are advised to read the trading account Terms & Conditions and Risk Disclosure Statement (available online at www.poems.com.sg) before trading in this product.
Any CFD offered is not approved or endorsed by the issuer or originator of the underlying securities and the issuer or originator is not privy to the CFD contract. This advertisement has not been reviewed by the Monetary Authority of Singapore (MAS).