US Election 2020: Understanding the Impact on the Tech Sector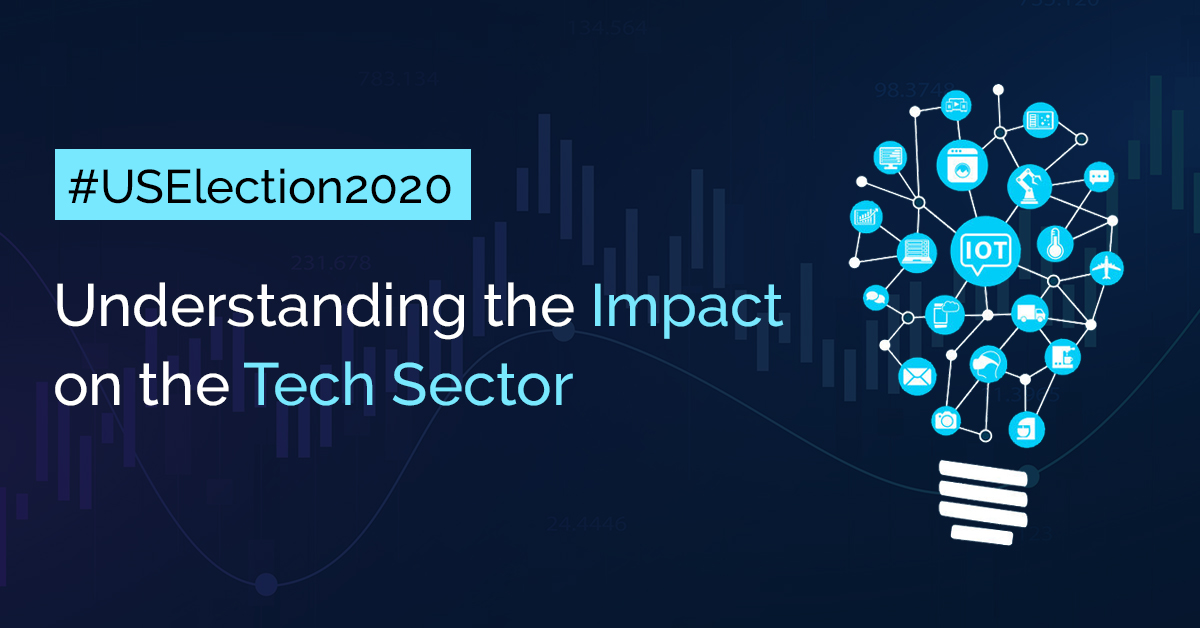 Published On: 15 October 2020 | 12:00 PM
Sun Wanxin, Dealer
Sun Wanxin graduated from Singapore Management University with a Bachelor's Degree in Business Management. As a member of the largest dealing team in Phillip Securities, she focuses on the Hong Kong market and analyses products from both a technical and fundamental perspective. She also researches on the Fintech industry during her free time.
This article is part of the US Election series brought to you by POEMS. #USElection2020. 
What our report is about:
Both Biden and Trump intend to tighten regulations on the tech sector
Spending on physical and telco infrastructure is also expected to increase
Gain exposure to both the tech and infrastructure sectors through ETFs and CFDs  
In our previous article, we compared the tax policies of Trump and Biden and their impact on markets. Today, we look at their views on the tech sector.
The US stock market has been fluctuating due to The Fed's Monetary Policy. We have seen large fund inflows into the tech sector in recent months as tech was seen as "defensive" in a COVID-19 environment. However, we should be well aware of the risks of political instability and possibility of another market sell-off. Policies on tech have attracted much debate and it remains to be seen if tech stocks can continue their dizzying rally since March 2020.
Tightening Regulations on Tech Industry & Social Media
If they don't agree on anything else, there is at least one area where Biden and Trump seem to see eye to eye on: the need to strengthen antitrust investigations and increase content-censorship obligations for Internet platforms.
Both have intentions to repeal Section 230 of the Communications Decency Act, which protects social-media companies such as Facebook and Twitter from legal liabilities for third-party content. Biden previously slammed these tech giants for "propagating falsehoods they know to be false" while Trump has aggressively pushed for a repeal of Section 230 on social media during his term.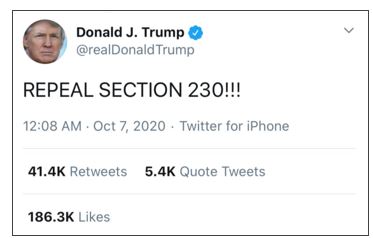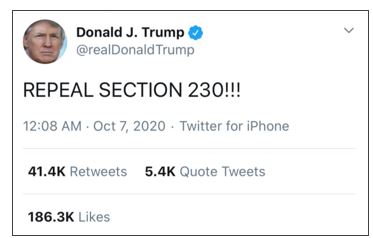 Source: @realDonaldTrump (Twitter)
In September, tech stocks led the price shrinking in US markets, as investors turned wary over overvaluations and became risk-averse. Election campaigning had raised concerns about antitrust regulations and a potential break-up of Big Tech.
"Big Tech" refers mainly to Alphabet, Amazon, Facebook, Apple and Microsoft. These are the five most valuable tech companies by market capitalization. They account for almost 20% of the S&P 500's market value. Both Trump and Biden are worried that Big Tech may compress the growth space of small-cap tech companies and entrench oligopoly in the industry.
Trump
Congress started antitrust investigations of Facebook, Amazon, Apple and Alphabet during Trump's current term. We expect Trump to continue these investigations and crack down on Big Tech companies. However, his loose corporate tax policies may help Big Tech recover from COVID-19 in the short term. This may boost Big Tech's stock performances.
Biden
Biden has an even stronger impulse than Trump to break up Big Tech. Other than antitrust policies, his proposed reform of corporate taxes will require Big Tech names like Amazon to pay more taxes. At the same time, he intends to support the growth of small and medium-sized new tech companies. If he wins and the Democrats make a clean sweep of the House, higher taxes may squeeze Big Tech's profitability. There is, however, another scenario. The market may not take an election of Biden negatively if the Democrats cannot totally control the Senate, as it will be more difficult to legislate higher corporate and capital-gain taxes.
Data Privacy
Data privacy is another political hot potato. This comes as no surprise as personal information is increasingly vulnerable to breaches due to a proliferation of apps and software that collects personal data. Two years ago, the EU launched the very first General Data Protection Regulation (GDPR). This raised global awareness of data privacy. Following its move, various governments began to take data-privacy regulation seriously. Biden does seem to support the idea of GDPR for the US while Trump is concerned that regulation may impede criminal investigations as the US government will not be able to access data easily. The backdoor fight between Apple and Washington DC is one example.
Trump has also been paying close attention to user-data outflow to foreign companies, purportedly on national-security grounds. Notably, he has banned popular apps such as Tik Tok and WeChat in the US. Foreign tech companies like Alibaba may thus face more restrictions in expanding in the US, which could significantly weaken their stock performances.
Infrastructure & 5G
While both intend to bump up infrastructure spending, their focus differs. Biden's infrastructure stimulus package is part of a US$2tr Climate Plan which emphasizes the Green Economy and Smart City. Trump plans to introduce a new US$1tr infrastructure plan designed for 5G wireless and rural broadband. No matter who gets elected, the telco sector (e.g. AT&T) is expected to benefit from both broadband and 5G infrastructure construction. Chip suppliers such as Qualcomm may also benefit from a 5G push.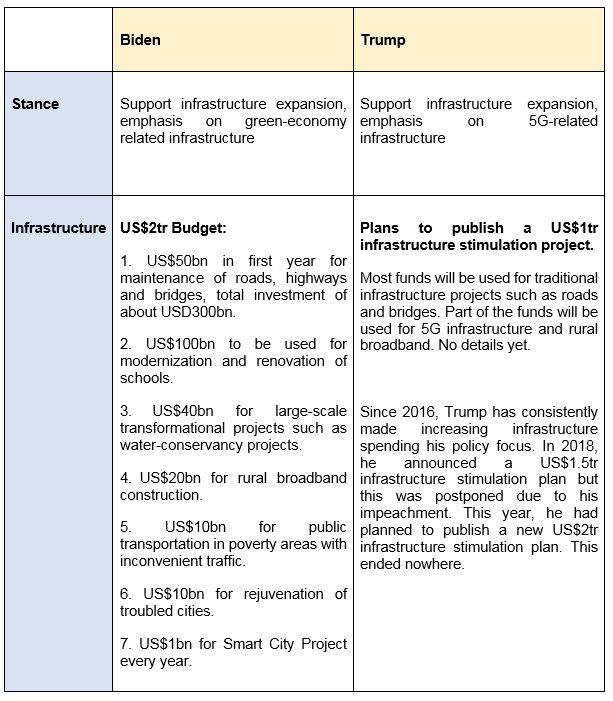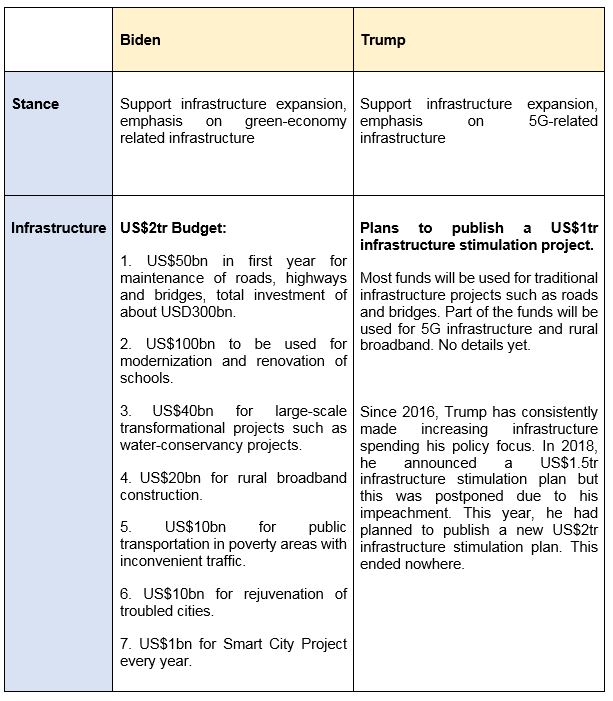 Gain exposure through ETFs & CFDs on POEMS
Who do you think will win the election?
Have a calculated guess but not sure how to invest? Why not gain exposure to selected investment themes via ETFs or CFDs? Table 1 illustrates the different thematic counters that POEMS offers.


Table 1
As the US election draws near, market volatility is expected to increase. Traders can consider trading CFDs to hedge their portfolio positions.
Contrary to popular opinion, Contracts for Differences (CFDs) are not just for technical traders. Long-term investors can utilize them to hedge against unforeseen events and uncertainties. When one foresees rising uncertainty and volatility in the market, one can enter into a CFD contract to hedge his or her investment positions.
CFD World Indices and Commodities are ideal hedging tools for equities. This is due to their cost effectiveness and correlations.
One can use CFDs as a hedge in the following two scenarios:
1) When the price of your existing position has already moved / is moving against you.
2) When you anticipate future gains in your existing positions to be marginal due to increasingly negative market sentiment.
For a guide on using CFDs for hedging, check out our detailed example at the bottom of this article.
Before one hedges, it is important to know which assets to use to hedge. Assets that have a positive correlation to your positions are used as an opposing hedge (Short). Assets with a negative correlation to your positions are used as a same-side hedge (Long). However, do note that it is not possible to perform a perfect hedge.
Stay tuned for our next US Presidential Election series on the Energy sector!
[1] https://graphics.reuters.com/USA-ELECTION/POLICY/ygdpzwarjvw/
[2]https://www.reuters.com/article/us-usa-election-tech-factbox-idUSKBN23839S
[3]https://www.cnet.com/news/microsoft-can-identify-deepfakes-now-just-in-time-for-the-2020-us-election/
[4]https://www.wsj.com/articles/what-a-biden-harris-white-house-could-mean-for-tech-policy-11597358935
[5]https://www.wsj.com/articles/where-trump-and-biden-stand-on-big-tech-11600335000
Disclaimer
This material is provided to you for general information only and does not constitute a recommendation, an offer or solicitation to buy or sell the investment product mentioned. It does not have any regard to your specific investment objectives, financial situation or any of your particular needs. Accordingly, no warranty whatsoever is given and not liability whatsoever is accepted for any loss arising whether directly or indirectly as a result of your acting based on this information.
Investments are subject to investment risks. The risk of loss in leveraged trading can be substantial. You may sustain losses in excess of your initial funds and may be called upon to deposit additional margin funds at short notice. If the required funds are not provided within the prescribed time, your positions may be liquidated. The resulting deficits in your account are subject to penalty charges. The value of investments denominated in foreign currencies may diminish or increase due to changes in the rates of exchange. You should also be aware of the commissions and finance costs involved in trading leveraged products. This product may not be suitable for clients whose investment objective is preservation of capital and/or whose risk tolerance is low. Clients are advised to understand the nature and risks involved in margin trading.
You may wish to obtain advice from a qualified financial adviser, pursuant to a separate engagement, before making a commitment to purchase any of the investment products mentioned herein. In the event that you choose not to obtain advice from a qualified financial adviser, you should assess and consider whether the investment product is suitable for you before proceeding to invest and we do not offer any advice in this regard unless mandated to do so by way of a separate engagement. You are advised to read the trading account Terms & Conditions and Risk Disclosure Statement (available online at www.poems.com.sg) before trading in this product.
Any CFD offered is not approved or endorsed by the issuer or originator of the underlying securities and the issuer or originator is not privy to the CFD contract. This advertisement has not been reviewed by the Monetary Authority of Singapore (MAS).