What is a Santa Claus Rally?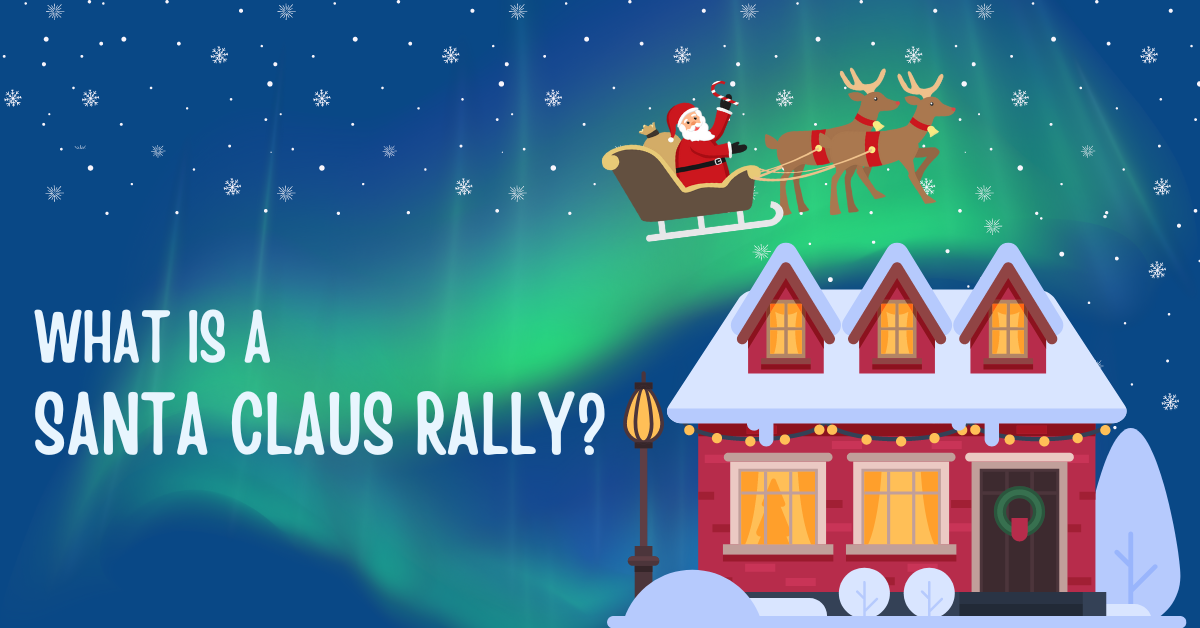 Chua Minghan, Manager, Dealing
Chua Minghan graduated from the National University of Singapore with a Bachelor's degree in Economics. He is passionate about education and went on to get a post-grad Diploma in teaching. His vision is to educate clients to make informed decisions for their trading and investments. 
Minghan enjoys learning fundamental analysis, technical analysis, and strives to use data analysis to improve his trading skills.
Benjamin Tay, Dealer
Benjamin graduated from the State University of New York at Buffalo with a Bachelor's degree in Business Administration. He believes that a strong foundation is absolutely necessary to succeed in the financial markets. Therefore, he enjoys sharing his knowledge and experience to help others succeed.
In his free time, he enjoys reading books on business, fish keeping and spending time with his family.
Elston Soares is an editor with the Phillip Securities Research team.
What is a Santa Claus Rally?
It's time: the 'Mariah Carey Season' has begun. Times flies doesn't it? We're already in December, the month where Santa and his reindeers start popping back into our minds again. Since we're at the topic of Santa, have you ever heard of a Santa Claus rally? A Santa Claus rally refers to gains in the US stock market that often takes place towards the end of December [1].
Specifically, the rally describes a sustained increase in the stock market, that occurs in the week leading up to 25 December. However, there seems to be some disagreement over whether these rallies happen in the week leading up to Christmas, or the week after Christmas (until 2 January).
Looking at past price history, the week after Christmas is notoriously quiet where prices tend to move sideways, in very narrow ranges. This makes sense if you think about it. Many traders take care of their year-end position adjustments the week before Christmas, while there is still liquidity. This lull period is most likely due to the holiday break between Christmas and the New Year. As such, for the purpose of this article, we will be referring to the week leading up to 25 December, as the week for a potential "Santa Claus rally [2]" to occur.
Let us now zoom into what the driving forces of a Santa Claus rally could be. Christmas is a time for celebration, a season where most will indulge in food, drinks and make merry. From a consumption and stock market standpoint, this drives up demand for food, gifts and entertainment services. Therefore, companies who supply such staples and discretionary spending will most likely produce good returns during this period.
This is also the period where Black Friday comes in play. Black Friday falls on the day after Thanksgiving, coincidentally falling on a Friday this year (25 November 25), further encouraging spending [3].
Based on previous years, most Black Friday sales begin on or even before Thanksgiving Day. It might even extend past the Black Friday weekend, into Cyber Monday. Pre-Black Friday deals start popping up in early November — some even as early as October. Given the prevalence of early sales in 2021, we expect to see plenty of retailers offering week-long and even month-long Black Friday sales this year.
While Black Friday sales could impact the Santa Claus rally, 2022 is not a typical year, given all the challenges the world has faced since 2020. With that in mind, what are some issues, we can expect to see this year?
According to blackfriday.com we could see:
More in-store shopping
Some supply chain issues – but less than that of 2021
Sales continuing to start early in the season
The impacts of inflation
Growth in resale retailers and trade-in programs
Retail memberships gaining prominence
Buy now, pay later programs becoming more popular
But there are also other reasons for the Santa Claus rally, according to The Motley Fool
Trading volume tends to be low since institutional investors usually take the week after Christmas to have a break. The market may be more volatile as retail investors tend to be more bullish.
Investors buy stocks ahead of an anticipated rally in January, known as the January effect, which may come from reinvesting money after tax loss harvesting in December.
Investors may have already started to reinvest tax loss harvesting money, at the end of December.
So, where should you invest your monies if you would like to ride on the 'Santa Claus rally' wave?
If you are aiming to ride on the consumption wave, which involves consumer staples and discretionary spending, here are three ETFs (Exchange-Traded Funds) you could look at:
XLP – Consumer Staples Select Sector SPDR Fund
Among its top holdings are Procter and Gamble, PepsiCo and Coca-Cola.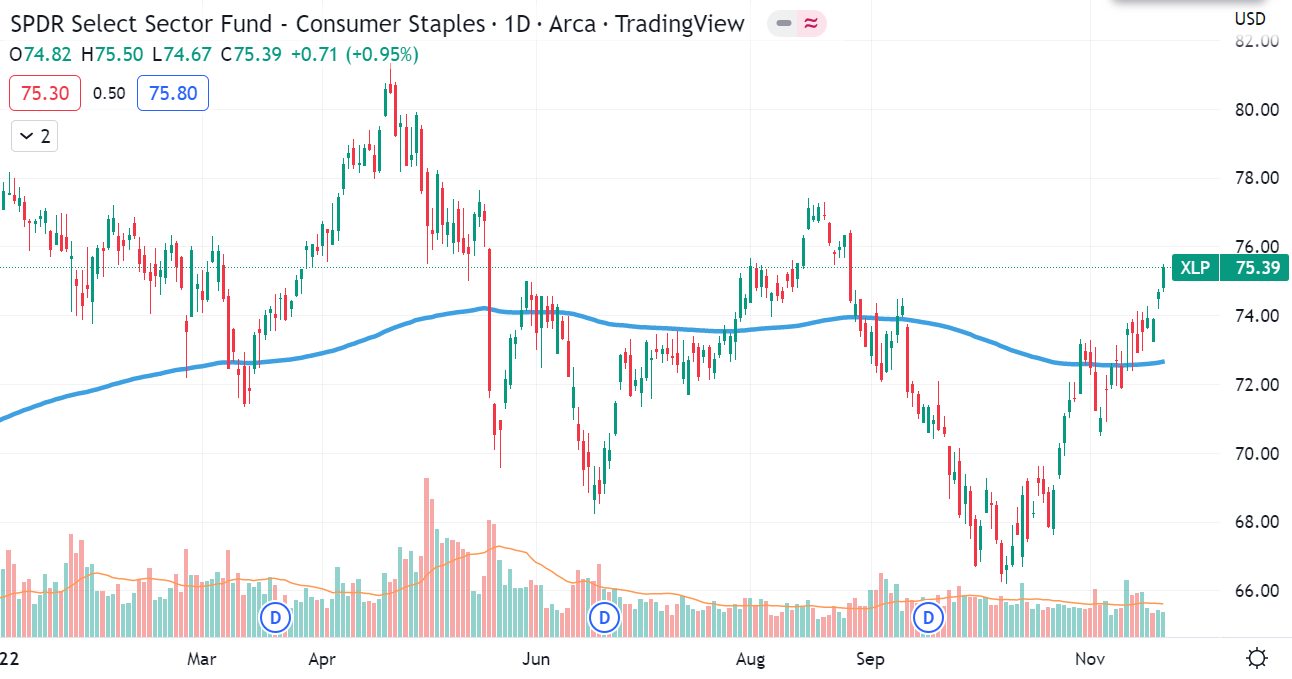 XLY – Consumer Discretionary Select Sector SPDR Fund
Among its top holdings are Amazon, Tesla, Home Depot and McDonalds.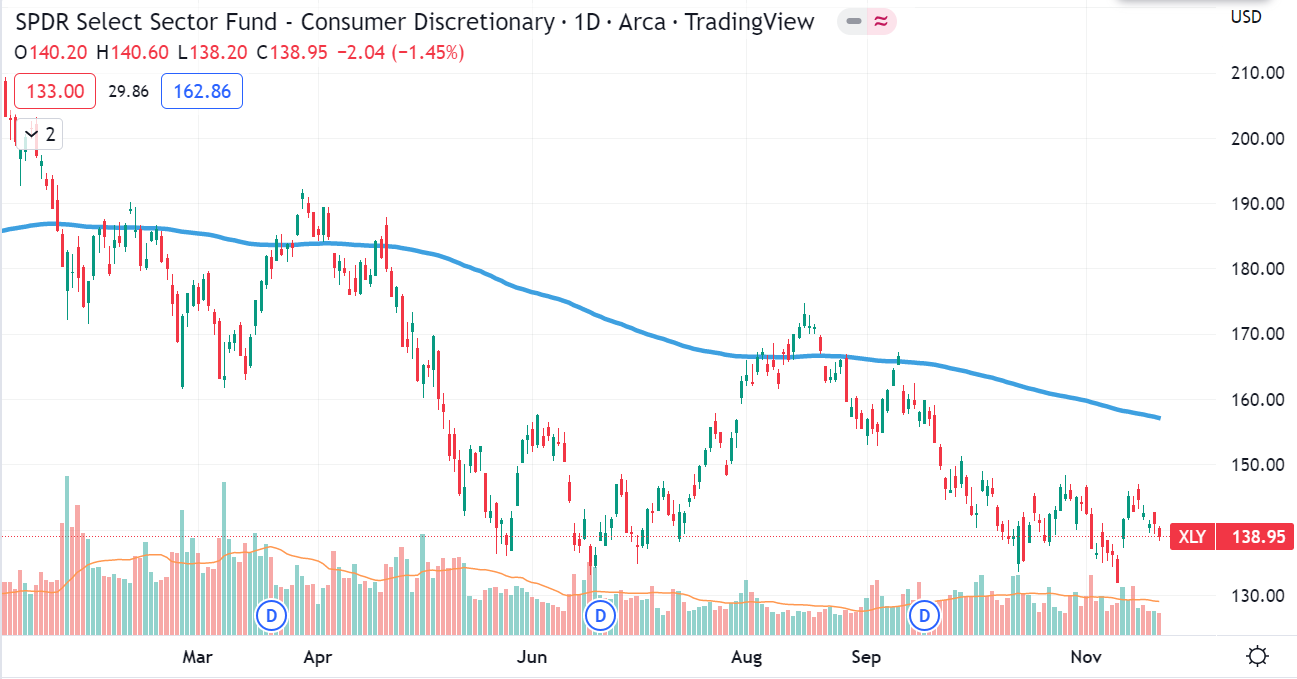 XRT – SPDR S&P Retail ETF
Among its top holdings are Chico's FAS, Victoria's Secret and Gap.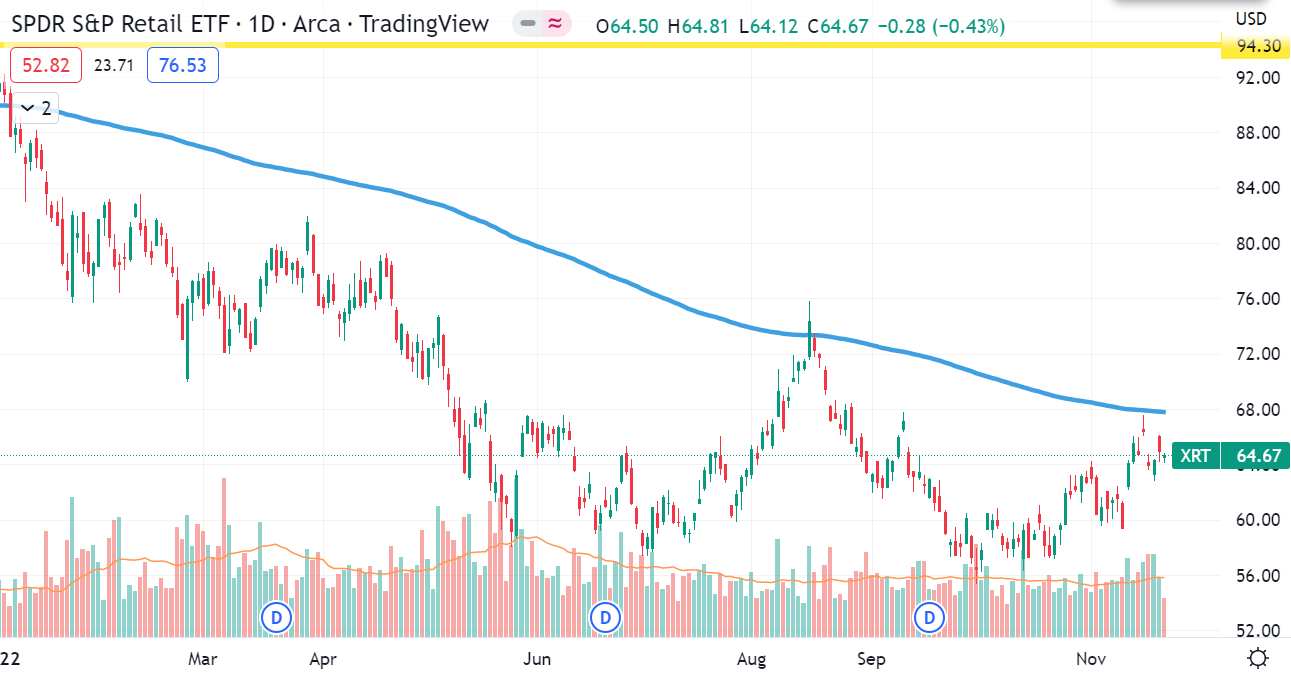 If you would like to stick to the stock markets to ride the 'Santa Claus rally', here are some stocks you can consider:
Gap Inc
Penske Automotive Group, Inc
Macy's Inc
PepsiCo, Inc
Costco Wholesale Corporation
Walmart Inc
Archer-Daniels-Midland Co
Home Depot Inc
McDonald's Corp
Nike Inc
Lowe's Companies Inc
Starbucks Corporation
TJX Companies Inc
As we enter the bear market, what are the chances of a Santa Claus rally this year?
A bear market is generally recognised when there is a drop in the S&P 500 by more than 20%, from the high of the previous bull market. This year, the S&P 500 officially dropped into a bear market on the week beginning 16 May 2022 [4].
Over the course of the last three recessions, there have been five holiday periods. A Santa Rally has taken place four-out-of-five times of which (80% chance of occurrence), beat the 66.66% overall average. However, in the 4 occurrences that a Santa Claus rally took place, the S&P 500 increased an average of 3.8%, beating the overall average of Santa Rally spikes by 2.5%.
Regardless of whether a Santa Claus rally will occur this year, go and enjoy the holiday season! We wish everyone a very merry and joyful Christmas!
How to get started
As the pioneer of Singapore's online trading, POEMS's award-winning suite of trading platforms offers investors and traders more than 40,000 financial products across global exchanges.
Explore an array of US shares with brokerage fees as low as US$1.88 flat* when you open a Cash Plus Account with us today. Find out more here (terms and conditions apply).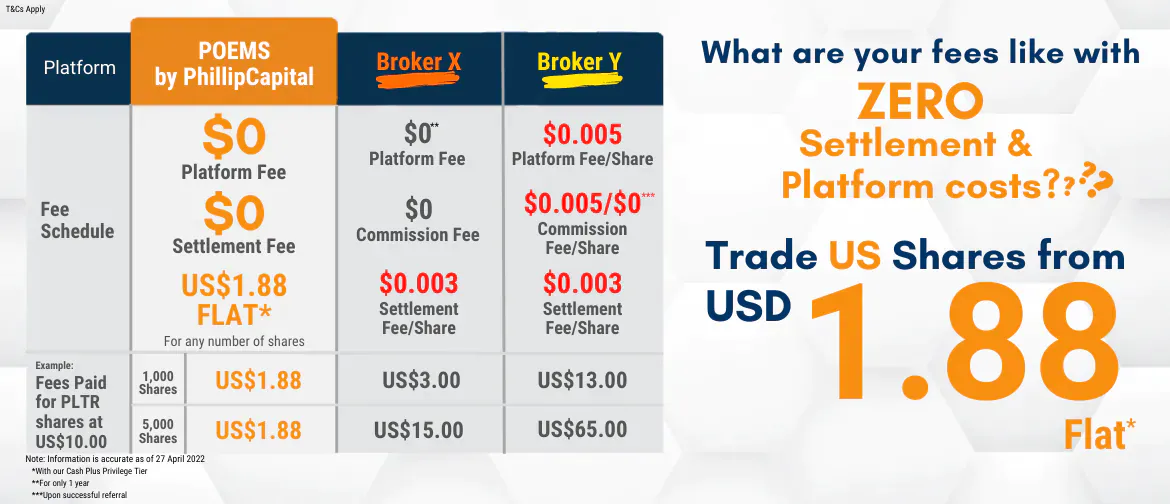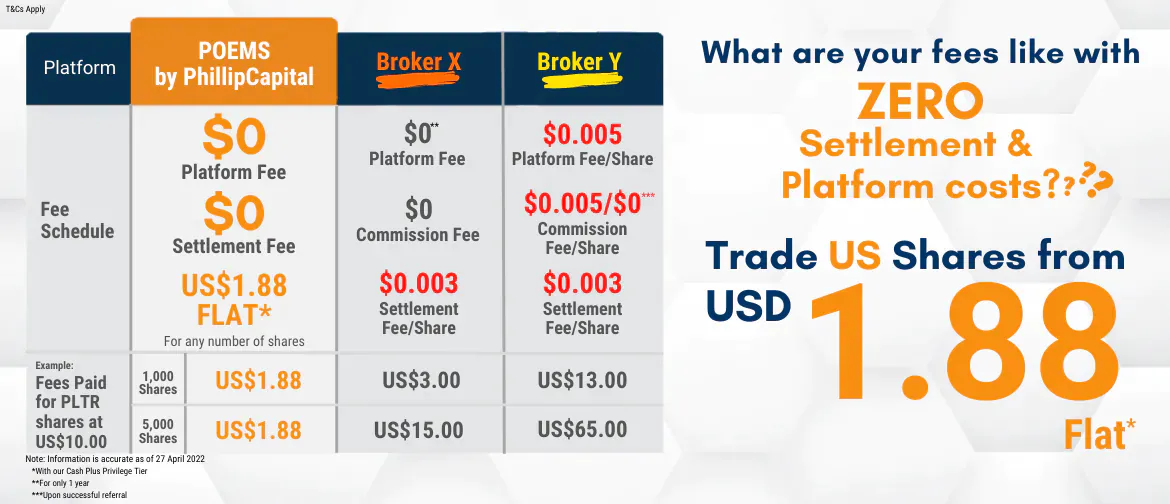 We hope that you have found value reading this article. If you do not have a POEMS account, you may visit here to open one with us today.
Lastly, investing in a community is much more fun. You will get to interact with us and other seasoned investors who are generous in sharing their experience and expertise.
In this community, you will be exposed to quality educational materials, stock analysis to help you apply the concepts, unwrap the mindset of seasoned investors, and even post questions.
We look forward to sharing more insights with you in our growing and enthusiastic Telegram community. Join us now!
For enquiries, please email us at cfd@phillip.com.sg.
Disclaimer
This material is provided to you for general information only and does not constitute a recommendation, an offer or solicitation to buy or sell the investment product mentioned. It does not have any regard to your specific investment objectives, financial situation or any of your particular needs. Accordingly, no warranty whatsoever is given and not liability whatsoever is accepted for any loss arising whether directly or indirectly as a result of your acting based on this information.
Investments are subject to investment risks. The risk of loss in leveraged trading can be substantial. You may sustain losses in excess of your initial funds and may be called upon to deposit additional margin funds at short notice. If the required funds are not provided within the prescribed time, your positions may be liquidated. The resulting deficits in your account are subject to penalty charges. The value of investments denominated in foreign currencies may diminish or increase due to changes in the rates of exchange. You should also be aware of the commissions and finance costs involved in trading leveraged products. This product may not be suitable for clients whose investment objective is preservation of capital and/or whose risk tolerance is low. Clients are advised to understand the nature and risks involved in margin trading.
You may wish to obtain advice from a qualified financial adviser, pursuant to a separate engagement, before making a commitment to purchase any of the investment products mentioned herein. In the event that you choose not to obtain advice from a qualified financial adviser, you should assess and consider whether the investment product is suitable for you before proceeding to invest and we do not offer any advice in this regard unless mandated to do so by way of a separate engagement. You are advised to read the trading account Terms & Conditions and Risk Disclosure Statement (available online at www.poems.com.sg) before trading in this product.
Any CFD offered is not approved or endorsed by the issuer or originator of the underlying securities and the issuer or originator is not privy to the CFD contract. This advertisement has not been reviewed by the Monetary Authority of Singapore (MAS).