Are you ready for the upcoming Federal Open Market Committee (FOMC) Meeting?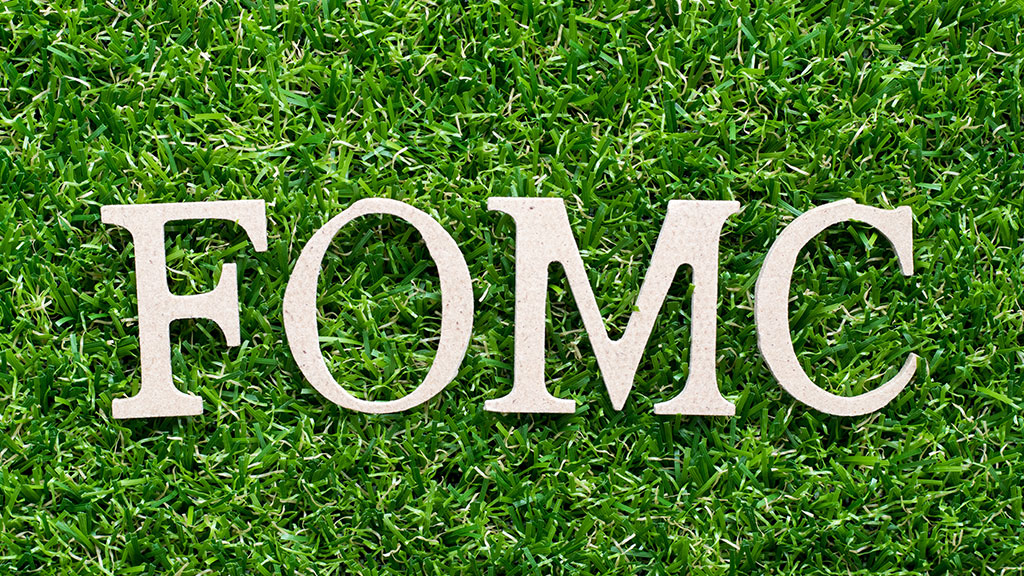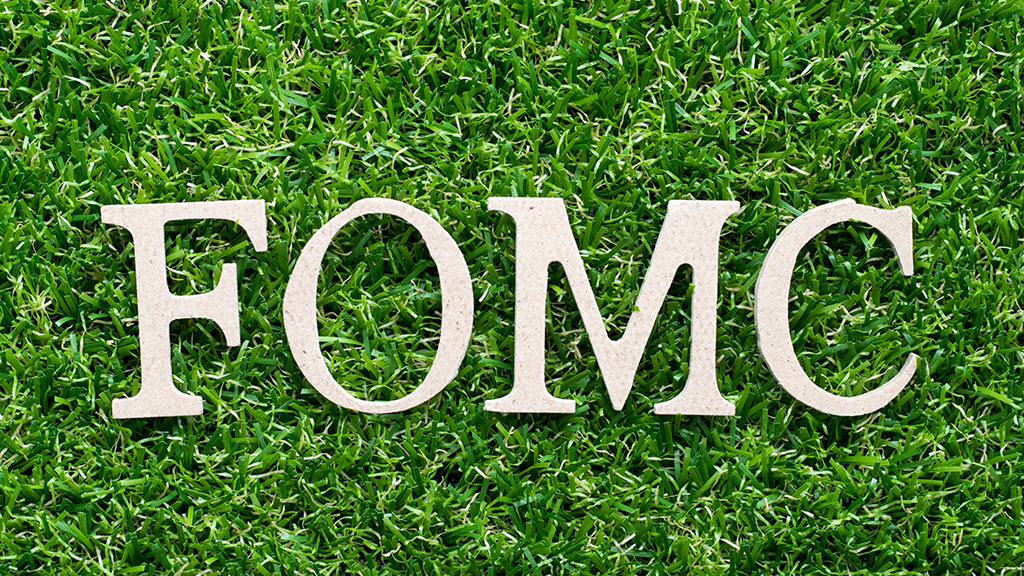 Published On: 25 September 2018 | 5:00 PM
From the start of September, several prominent Federal Reserve officials have hinted more rate hikes in the coming months amidst strength in economic data over the past few months.  The market's highly expecting two more rate hikes this year with the next one projected to be after 26th September's FOMC Meeting.  This would be the 8th rate hike since 2015 and 2018 could possibly be the fastest pace of rate hikes in more than a decade.
Key Indicators influencing Fed decisions
Gross Domestic Product (GDP) QoQ

GDP has risen from first quarter of 2.2% to an almost 4-yr high of 4.2% on the second reading released on 29th August.  The FOMC's economic growth forecasts were little changed, with full year 2018 GDP seen rising 2.8 percent rather than 2.7 percent but unchanged at 2.4 percent in 2019 and two percent in 2020.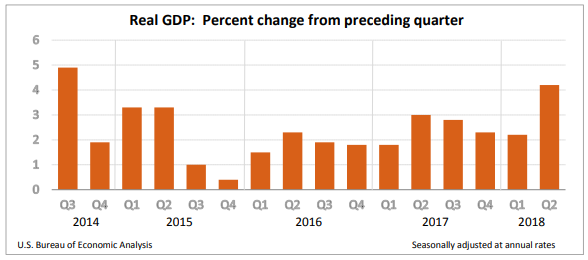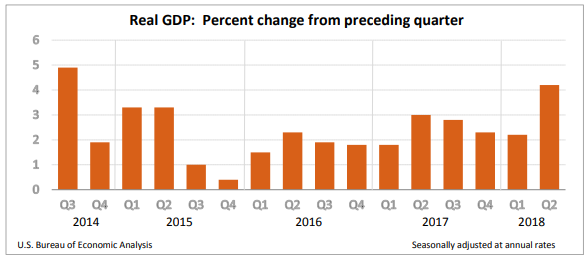 | | | | | |
| --- | --- | --- | --- | --- |
| Aug 2018 (Actual) | Aug 2018 (Forecast) | Jul 2018 (Actual) | Jun 2018 (Actual) | May 2018 (Actual) |
| 3.9% | 3.8% | 3.9% | 4% | 3.8% |
Unemployment rate has fallen steadily to a ten-year low of 3.9% which is even lower than the long-term rate of 4.5%.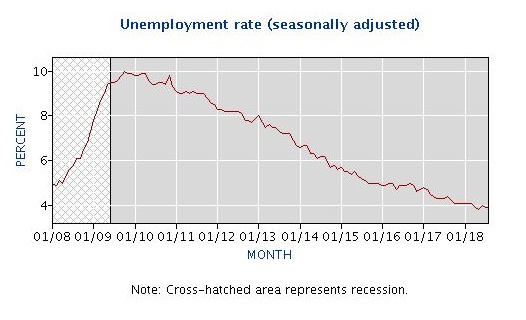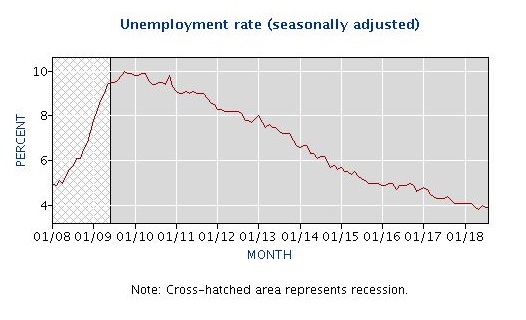 Source: U.S. Bureau of Labour Statistics
U.S Core Inflation Rate (YOY)
| | | | | |
| --- | --- | --- | --- | --- |
| Aug 2018 (Actual) | Aug 2018 (Forecast) | Jul 2018 (Actual) | Jun 2018 (Actual) | May 2018 (Actual) |
| 2.2% | 2.4% | 2.4% | 2.3% | 2.2% |
Core Inflation Rate, which excludes volatile items such as food and energy, fell to 2.2% in August of 2018 from a ten-year high of 2.4% reported in the previous month.  Inflation seems to be on track to attain Fed's "two percent objective over the medium term."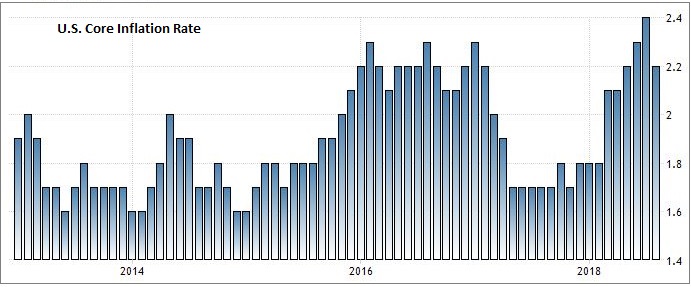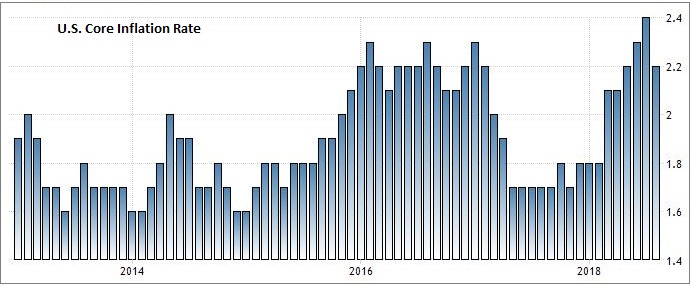 Source: Edited from U.S. Bureau of Labour Statistics
Other signals and stimulus
The Fed's dot-plot signals targeted Fed funds rate of 2.25%-2.50% by year end.  Moreover, CME Group's FedWatch Tool (as per chart below), a tool that calculates the probability of Fed's rate decision from the buying and selling activities of the Federal Funds Futures is reflecting more than 98% chance of a Sept hike. With the current rate of 1.75%-2.00%, a September rate hike seems imminent.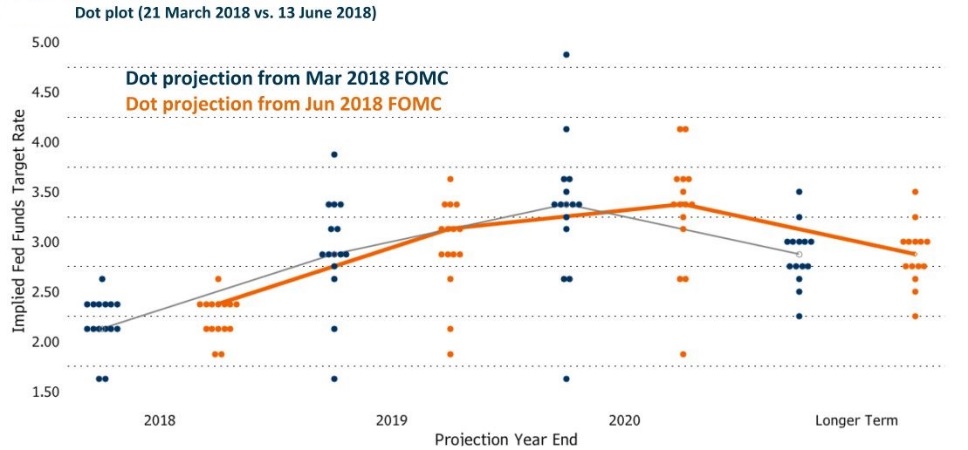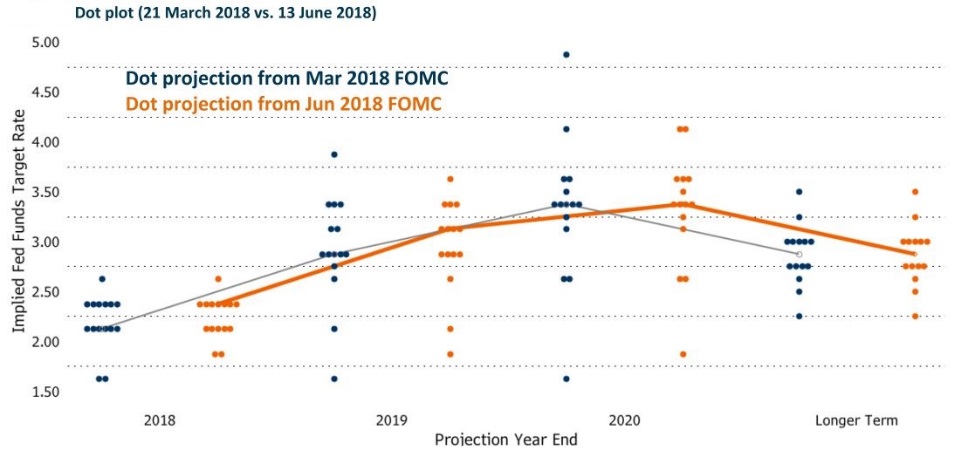 Source: PSR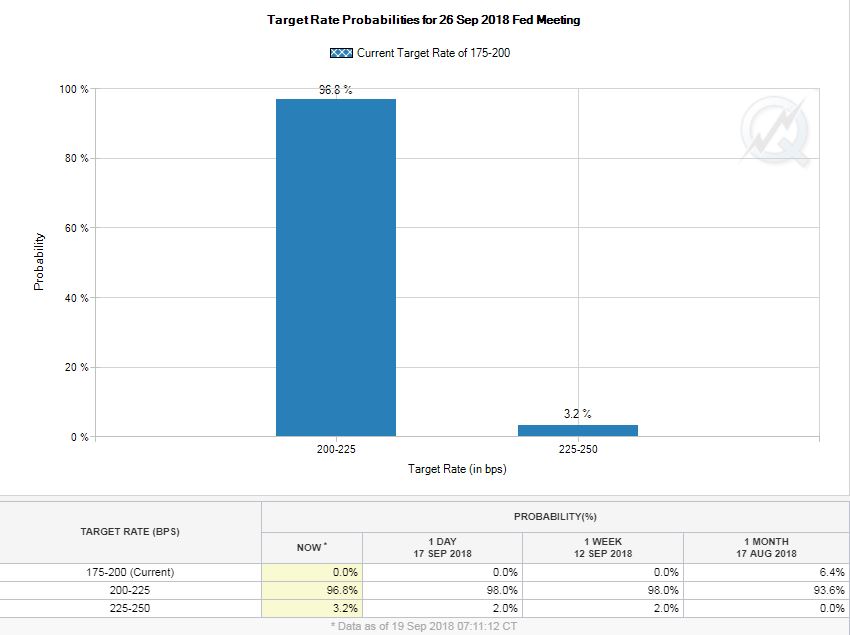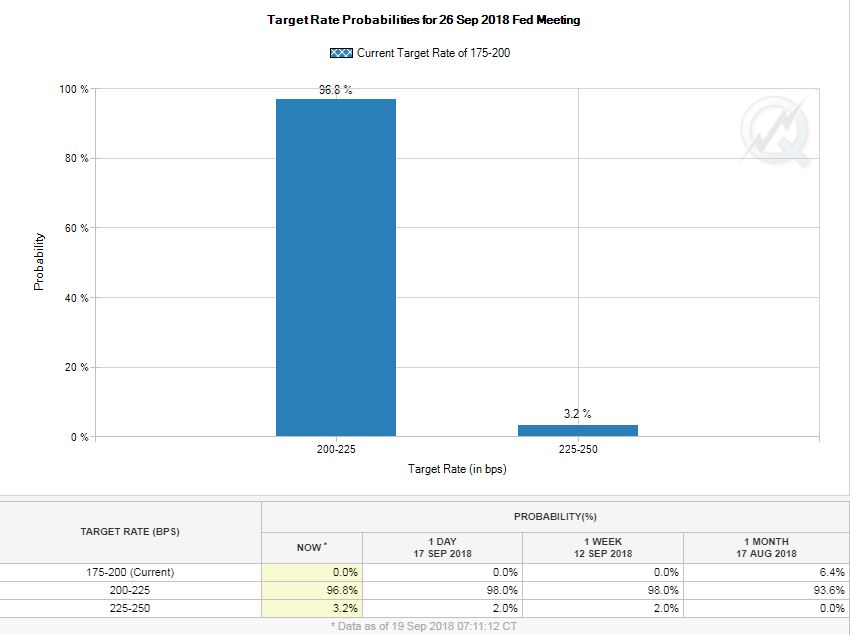 Source: CME Group
President Trump's bill on huge tax cuts are huge tailwinds for the economy in the coming few years.  Such fiscal stimulus helps substitute monetary policies that have propelled the economy and asset markets over the past 9 years.
Ride the Volatility!
Although it seems like a rate hike is imminent in the upcoming FOMC Meeting, the outlook for further hikes in Dec 2018 and 2019 might be affected by factors such as:
Further escalation of U.S. bilateral trade wars with several countries / economies; an overly strong dollar amidst weak emerging economies' currencies might be a damper to U.S. economic growth
Slower than expected wage growth
Uncertainty in the upcoming mid-term elections might trigger greater market volatility
The 9-year bull trend seems to be taking a breather with uncertainty during trade wars and increasing monetary tightening by central banks across the globe. Long only investors are on the side lines. Why should you be when you have a Phillip CFD account? We at Phillip CFD have seen some active traders positioning and benefitting greatly from recent volatility. There isn't be a better time to start leveraging on your Phillip CFD account now!
This material is provided to you for general information only and does not constitute a recommendation, an offer or solicitation to buy or sell the investment product mentioned. It does not have any regard to your specific investment objectives, financial situation or any of your particular needs. Accordingly, no warranty whatsoever is given and no liability whatsoever is accepted for any loss arising whether directly or indirectly as a result of your acting based on this information.
Investments are subject to investment risks. The risk of loss in leveraged trading can be substantial. You may sustain losses in excess of your initial funds and may be called upon to deposit additional margin funds at short notice. If the required funds are not provided within the prescribed time, your positions may be liquidated. The resulting deficits in your account are subject to penalty charges. The value of investments denominated in foreign currencies may diminish or increase due to changes in the rates of exchange. You should also be aware of the commissions and finance costs involved in trading leveraged products. This product may not be suitable for clients whose investment objective is preservation of capital and/or whose risk tolerance is low. Clients are advised to understand the nature and risks involved in margin trading.
You may wish to obtain advice from a qualified financial adviser, pursuant to a separate engagement, before making a commitment to purchase any of the investment products mentioned herein. In the event that you choose not to obtain advice from a qualified financial adviser, you should assess and consider whether the investment product is suitable for you before proceeding to invest and we do not offer any advice in this regard unless mandated to do so by way of a separate engagement. You are advised to read the trading account Terms & Conditions and Risk Disclosure Statement (available online at www.poems.com.sg) before trading in this product.
Any CFD offered is not approved or endorsed by the issuer or originator of the underlying securities and the issuer or originator is not privy to the CFD contract.
All charts presented are for illustration purposes only.