Made in Singapore: 5 Stocks Flying the Singapore Flag High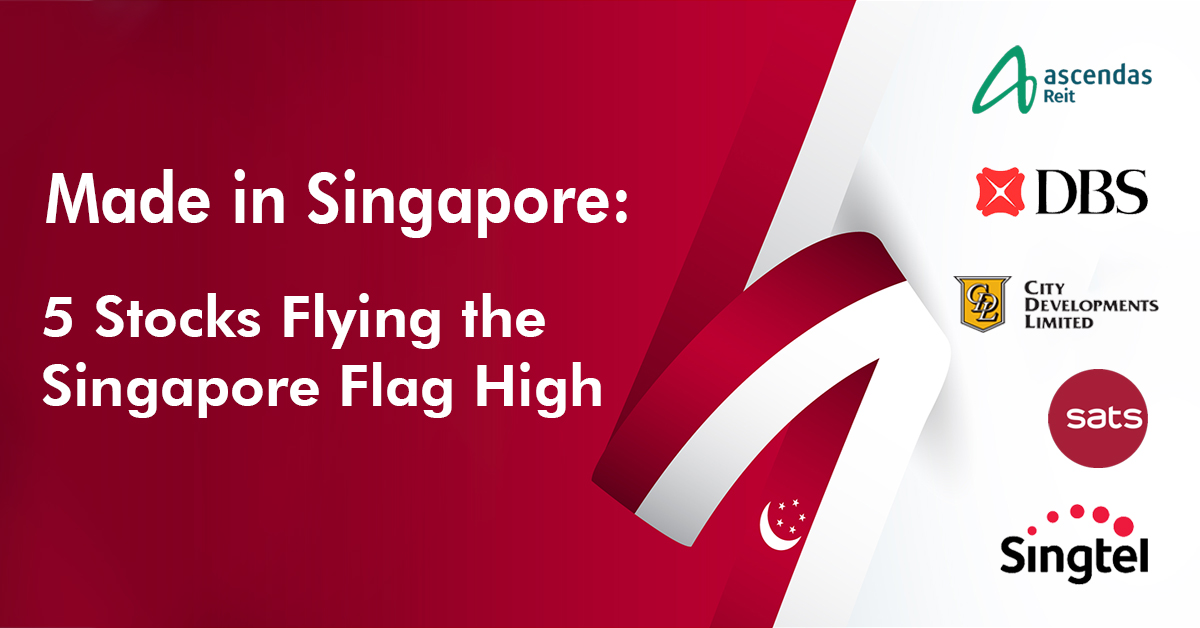 Published On: 4 August 2020 | 12:00 PM
Mike Ong, Senior Dealer
Mike is a member of the largest dealing team that specialises in Equities, ETFs, CFDs & Bonds, and manages >50,000 client accounts in Phillip Securities. He believes in investing long-term for passive income and evaluates stocks using fundamentals. He is currently the chief editor of the HQ education series that aims to equip clients with tools and skillsets to make better investing and trading decisions.
Edwin Choo, Assistant Manager, Dealing
As a securities dealer, Edwin specialises in providing equity-related advisory for clients. He applies a wide range of techniques to analyse securities, both technical and fundamental, and he believes that only with a combination of both can an investor make informed investment decisions. Edwin holds a Bachelor of Business Degree (Hons), majoring in Banking and Finance from Nanyang Technological University.
Gek Han, Dealer
Gek Han is a securities dealer in the largest dealing team in Phillip Securities, specialising in Equities, ETFs and CFDs. As a securities dealer, he provides equity-related advisory for clients. He looks at securities from a technical and fundamental perspective, and wants to explore managing investments using a portfolio approach. Gek Han holds a Bachelor of Science (Economics) degree with double majors in Economics and Finance from Singapore Management University.
From its humble beginnings as a small fishing village to becoming one of the world's wealthiest countries, Singapore has grown from strength to strength over the years. Despite having limited natural resources to fuel growth, Singapore managed to transform itself from a third world to a first world country. To commemorate the nation's 55th birthday, we will be looking at 5 stocks that have shaped the nation's growth and left an indelible mark on its history.
DBS (SGX: D05)


History:
DBS was founded in 1968 with the purpose of financing Singapore's fledgling industries, before eventually becoming a full-fledged financial institution. The bank was involved in the development of some of Singapore's most iconic buildings, such as Plaza Singapura and Raffles City, as well as lead-managing IPOs for Singtel and Singapore Airlines (SIA). Over the years, DBS has expanded by acquiring several banks and setting up overseas subsidiaries. Today, DBS is holding its own on the world stage, being recognised as the Best Bank in the World in 2018 by Global Finance [1] and World's Best Bank in 2019 by Euromoney [2].
Present:
To mitigate the economic shock brought on by the COVID-19 pandemic, central banks around the world have lowered interest rates to record low levels. Singapore lending rates fell in tandem and look set to stay lower for longer. The share price has also dropped by more than 20% since the start of 2020.
Outlook:
With the US Federal Reserve committing to loose monetary policies until specific unemployment targets are met, interest rates are likely to stay low at current levels. Banks are expected to see Net Interest Margin (NIM) fall to 2013 levels when similar interest rates were last observed. With the Circuit Breaker measures in place, business loans growth slowed and consumer loans shrunk. As Singapore opens up the economy gradually, we expect to see consumer spending ticking up, but business loans may remain weak as companies may be cautious in taking up loans amidst the negative business sentiments caused by the COVID-19 pandemic.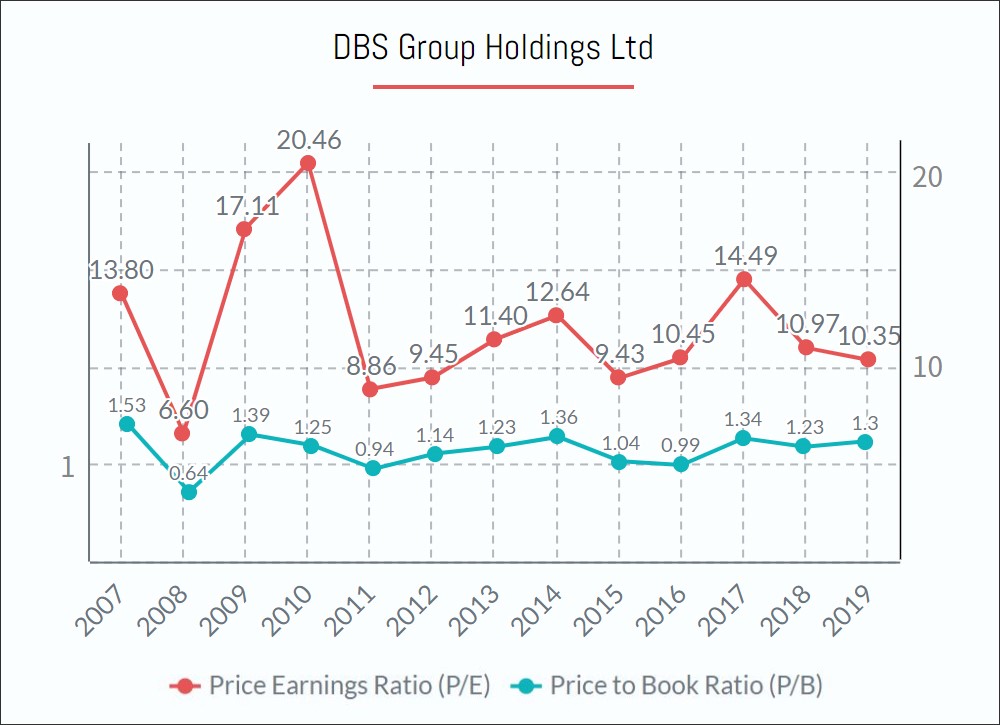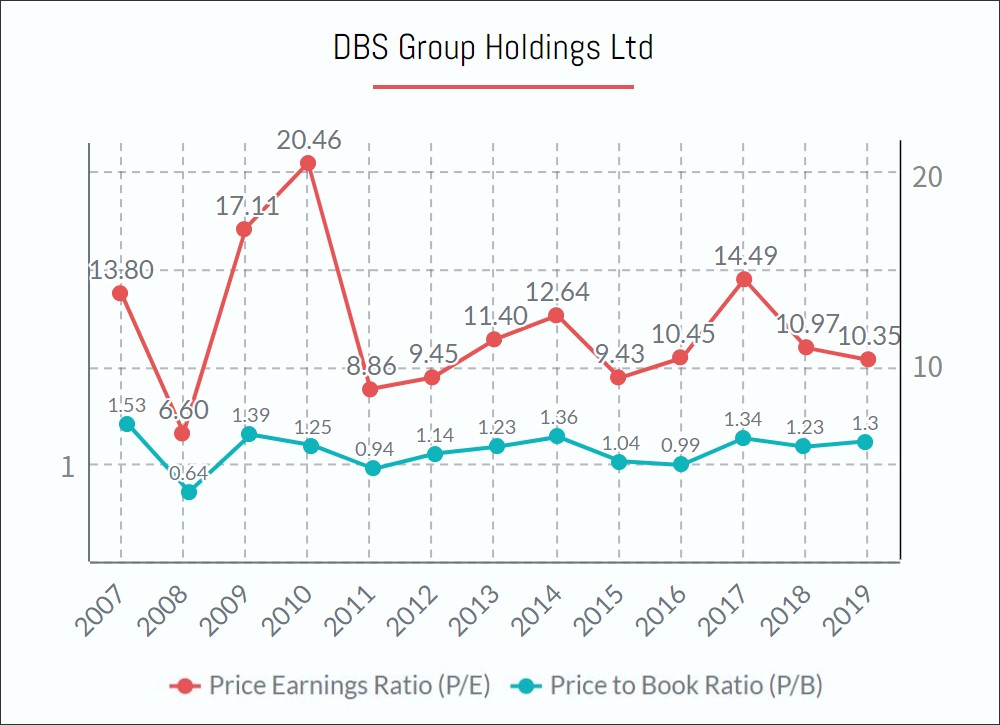 Figure 1: P/E and P/B ratio for DBS
City Development Limited (CDL) (SGX: C09)


History:
CDL was founded in 1963 as a property company and started out with 8 employees in Amber Mansion on Orchard Road. Over the years, CDL has grown into a Singaporean multinational real estate operating organisation and developed many types of properties ranging from shopping malls to integrated developments.
Present:
CDL's profit for the first half of this year has been dragged down by its hotel operations segment amid the COVID-19 pandemic. CDL's hotel operations segment is mainly led by its wholly-owned subsidiary, Millennium & Copthorne Hotels (M&C). The share price has also collapsed by more than 30% since the start of 2020.
Outlook:
Taking a more detailed look at their operational segments, hotel operations make up around 16% of earnings before interest, tax, depreciation and amortisation [3]. The impact might not seem significant in Financial Year 2019. While CDL is likely to face near term headwinds, it is trading at an attractive price to book ratio that makes it attractive to investors. With its strong balance sheet and branding coupled with an experienced management team, CDL is likely to emerge stronger from this crisis.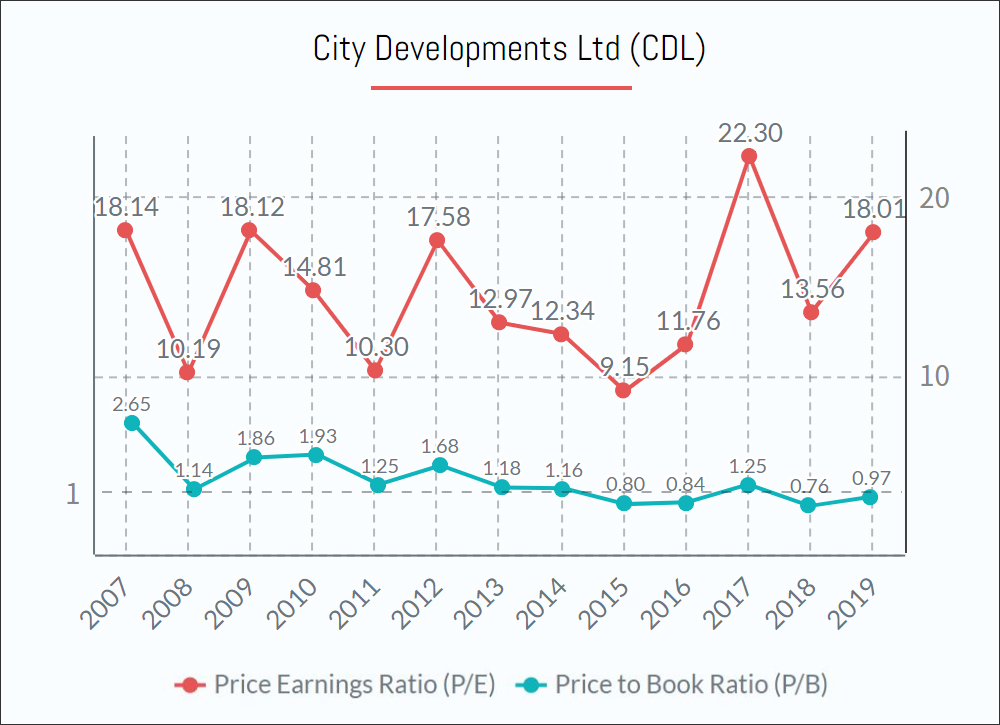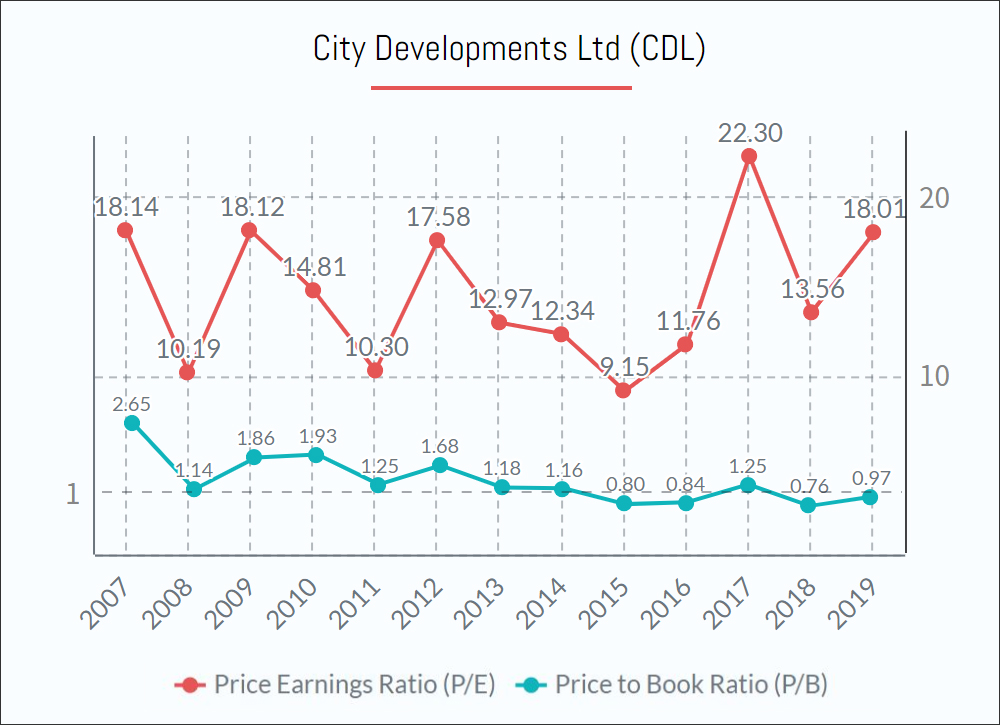 Figure 2: P/E and P/B ratio for CDL
SATS (SGX: S58)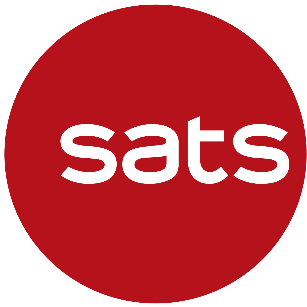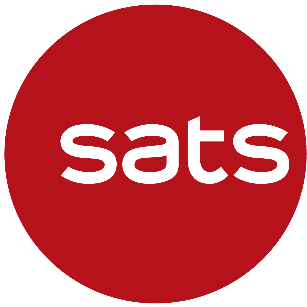 History:
SATS is a home-grown company that started out with commercial aviation in Singapore in 1947. Over the past 55 years, SATS has grown in tandem with Singapore to become a global business and aviation hub. They have two major business segments, namely gateway services and food solutions. The company is largely recognised as one of the global leaders in food solutions for air travel.
Present:
In FY19, SATS operated across over 60 locations and 13 countries, serving a total of 167 million meals. [4] Due to the COVID-19 pandemic, SATS reported its first ever quarterly loss in 4Q20 since its listing [5]. This comes as no surprise as it has been affected significantly by the travel and flight restrictions around the world. There is much uncertainty in the current state of the aviation sector as countries struggle to recover from this crisis. SATS has reacted to the current situation by redeploying resources and manpower to other roles and activities within the group that are less affected by the crisis. SATS also mentioned that it is expecting its food trading and distribution businesses to grow.
Outlook:
Globally, the near term outlook of the airline industry looks grim. There are fears that a second wave of COVID-19 will hit and economies will be shut off again. We expect the outlook to ultimately depend on the development of vaccines for COVID-19 as well as the recovery of the tourism sector. There may be a larger than expected jump in booking of flights when countries lift travel restrictions, albeit unknown sustainability.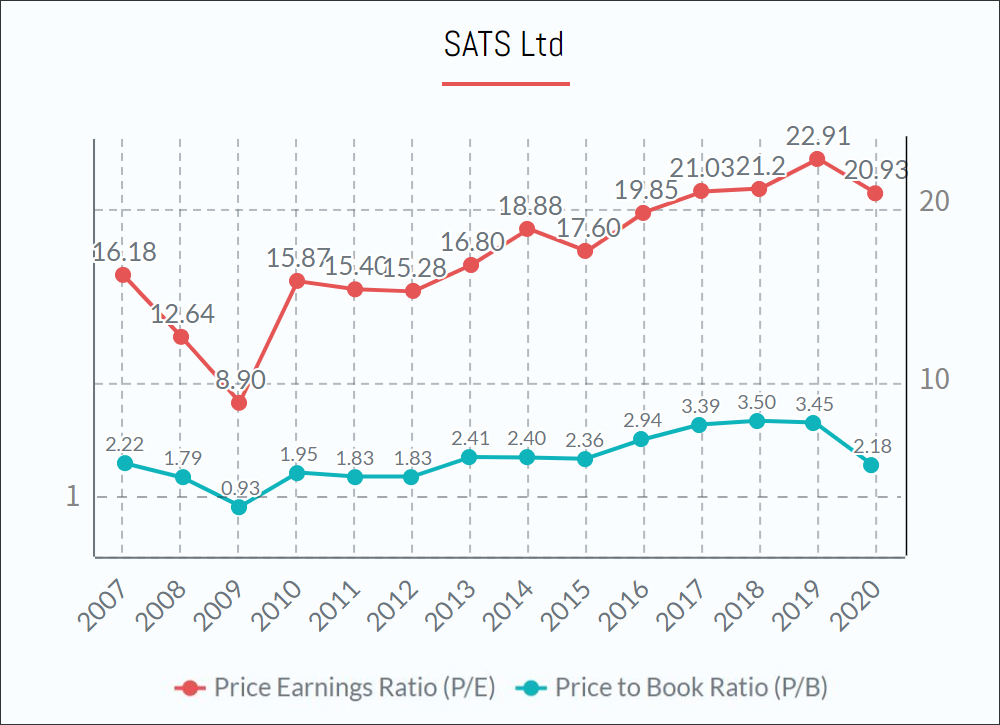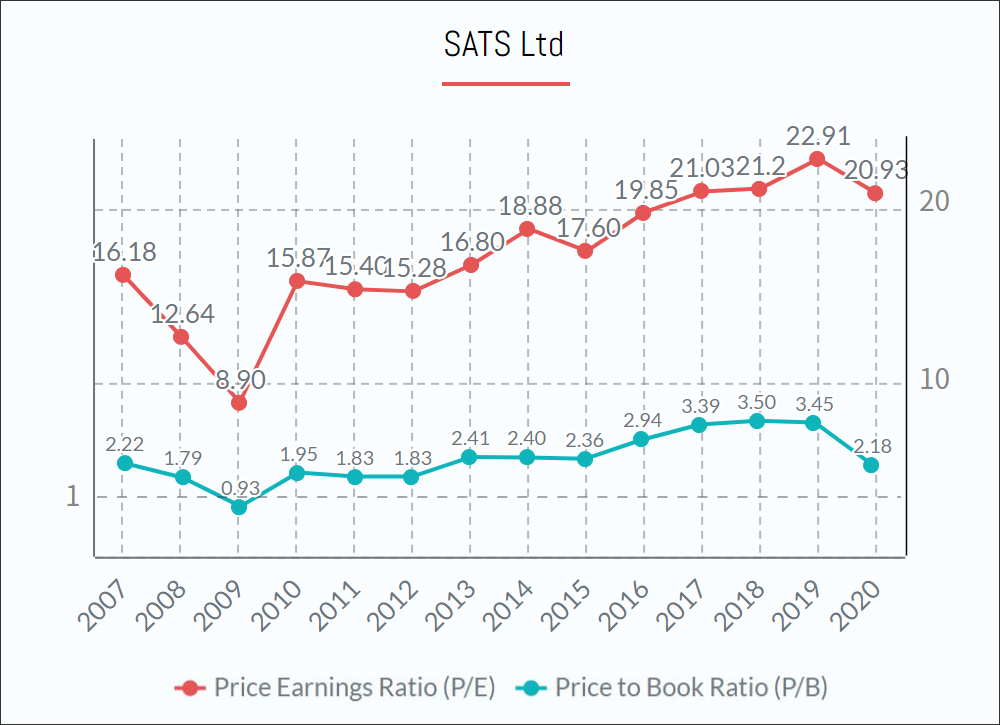 Figure 3: P/E and P/B ratio for SATs
Singtel (SGX: Z74)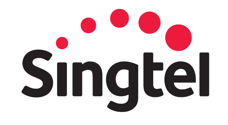 History:
Did you know that Singtel's roots can be traced back to the 1800s? In 1879, when the telephone was first introduced to Singapore, it was reported that we were one of the first cities in the East, if not the first to have a telephone system. Today, Singtel, as Singapore's largest mobile operator has a 50.4% market share of the local mobile market [6] with over 4.3 million customers.
Present:
Singtel has aggressively expanded its business overseas and it now boasts a customer base of over 705 million customers in 21 countries. Its revenues are diversified geographically, with over 60% of revenues coming from overseas subsidiaries and operations. While investors have historically looked to Singtel as a strong dividend play, that status was called into question earlier this year. Due to the intensive mobile competition in its various overseas ventures and a drop in the average revenue per user (ARPU), its net profit dipped by 25.7% to S$574.4 million for 4Q ended March 2020 [7]. As a result, Singtel slashed its final dividend by close to half, from 10.7 cents to 5.45 cents.
Outlook:
The telco landscape is constantly changing, and we have seen in recent times that competition and price wars between telco companies can be extremely disruptive to earnings growth. Fortunately for Singtel, it still retains large market shares in major markets like Australia / Indonesia / India / Thailand through overseas ventures. Moving forward, the resumption of travel and opening of economies should bode well for Singtel, as that should allow some recovery from the loss of roaming revenue and some revenue from their enterprise businesses. We also expect Singtel to hoard more cash during this period in preparation to roll out key 5G investments, so we are not optimistic on Singtel raising its dividends anytime soon.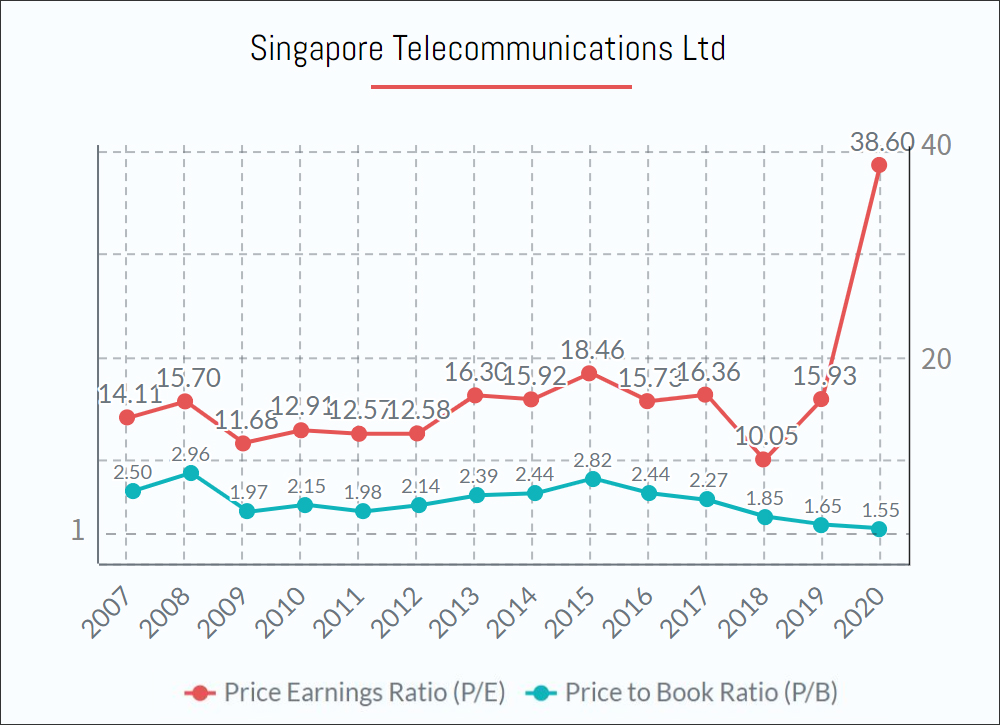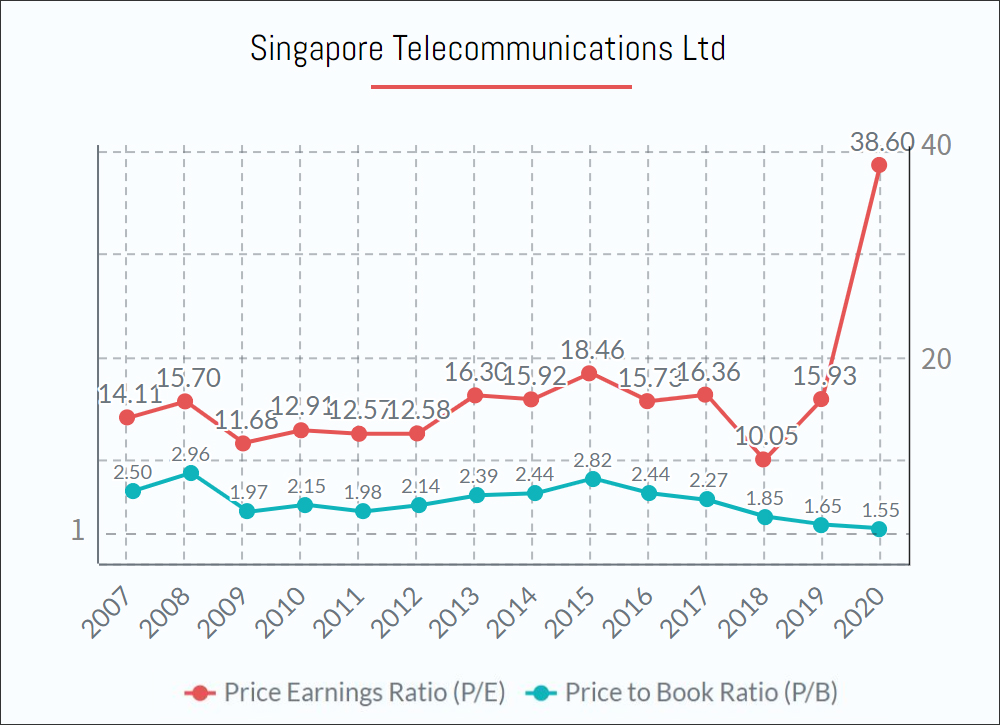 Figure 4: P/E and P/B ratio for Singtel
Ascendas REIT (SGX: A17U)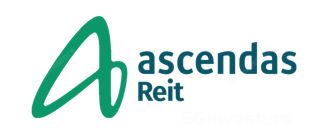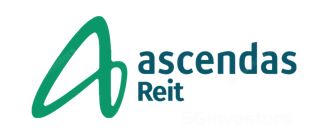 History: 
Ascendas REIT is Singapore's first business space and industrial REIT that was listed in 2002. It has grown from 8 properties valued at around S$600 million in 2002 to 171 properties valued at around S$11.1 billion as at 31 March 2019 [8]. It has a range of portfolios from Singapore, Australia and the United Kingdom across sectors like business and science parks properties, hi-spec industrial properties, light industrial properties, logistics and distribution centres as well as integrated development, amenities and retail properties.
Present:
Ascendas REIT just announced on 23 July 2020 that their first half net property income rose by 11.2% due to the contribution from US and Singapore portfolio properties [9]. However, there is a drop in the Defects Per Unit (DPU) due to the higher number of units arising from the Rights Issue in December 2019. Ascendas REIT has also recently announced the acquisition of a new logistics property to be developed in Sydney, Australia. Following the acquisition of the land, development of the logistic property is expected to complete in the second quarter of 2021.
Outlook:
With the ongoing COVID-19 pandemic, some tenants will continue to ask for rental rebates that will likely affect the revenue in the coming quarters. However, Ascendas REIT has an experienced management team doing acquisitions and asset enhancement initiatives (AEIs) that contribute to its growth. It also has healthy leverage and debt headroom to acquire attractive assets. Ascendas REIT is likely to weather through this difficult time and continue to shine in the future.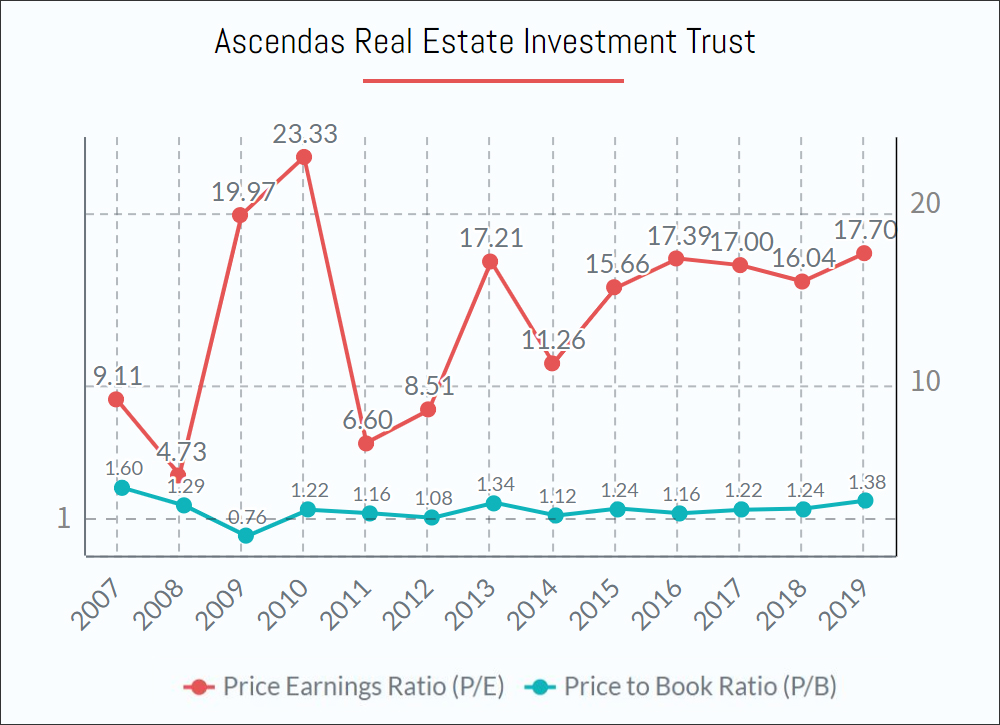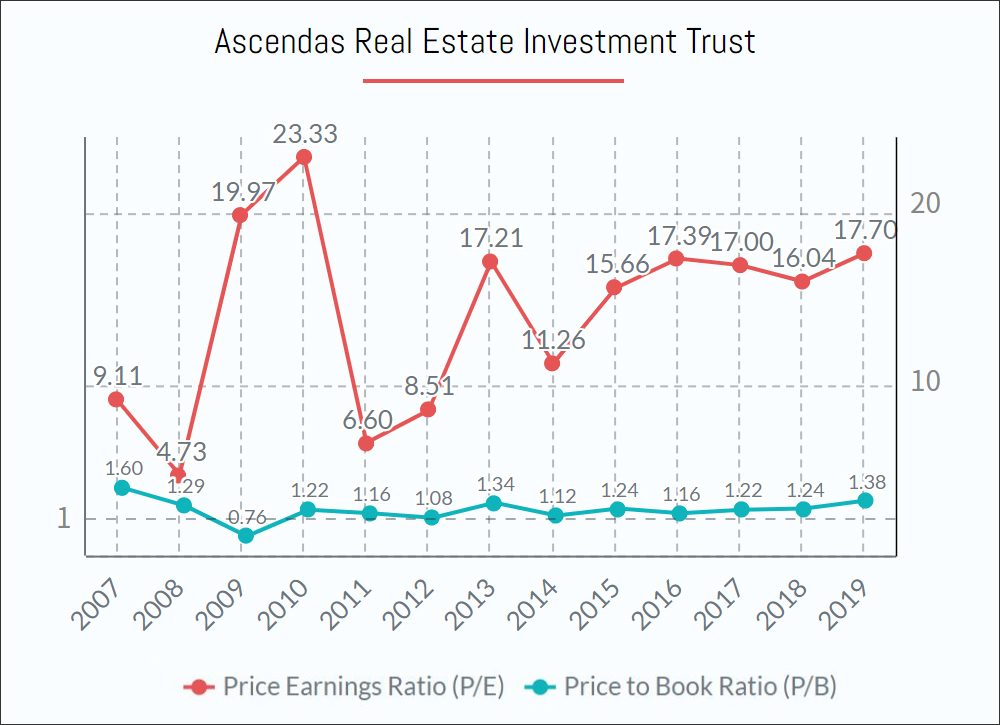 Figure 5: P/E and P/B ratio for Ascendas REIT
Straits Times Index (STI) CFD


In addition, these 5 Singapore stocks are all components of the Straits Times Index (STI). STI is a capitalisation-weighted stock market index which tracks the performance of the top 30 largest and most liquid blue-chip companies listed on the Singapore Exchange (SGX). With STI CFD, you are able to diversify your portfolio and participate in the price movements of the entire stock index as a whole.
To take opportunities in the market, you can either trade single stock CFDs like the ones mentioned above or consider a diversified portfolio index like STI CFD. We are proud to be the only broker in Singapore offering STI CFD for trading!
Conclusion
The 5 companies we have covered above have all been affected by the ongoing pandemic. However, we do believe that their businesses will improve at some point in the future once the COVID-19 pandemic fears blow over.
Be rewarded as a Phillip CFD customer, no matter whether you are a new customer or a seasoned trader. Every step of the way, we have rewards that will help you trade better. Visit our promotions page to check out more!
If you have any questions on trading or investing, feel free to drop us an email at cfd@phillip.com.sg and we will be glad to assist you.
Begin your CFD Trading Journey with us!
References:
[1] DBS Annual Report 2018
[2] https://www.euromoney.com/article/b1fmmkjyhws0h9/world39s-best-bank-2019-dbs
[3] City Developments Ltd Annual Report 2019
[4] SATs Annual Report 2018 – 2019
[5] https://www.sats.com.sg/investors/financial-reports
[6] Singtel Q4FY20 Fact Sheet
[7] Singtel Q4FY20 Fact Sheet
[8]https://ir.ascendas-reit.com/faq.html
[9] https://www.morningstar.com/news/dow-jones/202007234690/ascendas-reit-first-half-net-property-income-rose-112
Disclaimer
This material is provided to you for general information only and does not constitute a recommendation, an offer or solicitation to buy or sell the investment product mentioned. It does not have any regard to your specific investment objectives, financial situation or any of your particular needs. Accordingly, no warranty whatsoever is given and not liability whatsoever is accepted for any loss arising whether directly or indirectly as a result of your acting based on this information.
Investments are subject to investment risks. The risk of loss in leveraged trading can be substantial. You may sustain losses in excess of your initial funds and may be called upon to deposit additional margin funds at short notice. If the required funds are not provided within the prescribed time, your positions may be liquidated. The resulting deficits in your account are subject to penalty charges. The value of investments denominated in foreign currencies may diminish or increase due to changes in the rates of exchange. You should also be aware of the commissions and finance costs involved in trading leveraged products. This product may not be suitable for clients whose investment objective is preservation of capital and/or whose risk tolerance is low. Clients are advised to understand the nature and risks involved in margin trading.
You may wish to obtain advice from a qualified financial adviser, pursuant to a separate engagement, before making a commitment to purchase any of the investment products mentioned herein. In the event that you choose not to obtain advice from a qualified financial adviser, you should assess and consider whether the investment product is suitable for you before proceeding to invest and we do not offer any advice in this regard unless mandated to do so by way of a separate engagement. You are advised to read the trading account Terms & Conditions and Risk Disclosure Statement (available online at www.poems.com.sg) before trading in this product.
Any CFD offered is not approved or endorsed by the issuer or originator of the underlying securities and the issuer or originator is not privy to the CFD contract. This advertisement has not been reviewed by the Monetary Authority of Singapore (MAS).