Malaysia's Upcoming Election - Sectors and Companies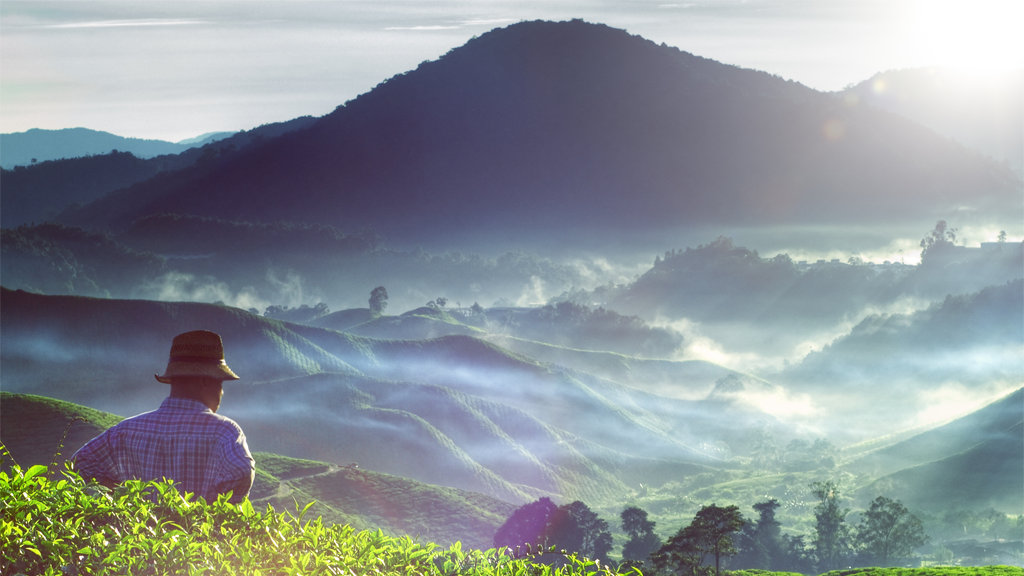 Published On: 4 May 2018 | 5:00 PM
Besides the FBM KLCI Index CFD, you can also take advantage of the Malaysian market through trading of equities CFD. Let us now look at how Phillip CFD can help you hop on the bandwagon for sectors and companies that might benefit from the different outcome of the GE14.
1. Felda Global Ventures Holdings Bhd
Malaysian-based global agricultural and agri-commodities company.

Produces oil palm and rubber plantation products, soybean and canola products, oleo chemicals and sugar products worldwide.

World's largest Crude Palm Oil producer and the second largest Malaysian palm oil refiner.

Synonymous with settlers in the rural areas
Daily Chart: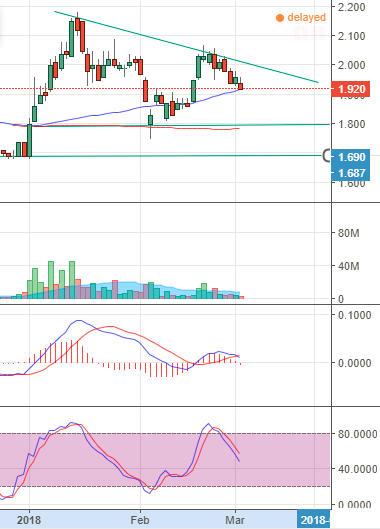 Source: https://charts.thestar.com.my/?s=FGV
Current price: 1.92
Support Levels: 1.69 and 1.80
Resistance Levels: 2.04 and 2.15
Price seems to be in a range (triangle pattern; which generally signals indecision in the market) since the pre-election rally in early January.
If price retraces back to support levels before election results; it may present a buying opportunity (from technical perspective) to benefit from potential upside if UNMO wins.
If price breaks upper channel of triangle; may wait for pullback to enter (as a prudent approach).
2. Media Prima Bhd
Holds equity interests on television stations, newspapers, radio stations and digital media.

Owns 98 percent of The New Straits Times Press (Malaysia) Berhad

FY17 earnings turned into the red, recorded a loss of RM153.2m. The significant drop in earnings was on the back of lower YOY revenue contributions from traditional platforms such as TV networks (-22.0%) and print media (-22.4%).

Potential gain because of the increase demand for advertisements for the period of lead up to the election
Daily Chart: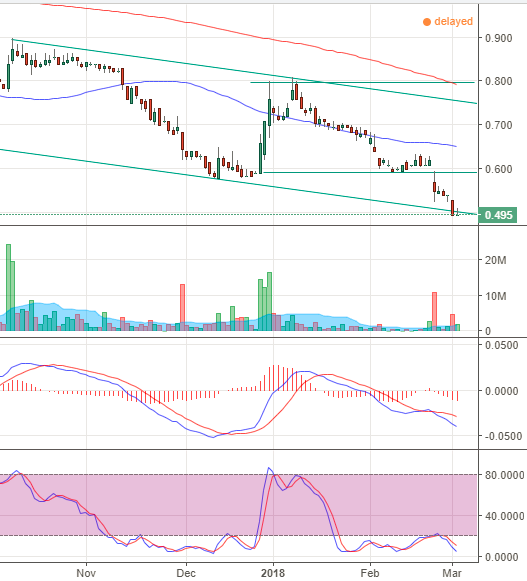 Source: https://charts.thestar.com.my/?s=MEDIA
Current price: 0.495
Support Levels: –
Resistance Levels: 0.600
Price in downtrend and currently lying at the bottom of the channel; and trading at its lowest in the past couple of years.
If price retraces up and breaks 0.600 (which has some support there previously); may signal reversal of downtrend and opportunity to enter into a long position (for short term trading as it is ultimately still in a downtrend)
3. Utusan Melayu (Malaysia) Berhad
Engages in the publication, printing, and distribution of newspapers in Malaysia

Utusan's status as a penny stock could make it a prime target for speculators and market punters

Potentially a subject of investor interest as many hold the view that the shareholders would not allow the company to go down

Potential gain also because of the increase demand for advertisements leading up to the election
Daily Chart: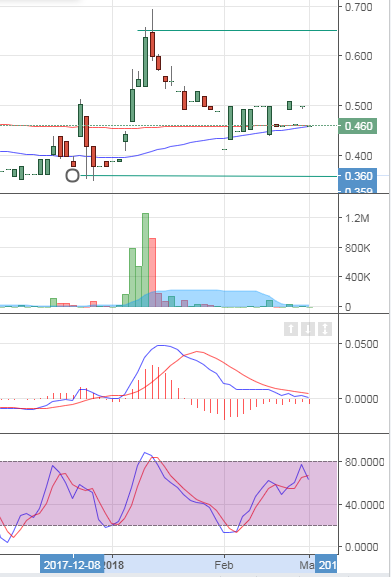 Source: https://charts.thestar.com.my/?s=UTUSAN
Current price: 0.460
Support Levels: 0.360 – 0.380
Resistance Levels: 0.650
Price seems to be in consolidating range after spike up from the pre-election rally in early January.
Does not seem to garner much interest as seen from the lacklustre volume at the moment; but might see some support in price if UMNO wins the election – could be a potential investment stock
4. Destini Prima Sdn Bhd
Involves in maintenance, repair and overhaul of safety, survival, security and rescue equipment for the Malaysian Armed Forces, Royal Malaysian Police, Fire & Rescue Department, Civil Defence Department, Commercial Aviation and Maritime Industry.

Operates as a subsidiary of Destini Berhad

Manufacturing of rail equipment and provision of services for the oil and gas industry.
Daily Chart: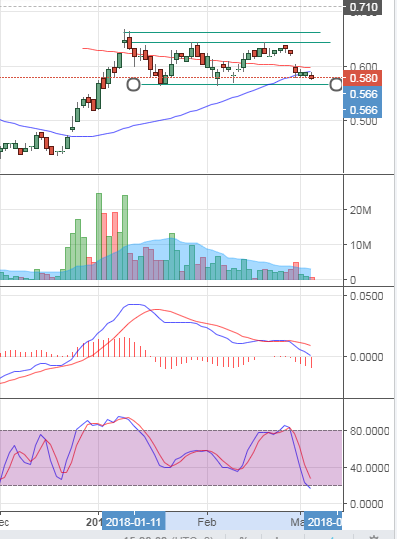 Source: https://charts.thestar.com.my/?s=DESTINI
Current price: 0.580
Support Levels: 0.56, 0.475
Resistance Levels: 0.64 – 0.66
Price is range bound since early Jan.
Stochastic (last chart which is highlighted partially in purple) going below 20; may indicate overselling.
5. EG Services Bhd (MyEG)
Engaged in the business development and implementation of electronic government services projects and investment holding

Government-linked stock

Among the top gainers in the early Jan rally
Daily Chart: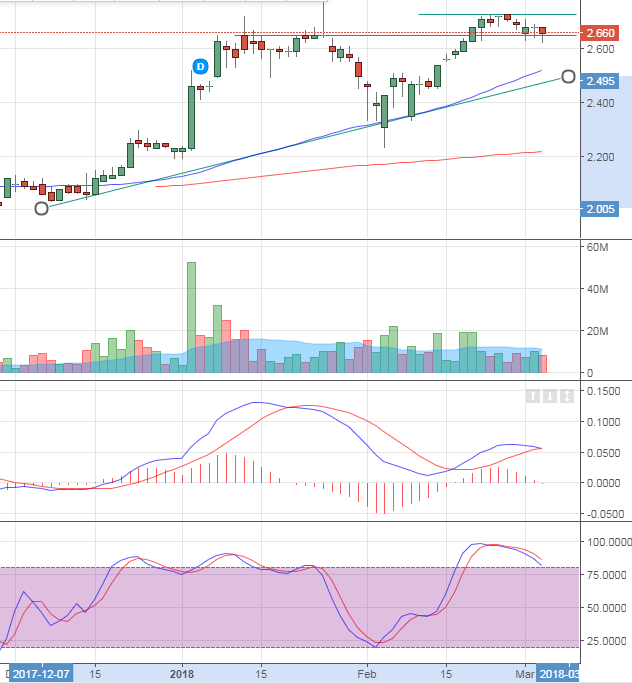 Source: https://charts.thestar.com.my/?s=MYEG
Current price: 2.66
Support Levels: 2.66, 2.30
Resistance Levels: 2.72
Gained more than 10% in the early Jan rally; seems to be very sensitive to the election.
Price seems to be in an uptrend. Broke previous resistance of 2.65 to 2.72 and retraced back to 2.65 level again
Can monitor for further pullback to enter long position to ride the uptrend.
6. Malaysian Resources Corp Bhd (MRCB)
Investment holding company

Construction and property development company based in Kuala Lumpur

Master developer of the Kuala Lumpur Sentral transport hub and business district

The EPF, Employees Provident Fund, is a significant shareholder (38 percent) of MRCB.
Daily Chart: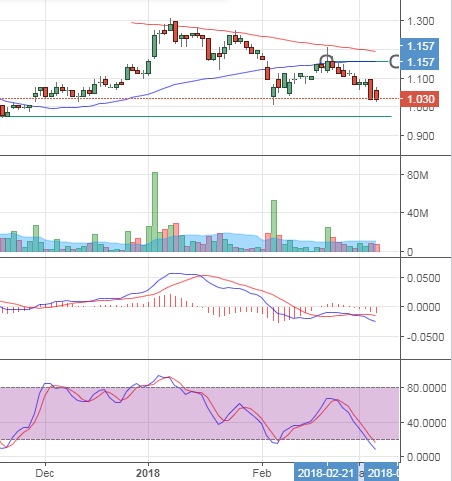 Source: https://charts.thestar.com.my/?s=MRCB
Current price: 1.03
Support Levels: 1.03, 0.97
Resistance Levels: 1.16
Price in a downtrend and currently trading around support level.
Stochastic below 20; may indicate overselling.
Might be a safer bet to accumulate at 0.97 level
7. IHH Healthcare Bhd
2nd largest listed healthcare operator by market capitalisation

Provides healthcare services

Operates hospitals as well as medical centres, clinics and ancillary healthcare businesses across multiple countries, including Singapore, Malaysia, Turkey, The Peoples Republic of China, India, Hong Kong, Vietnam, Macedonia and Brunei
Daily Chart: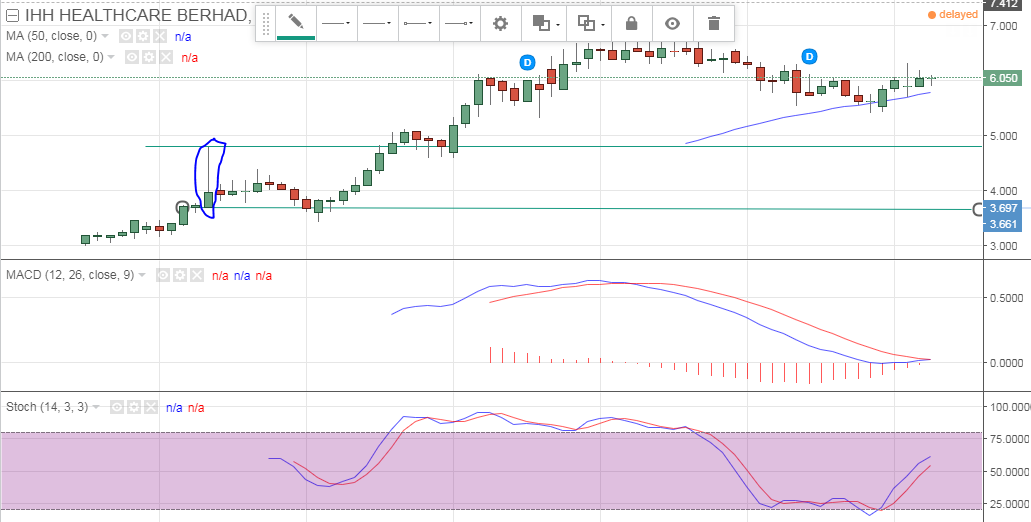 Source: https://charts.thestar.com.my/?s=IHH
Circled candle for May 2013 (2013 GE: 5th May)
Price seemed to have rather big movement during the previous GE period (from approx. 3.7 – 4.8; 30% movement)
In a range for the past 3 years
Might present buying opportunity for the upcoming GE if price were to break out of the range
Ending Note
Hey folks! We have reached the end of our Malaysia Upcoming Election series! Thanks for reading and keep a lookout for more articles on our blog!
Follow Phillip CFD on Facebook
This material is provided to you for general information only and does not constitute a recommendation, an offer or solicitation to buy or sell the investment product mentioned. It does not have any regard to your specific investment objectives, financial situation or any of your particular needs. Accordingly, no warranty whatsoever is given and no liability whatsoever is accepted for any loss arising whether directly or indirectly as a result of your acting based on this information.
Investments are subject to investment risks. The risk of loss in leveraged trading can be substantial. You may sustain losses in excess of your initial funds and may be called upon to deposit additional margin funds at short notice. If the required funds are not provided within the prescribed time, your positions may be liquidated. The resulting deficits in your account are subject to penalty charges. The value of investments denominated in foreign currencies may diminish or increase due to changes in the rates of exchange. You should also be aware of the commissions and finance costs involved in trading leveraged products. This product may not be suitable for clients whose investment objective is preservation of capital and/or whose risk tolerance is low. Clients are advised to understand the nature and risks involved in margin trading.
You may wish to obtain advice from a qualified financial adviser, pursuant to a separate engagement, before making a commitment to purchase any of the investment products mentioned herein. In the event that you choose not to obtain advice from a qualified financial adviser, you should assess and consider whether the investment product is suitable for you before proceeding to invest and we do not offer any advice in this regard unless mandated to do so by way of a separate engagement. You are advised to read the trading account Terms & Conditions and Risk Disclosure Statement (available online at www.poems.com.sg) before trading in this product.
Any CFD offered is not approved or endorsed by the issuer or originator of the underlying securities and the issuer or originator is not privy to the CFD contract.
All charts presented are for illustration purposes only.