The Future of Electric Vehicles: 2021 Outlook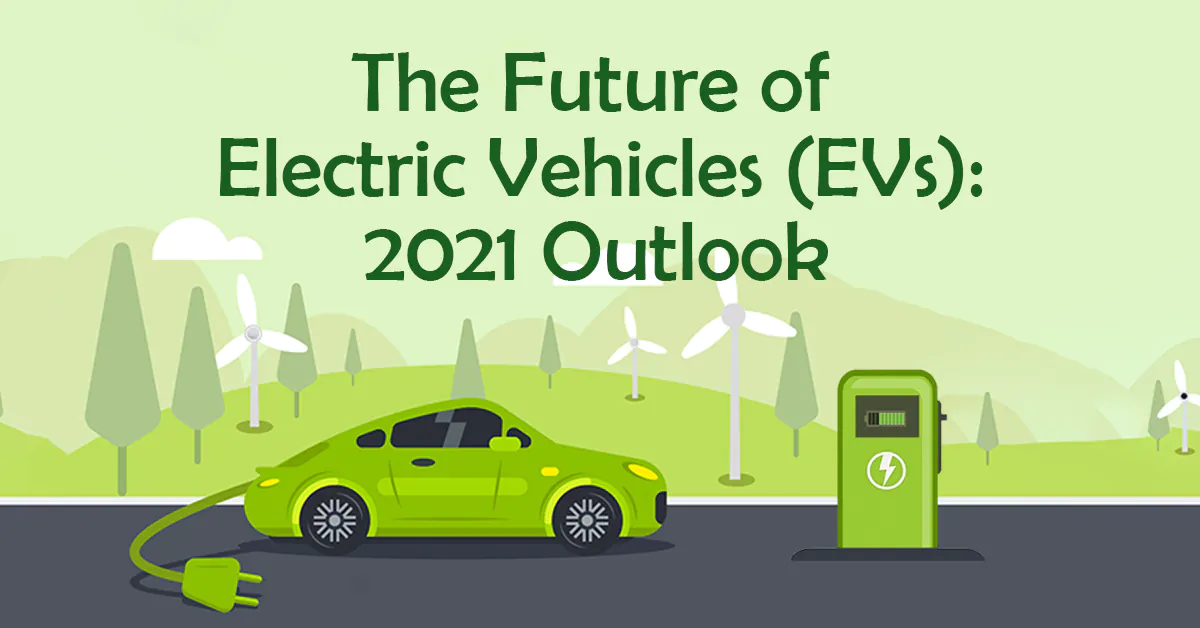 Mike Ong, Senior Dealer
Mike is a member of the largest dealing team that specialises in equities, ETFs, CFDs and bonds in Phillip Securities, managing 50,000 client accounts. He believes in investing long term for passive income and evaluates stocks using fundamentals. He is currently the Chief Editor of the HQ Education Series that aims to equip clients with the tools and skill sets to make better-informed investing and trading decisions.
Tan Kean Soon, CFD Dealer
Kean Soon graduated from the National University of Singapore with a Bachelor's degree in Materials Engineering. He is a passionate CFD dealer who believes that equity markets can help grow one's wealth with the right mindset, risk management and investing discipline.
In his free time, he enjoys educating himself on long-term investments and short-term trading as well as keeping up with the latest market news.
What this report is about:
Global EV stock is expected to grow by 36% annually to reach 245m vehicles by 2030
Government policies are supportive of EV adoption, especially in China and the US
Three EV stocks you may want to put on your watchlist are Tesla, Nio and XPeng        
Investors can also consider using ETFs for more diversified exposure
Share prices of EV players like Tesla, Nio and XPeng have crashed from their stratospheric highs in February. This was amid a market sell-off of high-growth stocks as US Treasury yields rose and semiconductor chips remain in short supply. Nio has temporarily suspended vehicle production for five days due to a lack of chips. Other players are likely to be in the same shoes.[1]
Shortage or no shortage, Nio still managed to deliver 20,060 vehicles in the quarter ending March 2021. This was up a whopping 423% YoY! [2] Tesla also shipped 184,800 vehicles in the quarter, up 209% YoY. [3,4] These delivery figures are simply out of whack with their share-price drops. So is it time to enter EV stocks?
Before you dash to call your broker, first understand current EV adoption rates, their potential future growth rates and the direction of government policies.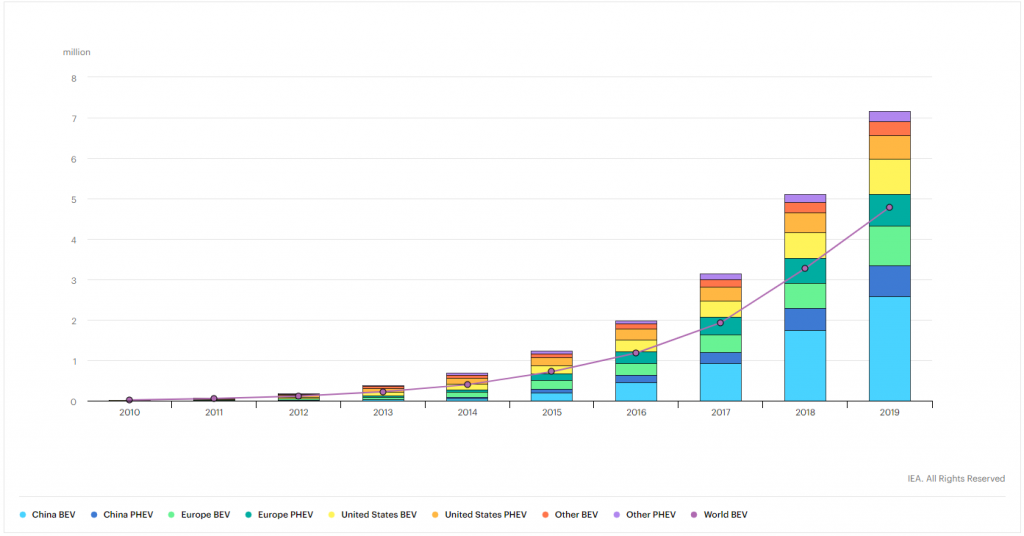 Figure 1:  International Energy Agency (IEA) analysis based on country submissions, complemented by ACEA (2020); EAFO (2020c); EV-Volumes (2020); Marklines (2020); OICA (2020); CAAM (2020).[5]
In 2010, you could only find about 17,000 EVs on the earth's roads. By 2019, the number had ballooned to 7.2m, with 47% cruising in China alone. China started promoting EVs as early as 2009. Government policy has been one of the biggest drivers of its EV adoption. With the other countries joining the game, what is the future of EVs?
Future growth rates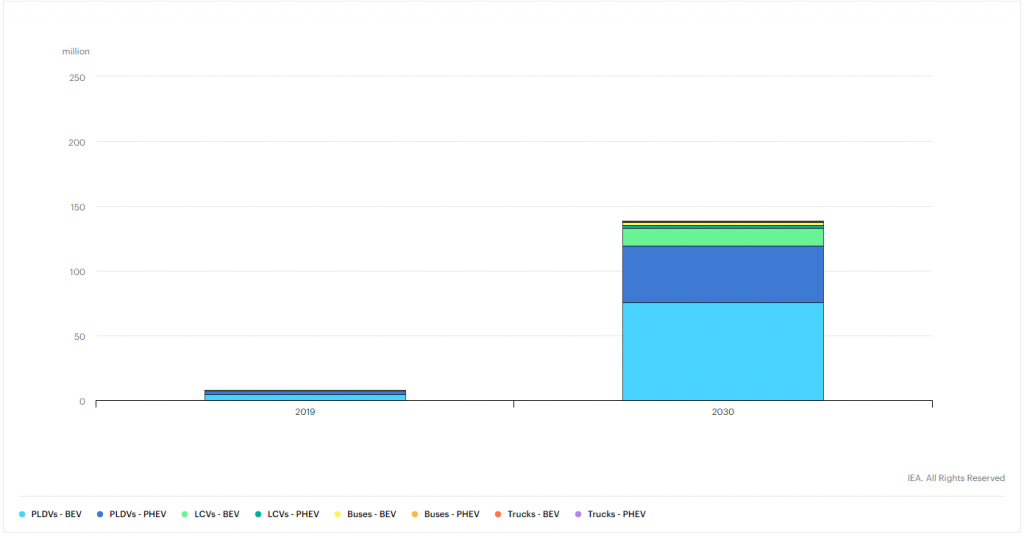 Figure 2: IEA [5]
IEA estimates that the global EV stock – excluding two- and three-wheelers – will grow by 36% annually to reach 245m vehicles by 2030. This would be 30 times above 2019 levels. [5] Such growth rates are expected to secure the future of EV makers.
However, a few major hurdles to EV adoption need to be crossed.
1) Lack of charging stations
EVs need charging stations, which are expensive to install. Building a network of charging stations in dense cities also requires careful infrastructure planning and time to build.
2) Charging time
Another deterrent is charging time. EVs need a much longer time to recharge than conventional cars refuelling at petrol pumps. Conventional cars take only 5-10 minutes. EVs take 30 minutes. Much more R&D has to be done to cut their charging time. A possible solution is battery swapping.
3) Limited driving range
The driving range of EVs is much shorter than conventional cars. When it comes to longer trips, EV drivers are known to experience "range anxiety". This is the fear that their cars will run out of power before they could reach the next charging station.
4) High costs
High manufacturing costs of EVs also explains their slow adoption. Government incentives have helped to narrow their cost differential with conventional cars but the incentives are short-term. EV lithium battery costs still make up a big chunk of the cost of EVs.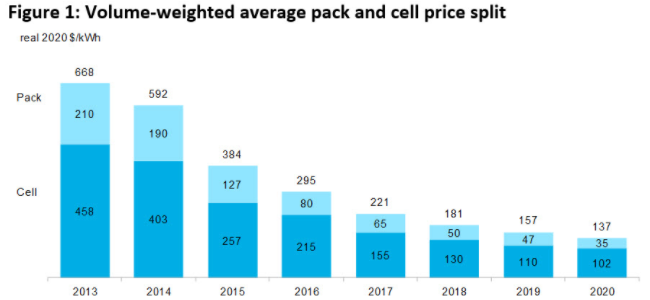 Source: Bloomberg NEF [6]
In 2010, lithium-ion batteries cost around US$1,100/kWh. Their price dropped to US$137/kWh in 2020. [6] Technology improvements and mass production leading to economies of scale are expected to drive costs further down. Until then, EV interest could remain tepid.
Government policies
Singapore
Singapore aims to phase out internal combustion engine (ICE) vehicles by 2040, when all vehicles are expected to run on cleaner energy. To this end, the government has ramped up incentives and initiatives. [7,8] These include:
Setting up a National Electric Vehicle Centre to promotion EV adoption
Launching an EV Early Adoption Incentive (EEAI) and Vehicular Emissions Scheme (VES) to narrow EVs' upfront cost gap with ICE cars
Rolling out 60,000 EV charging points across Singapore by 2030: 40,000 in public car parks and 20,000 in private premises
Building EV charging infrastructure in public housing estates
The U.S.
During his 2020 election campaign, President Biden pledged to strengthen auto emission standards and introduce incentives for carmakers to develop zero-emission cars. True to this, his administration has proposed a US$174bn plan to spur the development and adoption of EVs. [9,10] The plan will:
Boost incentives for consumers to buy battery-powered cars, including rebates and tax incentives
Allocate funds for the retooling of factories to make fuel-efficient vehicles
Build 500,000 EV charging stations throughout the country
Biden also wants to replace the federal government's entire vehicle fleet with EVs. [11]
China
China plans to phase out conventional gas-burning cars by 2035. [12]
China has had an enviable head start, having launched subsidies for EV purchases as early as 2009. Since then, it has introduced zero-emission zones, EV tax credits and fuel-efficiency standards to make EVs a more attractive proposition to manufacturers, consumers and businesses. By 2020, it had built over 807,000 public EV charging poles, up from 516,000 the previous year. It intends to build more. [13] All these have helped turn the country into the world's largest EV market that it is today.
Back in 2015, China announced plans to end its EV subsidies in 2020, since perpetual subsidies are unsustainable. However, it had to extend its subsidies when EV sales slowed amid the COVID-19 pandemic in 2020. Its Finance Ministry said that while the government would, in principle, cut subsidies by 20% in 2021 and 30% in 2022, it will not reduce subsidies for commercial new-energy vehicles (NEVs) for government use. NEVs are the Chinese term for plug-in EVs eligible for subsidies. China also continues to support the sale of cars with swappable batteries, a technology actively pursued by Chinese EV makers, Nio and BAIC BluePark.[14]
Against this supportive backdrop in two of the world's most important EV markets, we've picked three EV stocks which you may want to put on your watchlist for their growth prospects.
1. Tesla (NASDAQ: TSLA)
The company
Did you know that Elon Musk was not the founder of Tesla?
That's right! Tesla was founded by two engineers, Martin Eberhard and Marc Tarpenning, in 2003. Elon Musk didn't join the company until 2004, when he invested US$30m and became its Chairman.
Tesla was originally called Tesla Motors, after Nikola Tesla, a Serbian-American inventor in the 19th Century.
The company's initial journey was rocky. It went through a leadership restructuring in 2008 and faced considerable financial stress in 2009 [15]. It was not until 2013 that Tesla made its first quarterly profit. The following year, it broke ground on its first gigafactory in Nevada. This gigafactory allows Tesla to ramp up the production of lithium-ion batteries to meet projected demand for its EVs while slashing its costs [16].
The company's market cap has grown to an extent that it could be included in the S&P 500 on 21 December 2020. It is now one of the top 500 US stocks by value [17].
Tesla's unique selling points
Supercharger network


Figure 3: Tesla's superchargers in North America as of 6 April 2021. Source: https://www.tesla.com/en_SG/supercharger

Tesla has over 7,600 supercharger points in the US. This dwarfs both ChargePoint's (NYSE: CHPT) 1,400 charging points and 1,660 points for Volkswagen's Electrify America network in Q3 2019. ChargePoint is a company that operates an independent network of EV chargers [18].

Tesla's widespread and well-integrated charging stations in the US provide efficient and convenient recharging opportunities for its EVs, which partially account for their appeal.

Branding
Unlike other EV makers, Tesla shuns traditional dealerships. It prefers direct sales channels, as these give it rapid access to customer feedback and help it cultivate sales and customer relationships [19]. With direct sales, it has built a strong brand and delivered more EVs in 2020 than both Nio and XPeng combined [20,21,22].Actor Leonardo Dicaprio was so impressed with the Tesla Roadster that he snapped up one for US$200,000 in 2016. He also roped in Elon Musk for his video project, "Before the Flood", on climate change [23].
2. Nio (NYSE: NIO)
The company
Luxury EV manufacturer, Nio, was founded in November 2014 by Li Bin, the Elon Musk of China. The company has prominent shareholders such as Tencent [24] and Temasek [25].
Like Tesla, Nio had its share of roller-coaster rides in its early years. Initially, Chinese subsidies for NEVs led to boom times for EV makers, including Nio.
However, after a spate of quality and safety issues, the Chinese government cut back on subsidies. This was soon followed by the double whammy of COVID-19 lockdowns, which caused sales of EVs to evaporate. Nio teetered on the brink of bankruptcy. Fortunately, the city of Hefei came to its rescue with an investment of US$1bn. From that moment, it made a triumphant return to the stock market. Its shares have skyrocketed by almost 1,700% since [26,27].
Nio's unique selling points
Patented battery swapping technology
All of Nio's EVs support battery swapping, which takes three minutes to complete [28]. This is much faster than current power charging that takes half an hour [29,30].Nio is committed to shortening its battery-swapping time to under three minutes. It aims to achieve this by enhancing the capacity and efficiency of its battery-swapping stations starting Q2 2021 [31]. As at end-2020, Nio had 172 PowerSwap stations covering urban areas and expressways in China, including 74 cities [32]. By March 2021, Nio had completed 2,000,000 battery swaps at its PowerSwap stations [33].
Battery-as-a-service (BaaS)
Nio's BaaS mimics the Software-as-a-Service (SaaS) offerings of many software and cloud computing companies. Both refer to affordable pricing plans for their products/services in return for recurring revenue.Nio launched its BaaS offering in 2020 to customers. This includes lower vehicle-purchase prices, monthly or yearly battery-pack subscriptions and options for future battery upgrades. At the end of Q1 2021, over half of the new orders it received came with BaaS subscriptions [34]. BaaS is expected to evolve into Nio's next core business, creating a stable stream of recurring revenue for the company.
3. XPeng (NYSE: XPEV)
The company
XPeng is a smart EV maker co-founded by Xiaopeng He in 2014. The latter earlier founded UCWeb, a Chinese mobile-browser company, which he sold to Alibaba in 2014 [35]. XPeng is currently backed by Alibaba [36].
As with Nio, XPeng has successfully raised funds – US$78m – from the Guangdong provincial government for its EV production and autonomous-driving R&D [37].
XPeng's unique selling points
End-to-end autonomous driving technology
XPeng prides itself on providing fast software and hardware iterations and technology innovations to provide the best autonomous-driving experience to its customers.For instance, customers' vehicles receive timely software upgrades over WiFi, including a Navigation Guided Pilot (NGP) system which it recently introduced. The NGP allows drivers to change lanes, speed up or slow down, overtake cars as well as enter and exit highways automatically.In March this year, XPeng launched an 8-day NGP expedition from Guangzhou to Beijing to showcase the robustness and reliability of its NGP system. An XPeng P7 fleet undertook the journey of over 3,600 km, with 2,930 km of highway driving under the control of the NGP. The expedition's average success rate was 94.41% for lane-changing and overtaking, 92.76% for highway ramp entering and exiting and 94.95% for tunnel pass-through [38].
Comparison of Tesla, Nio and XPeng
1) Revenue Growth

Source: Tesla's, Nio's and XPeng's FY2020 financial results [39,40,41]
Although XPeng and Nio booked lower sales than Tesla in 2020, their YoY revenue growth was much stronger. Being EV players in China – the world's largest EV market, both Nio and XPeng are poised to sustain their growth in the near term.
Though Tesla's revenue growth was lower than the other two, its revenue from China grew by 124% from US$2,979m in 2019 to US$6,662m in 2020 [39]. Tesla is ramping up its Shanghai gigafactory to full production capacity to capture more growth in the Chinese market [42].
2) Valuations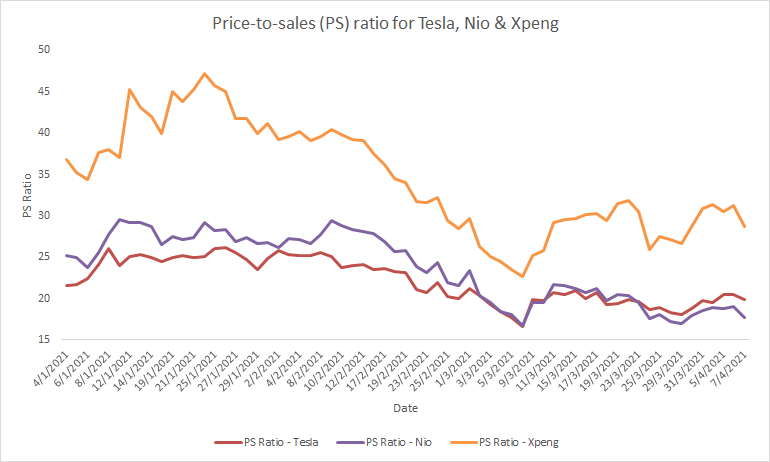 Price-to-sales ratios for Tesla, Nio and XPeng from 1 April 2021 to 7 April 2021. Source: Bloomberg
XPeng is richly priced in terms of P/Sales compared to Tesla and Nio. This may be attributed to its revenue growth of 152% in 2020, the highest among the EV car makers.
How to get exposure to EVs
With governments committed to making electric cars more affordable and commonplace, the EV industry looks set to grow further in China and the US. Furthermore, traditional car manufacturers are also heavily investing to play "catch up". That said, growth performances in the industry might not be even. Investors can thus consider using ETFs for more diversified exposure.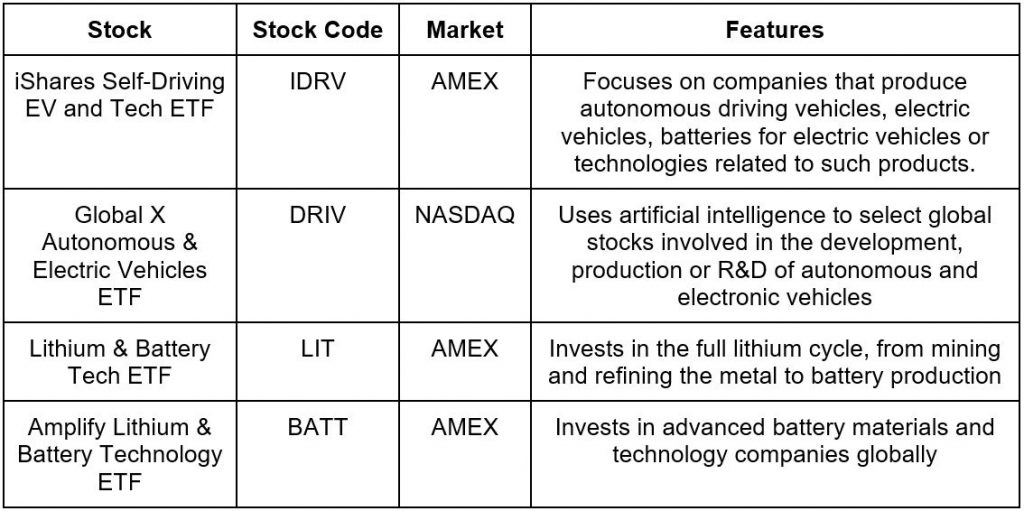 1) Trade EV shares and ETFs from US$1.88 flat
As the pioneer of Singapore's online trading, POEMS' award-winning suite of trading platforms offer investors and traders more than 40,000 financial products across global exchanges.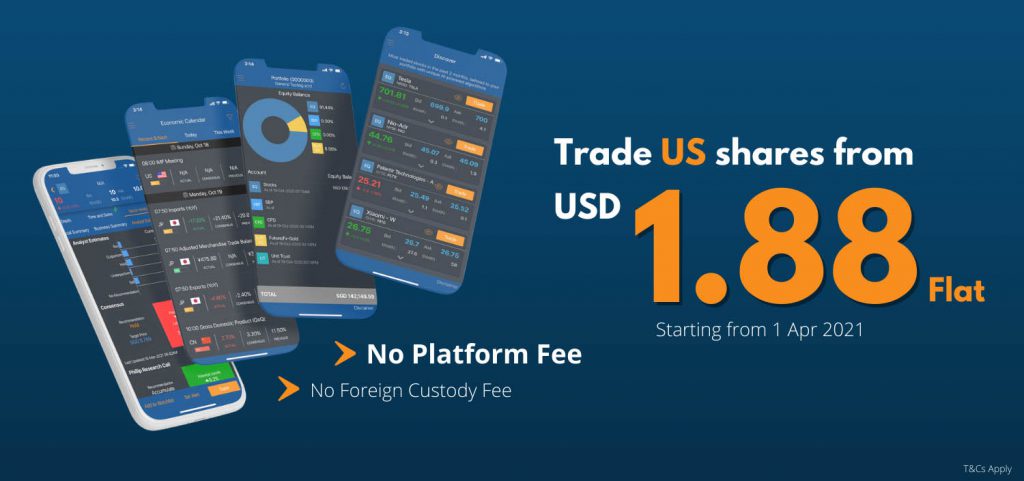 Explore an array of US shares at brokerage fees as low as US$1.88 flat* when you open a Cash Plus Account with us today. Find out more here. T&Cs apply.
2) Trade EV CFDs like Tesla, Nio, XPeng, with or without leverage
Investors and traders with a bigger risk appetite may consider using Contracts for Differences (CFDs) to invest in the EV sector. CFDs are versatile tools for investors, particularly those who take an active approach to investing. CFDs can be used for hedging, short-selling and even leveraged trading. They only require minimum investments upfront, which are known as the margin requirement.
CFDs are also ideal tools for people with less capital but who wish to capitalise on the growth potential of certain industries. Or they may simply want to take advantage of the latest market movements regardless of direction.
CFDs, however, may not be suitable for investors whose investment objective is to preserve capital and/or whose risk tolerance is low.
To understand more, you can refer to our article on "Understanding Contracts for Differences".
Thank you for staying with us through this lengthy read. We sincerely hope that you found value reading this article! If you do not have a POEMS account, you may visit this link or scan the QR code below to open one with us today!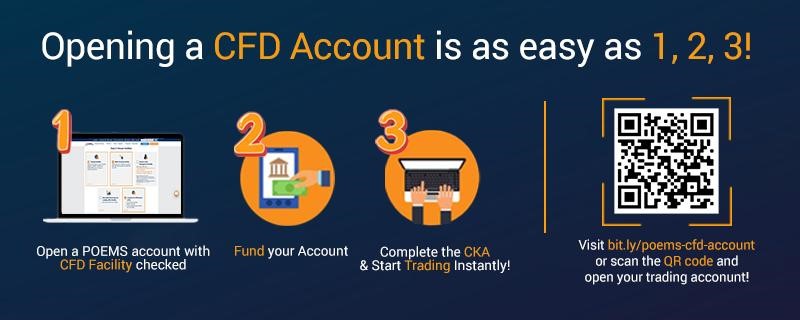 Open a POEMS account within minutes and trade instantly!
For enquiries, please feel free to email us at cfd@phillip.com.sg. If you are interested in active discussions, you can also join our Telegram community here.
Trade on our award-wining suite of POEMS Platform. Open a CFD Account now!
References
[1] https://www.cnbc.com/2021/03/26/chinese-ev-start-up-nio-shuts-factory-for-5-days-due-to-chip-shortage.html
[2] https://ir.nio.com/news-events/news-releases/news-release-details/nio-inc-provides-march-and-first-quarter-2021
[3] https://ir.tesla.com/press-release/tesla-q1-2021-vehicle-production-deliveries
[4] https://ir.tesla.com/press-release/tesla-q1-2020-vehicle-production-deliveries
[5] https://www.iea.org/reports/global-ev-outlook-2020
[6] https://about.bnef.com/blog/battery-pack-prices-cited-below-100-kwh-for-the-first-time-in-2020-while-market-average-sits-at-137-kwh/
[7]https://www.lta.gov.sg/content/ltagov/en/industry_innovations/technologies/electric_vehicles.html
[8]https://www.lta.gov.sg/content/ltagov/en/newsroom/2021/3/news-release/Accelerating_nationwide_deployment_of_electric_vehicle_charging_points.html
[9] https://www.cnbc.com/2021/03/31/us-ev-charging-system-a-priority-under-bidens-2-trillion-infrastructure-plan.html
[10] https://robbreport.com/motors/cars/president-biden-174-billion-electric-cars-1234604827/
[11] https://www.cnet.com/roadshow/news/biden-administration-federal-fleet-electric-vehicles/
[12] https://asia.nikkei.com/Business/Automobiles/China-plans-to-phase-out-conventional-gas-burning-cars-by-2035
[13] https://www.statista.com/statistics/993121/china-public-electric-vehicle-charging-station-number/#:~:text=This%20statistic%20shows%20the%20number,stations%20in%20the%20previous%20year
[14] https://www.reuters.com/article/us-china-autos-electric-subsidies-idUSKCN225177
[15] https://www.thestreet.com/technology/history-of-tesla-15088992#:~:text=was%20founded%20in%202003%20by,properties%20of%20rotating%20electromagnetic%20fields.
[16] https://ir.tesla.com/_flysystem/s3/sec/000156459021004599/tsla-10k_20201231-gen.pdf
[17] https://www.bloomberg.com/news/articles/2020-11-16/tesla-will-join-s-p-500-in-december-as-largest-ever-new-member
[18] https://www.forbes.com/sites/greatspeculations/2020/01/21/a-closer-look-at-teslas-supercharger-network/?sh=3562481e7193
[19] https://www.forbes.com/sites/greatspeculations/2016/03/03/is-the-direct-sales-model-critical-for-tesla-motors/?sh=34e0b28e23b3
[20] Tesla delivered 499,647 vehicles in 2020, https://www.sec.gov/Archives/edgar/data/1318605/000156459021004599/tsla-10k_20201231.htm
[21] Nio delivered 43,728 vehicles in 2020, https://ir.nio.com/static-files/72b2a3c4-24c7-492f-8a4e-c4ea9c103350
[22] XPeng delivered 27,041 vehicles in 2020, https://ir.xiaopeng.com/news/news-details/2021/XPeng-Reports-Fourth-Quarter-and-Fiscal-Year-2020-Unaudited-Financial-Results/default.aspx
[23] https://www.cheatsheet.com/entertainment/leonardo-dicaprio-liked-his-200k-tesla-so-much-he-worked-with-elon-musk.html
[24] https://www.sec.gov/Archives/edgar/data/1293451/000119312521068398/d29853dsc13da.htm
[25]https://www.sec.gov/Archives/edgar/data/1021944/000119312520027678/d884591dsc13ga.htm
[26] https://technode.com/2020/03/23/insights-nio-lives
[27] https://techcrunch.com/2020/04/29/ev-startup-nio-secures-1-billion-investment-from-china-entities/
[28] https://www.nio.com/nio-power#:~:text=NIO%20Power%20Swap&text=It%20takes%20only%203%20minutes,till%20self%2Dcheck%20is%20finished
[29] https://www.nio.com/nio-power
[30] https://www.tesla.com/en_SG/supercharger
[31]  Nio's FY2020 Annual Report on Key Innovations and Breakthroughs section on battery swapping time, https://ir.nio.com/static-files/cb42cc7f-6069-45a2-bbe4-21d4808609b8
[32] Nio's FY2020 Annual Report on Key Innovations and Breakthroughs section on PowerSwap Stations, https://ir.nio.com/static-files/cb42cc7f-6069-45a2-bbe4-21d4808609b8
[33] https://www.greencarcongress.com/2021/03/20210327-nio.html
[34] Nio's FY2020 Annual Report on Key Innovations and Breakthroughs section on BaaS, https://ir.nio.com/static-files/cb42cc7f-6069-45a2-bbe4-21d4808609b8
[35] https://www.forbes.com/sites/jillbaker/2021/02/22/how-to-charge-your-portfolio-with-chinese-ev-disruptors-like-nio-xpeng-and-li/?sh=31e7fdb35d30
[36] https://d18rn0p25nwr6d.cloudfront.net/CIK-0001810997/c4cb4f7c-512d-4eb0-a2ce-d382b17647bf.pdf
[37] https://en.xiaopeng.com/news/news_info/3813.html
[38] https://www.businesswire.com/news/home/20210331005581/en/
[39] https://ir.tesla.com/_flysystem/s3/sec/000156459021004599/tsla-10k_20201231-gen.pdf
[40] https://ir.nio.com/static-files/cb42cc7f-6069-45a2-bbe4-21d4808609b8
[41]https://s25.q4cdn.com/337316314/files/doc_financials/2020/q4/XPeng-Fourth-Quarter-and-Fiscal-Year-2020-Unaudited-Financial-Results.pdf
[42] https://ir.tesla.com/press-release/tesla-q1-2021-vehicle-production-deliveries
Disclaimer
This material is provided to you for general information only and does not constitute a recommendation, an offer or solicitation to buy or sell the investment product mentioned. It does not have any regard to your specific investment objectives, financial situation or any of your particular needs. Accordingly, no warranty whatsoever is given and not liability whatsoever is accepted for any loss arising whether directly or indirectly as a result of your acting based on this information.
Investments are subject to investment risks. The risk of loss in leveraged trading can be substantial. You may sustain losses in excess of your initial funds and may be called upon to deposit additional margin funds at short notice. If the required funds are not provided within the prescribed time, your positions may be liquidated. The resulting deficits in your account are subject to penalty charges. The value of investments denominated in foreign currencies may diminish or increase due to changes in the rates of exchange. You should also be aware of the commissions and finance costs involved in trading leveraged products. This product may not be suitable for clients whose investment objective is preservation of capital and/or whose risk tolerance is low. Clients are advised to understand the nature and risks involved in margin trading.
You may wish to obtain advice from a qualified financial adviser, pursuant to a separate engagement, before making a commitment to purchase any of the investment products mentioned herein. In the event that you choose not to obtain advice from a qualified financial adviser, you should assess and consider whether the investment product is suitable for you before proceeding to invest and we do not offer any advice in this regard unless mandated to do so by way of a separate engagement. You are advised to read the trading account Terms & Conditions and Risk Disclosure Statement (available online at www.poems.com.sg) before trading in this product.
Any CFD offered is not approved or endorsed by the issuer or originator of the underlying securities and the issuer or originator is not privy to the CFD contract. This advertisement has not been reviewed by the Monetary Authority of Singapore (MAS).