Turning Trash into Treasure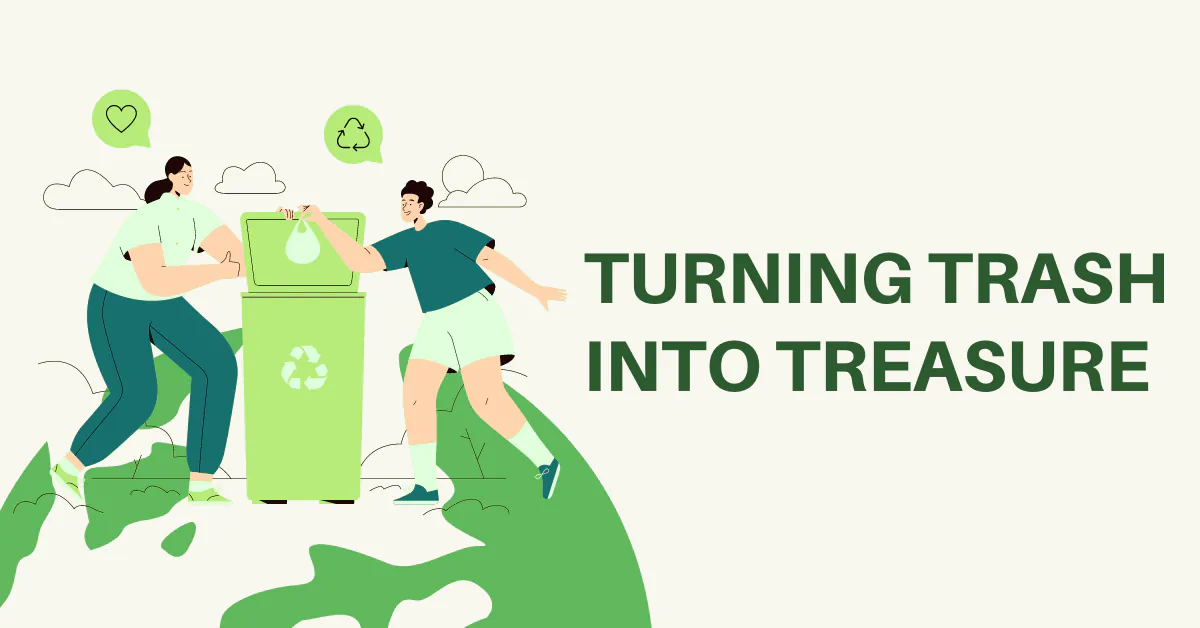 Jeremy Chua, Dealing 
Jeremy graduated from Nanyang Technological University with a Bachelor's Degree in Business and is a member of the largest dealing team in Phillip Securities. He strongly believes in the importance of staying invested in the financial markets and evaluates stocks using fundamentals to make informed investment decisions.
In his free time, he enjoys researching on market events and disruptive investment themes to generate new investment ideas for the short and long term.  
Introduction to Global Recycling Day
Did you know that the Global Recycling Day falls on 18 March every year?
Started out by the Global Recycling Foundation (GRF) in 2018, this special day aims to help recognise and celebrate the importance of recycling and preserving our precious primary resources to secure the future of our planet. It is a day for the world to come together and put the collective interests of our planet first.
The GRF highlights the six essential resources of water, air, oil, natural gas, coal, and minerals. These finite resources are rapidly running out.
What can we do to make a difference? It's actually simple and everyone can play a part and recycle. The GRF refers to recycling as the 'Seventh Resource'.
Through recycling, we can help preserve our precious primary resources and secure the future of our planet. From another perspective, recycling also offers interesting investment opportunities, and is worth exploring.
The problem of wastage
The problem of proliferating waste is not unfamiliar. In fact, school-going children are taught the '3Rs': Reduce, Reuse and Recycle. These principles are more relevant in today's environment where increased urbanisation and industrialisation have led to more waste production.
Here are some statistics on waste that you may not be aware of.
Did you know that 60% of clothing is buried or burned within a year of being made, 33% of edible food is thrown away uneaten, and 50% of all plastics are single use?
According to the World Bank, waste levels could be growing twice as fast as the global population by 2050.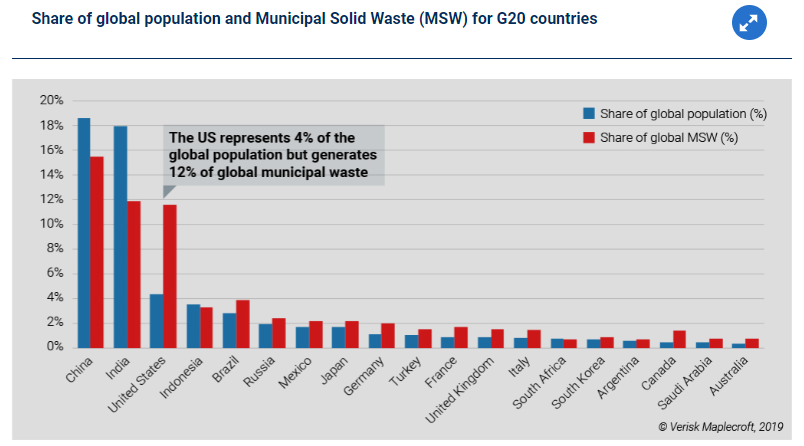 Source: Verisk Maplecroft [1]
In order to give you a rough idea of where we currently stand in terms of waste generation, the data above shows the share of global population and the share of global Municipal Solid Waste (MSW) for the G20 countries. Unfortunately, the US generates the most waste per capita compared to other countries. Regardless, the world can work towards reducing waste and protecting our planet.
If the world cannot handle waste generation, products must be used to their maximum potential. This requires moving away from the linear model of modernity, where resources are extracted, turned into products, used, and then disposed of as waste, and towards a circular economy.
The circular economy prioritises the greater reuse of waste as a new resource as well as the extension of life of existing products, and encourages wider principles of leasing and sharing.
Recycling plays a key role in the circular economy by protecting our natural resources. Each year, the 'Seventh Resource' (recyclables) saves over 700 million tonnes of CO2 emissions, and this is projected to increase to 1 billion tonnes by 2030. [2] There is no doubt that recycling is at the forefront of the battle to save our planet and humanity.
Now you may be wondering how recycling relates to you as an investor but before that, let's understand what the term 'circular economy' means.
What is a circular economy?
A circular economy is a model of production and consumption designed to decouple economic growth from the consumption of finite resources. In contrast to the current linear take-make-waste model, it is based on three design-driven principles as follows [3]:
Eliminate waste and pollution
Circulate products and materials (at their highest value)
Regenerate nature
Its purpose is to:
slow the depletion of scarce natural resources
reduce environmental damage from the extraction and processing of raw materials
reduce pollution from the processing, use and disposal of materials
Below is an illustration of the approach to circularity as shared by the United Nations Environment Programme (UNEP).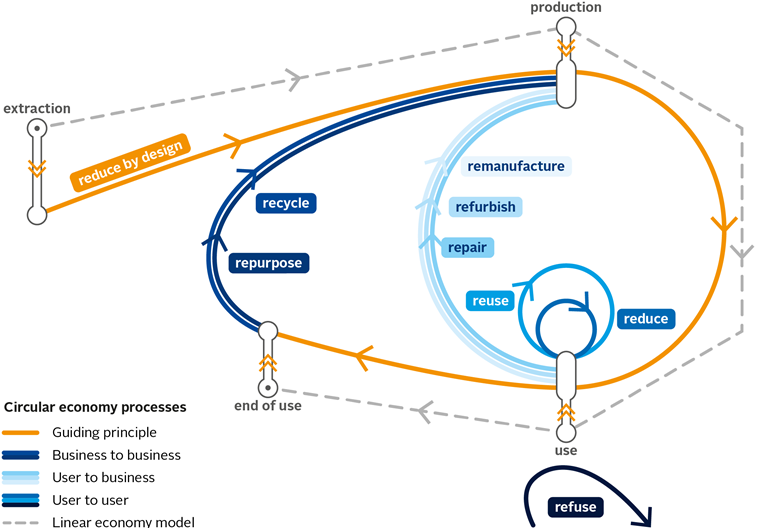 Source: Principles for Responsible Investment [3]
Why should you care?
Waste as an investment theme seems to be gaining popularity lately.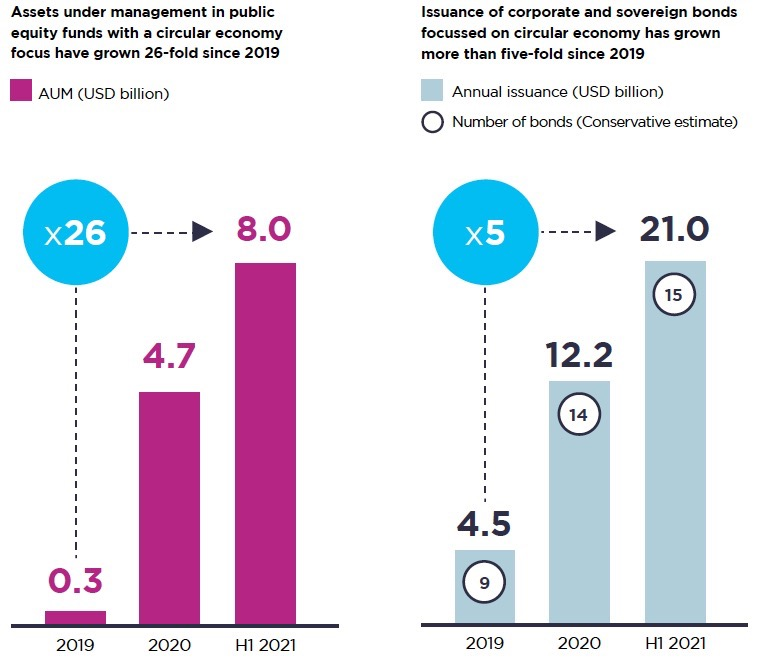 Source: ISS Insights [4]
The number of circular economy-themed public equity and private market funds, and bond issuances has been increasing over the last few years.
The global waste recycling service market was valued at US$57.69 billion in 2021 and is expected to reach US$88.01 billion by 2030, indicating a compound annual growth rate of 4.8% during the forecast period from 2022 to 2030 [5]. The high volume of global economic activities has heightened the demand for recycling of waste materials.
Apart from the growing size of the circular economy and its growth projections, it is essential to note that the principles of a circular economy affect almost all industries and their global value chains. Addressing sectors that have a high environmental impact and high potential for circularity can provide investment opportunities and economic growth.
With regard to regulations, the EU Green Deal's Circular Economy Action Plan and the EU Taxonomy are supporting the promotion of the circular economy in Europe. France passed a circular economy law in 2021, while other countries, such as China and Chile, have presented circular economy plans. Regulatory drivers are expected to increase pressure on private actors, and investors should stay ahead of the game and leverage circular economy investment opportunities.
Regulations, technology, and consumer demand are rapidly evolving and driving the transition to a circular economy.
At this point, you might be wondering how you can take advantage of this opportunity as an investor.
From an investor's perspective
Investors looking for opportunities while supporting the transition to a circular economy through their investments can follow a simple investment process outlined by the Principles for Responsible Investment (PRI) [3] when screening for a particular company.
The screening process involves:
identifying sectors with high linear material use and environmental impact – including their associated physical and transition risks, and considering risks and opportunities. Investors should prioritise the most impactful circularity processes, such as reuse and remanufacture.
allocating capital to sectors or business models that support circularity and present financial opportunities.
measuring progress against recognised global sustainability goals, such as the SDGs and the Paris Agreement, where they want to shape sustainability outcomes.
Apart from stock picking, Exchange-Traded Funds (ETFs) are another way investors can approach this investment theme. ETFs are suitable for investors who do not have the time to research on stock picks and offer a cheaper way to gain exposure to a diversified portfolio of companies.
Here's one easily accessible ETF that focuses on the theme of recycling/circular economy:
VanEck Environmental Services ETF (AMEX: EVX)
Underlying Index: NYSE Arca Environmental Services Index (AXENV)
The index is comprised of a diversified group of selected companies involved in the management, removal and storage of consumer waste and industrial by-products, and related environmental services
Investors can also put their money into an actively managed fund, run by professional investors who select stocks they believe will outperform the benchmark.
One such fund, launched by the world's largest asset managers, BlackRock, is the BGF Circular Economy Fund. The Circular Economy Fund seeks to maximise total return by investing at least 80% of its total assets in the equity securities of companies globally that benefit from or contribute to the advancement of the 'Circular Economy'.
That being said, if you decide to align your investments with the circular economy, don't waste the opportunity to pick wisely.

From 1 March 2023 to 30 June 2023 (both dates inclusive), open a POEMS CFD MT5 account and trade with us to receive Apple AirPods, Trading Credits and Grab Vouchers.
This promotion is valid to all Phillip Securities Pte Ltd (PSPL) customers who have not opened a POEMS CFD MT5 Account.
*T&Cs Apply.
For more information, click here.
How to get started with POEMS
As the pioneer of Singapore's online trading, POEMS's award-winning suite of trading platforms offers investors and traders more than 40,000 financial products across global exchanges.
Explore an array of US shares with brokerage fees as low as US$1.88 flat* when you open a Cash Plus Account with us today. Find out more here (terms and conditions apply).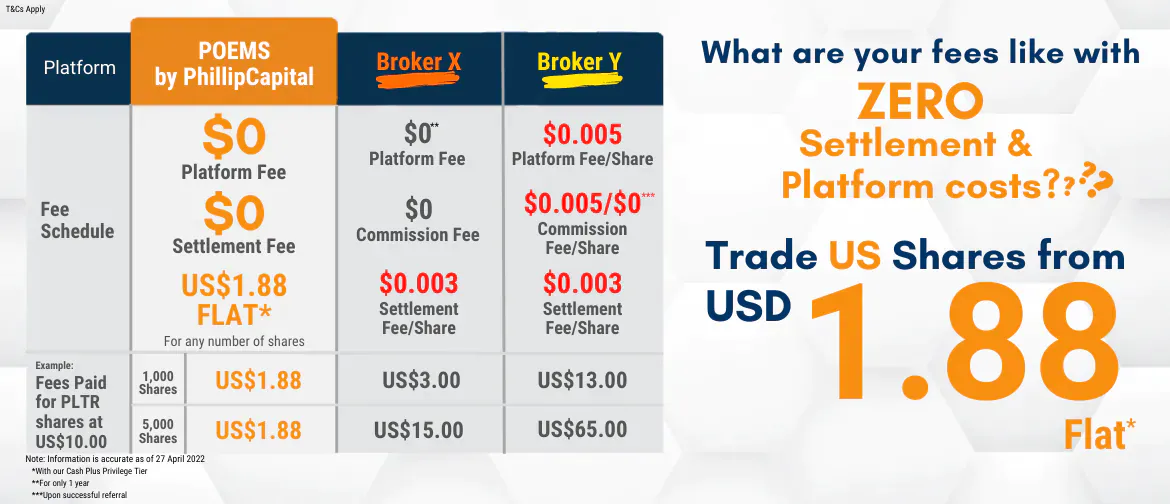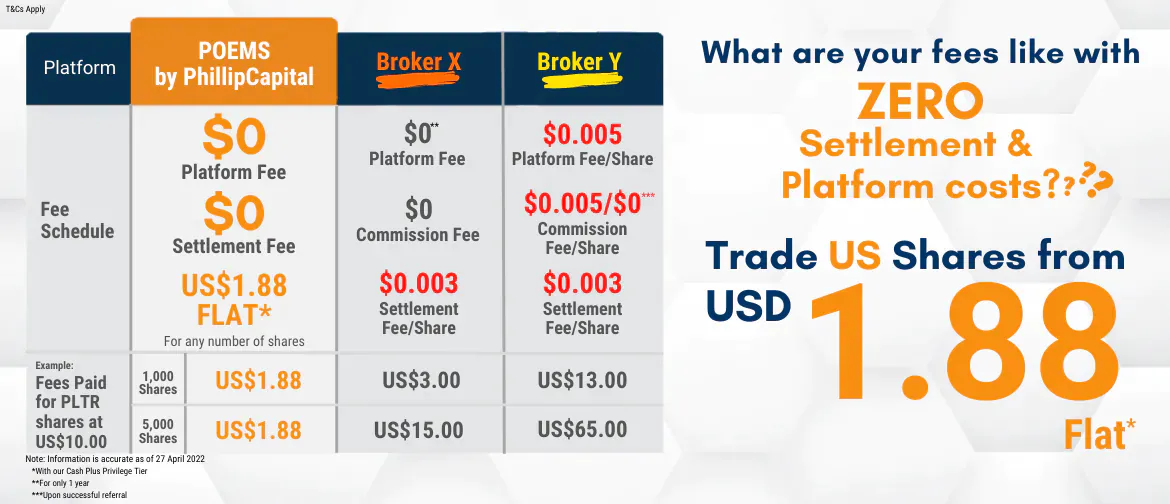 We hope that you have found value reading this article. If you do not have a POEMS account, you may visit here to open one with us today.
Lastly, investing in a community is much more fun. You will get to interact with us and other seasoned investors who are generous in sharing their experience and expertise.
In this community, you will be exposed to quality educational materials, stock analysis to help you apply the concepts, unwrap the mindset of seasoned investors, and even post questions.
We look forward to sharing more insights with you in our growing and enthusiastic Telegram community. Join us now!
For enquiries, please email us at cfd@phillip.com.sg.
Disclaimer
This material is provided to you for general information only and does not constitute a recommendation, an offer or solicitation to buy or sell the investment product mentioned. It does not have any regard to your specific investment objectives, financial situation or any of your particular needs. Accordingly, no warranty whatsoever is given and not liability whatsoever is accepted for any loss arising whether directly or indirectly as a result of your acting based on this information.
Investments are subject to investment risks. The risk of loss in leveraged trading can be substantial. You may sustain losses in excess of your initial funds and may be called upon to deposit additional margin funds at short notice. If the required funds are not provided within the prescribed time, your positions may be liquidated. The resulting deficits in your account are subject to penalty charges. The value of investments denominated in foreign currencies may diminish or increase due to changes in the rates of exchange. You should also be aware of the commissions and finance costs involved in trading leveraged products. This product may not be suitable for clients whose investment objective is preservation of capital and/or whose risk tolerance is low. Clients are advised to understand the nature and risks involved in margin trading.
You may wish to obtain advice from a qualified financial adviser, pursuant to a separate engagement, before making a commitment to purchase any of the investment products mentioned herein. In the event that you choose not to obtain advice from a qualified financial adviser, you should assess and consider whether the investment product is suitable for you before proceeding to invest and we do not offer any advice in this regard unless mandated to do so by way of a separate engagement. You are advised to read the trading account Terms & Conditions and Risk Disclosure Statement (available online at www.poems.com.sg) before trading in this product.
Any CFD offered is not approved or endorsed by the issuer or originator of the underlying securities and the issuer or originator is not privy to the CFD contract. This advertisement has not been reviewed by the Monetary Authority of Singapore (MAS).