Why Do Bid-Ask Spread Matter in Trading?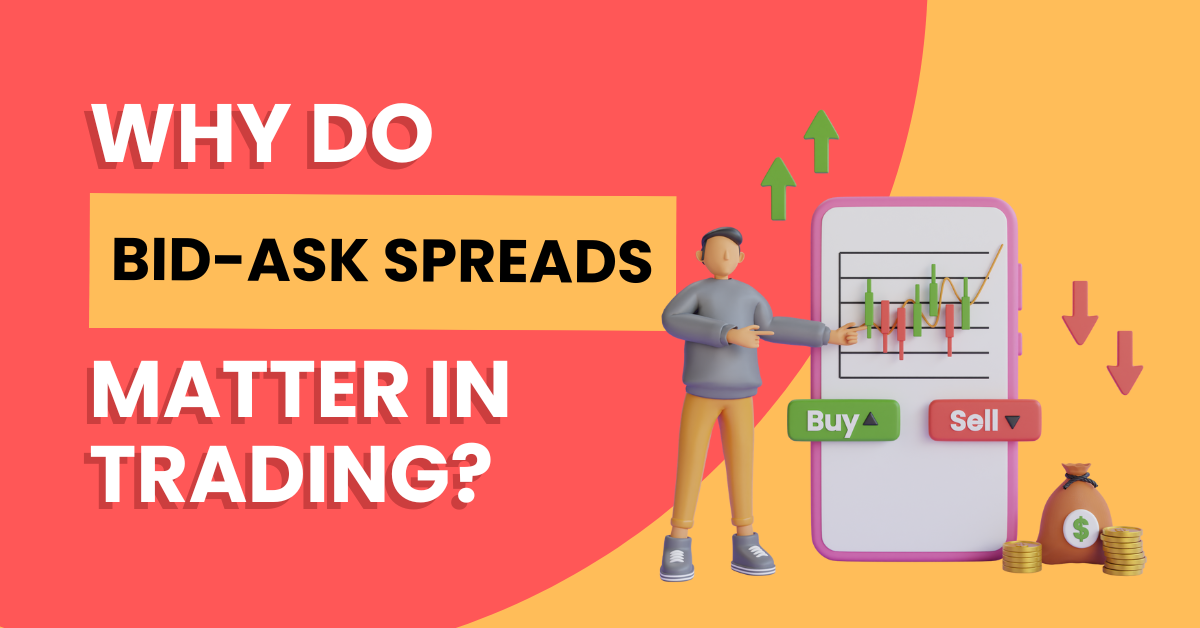 Kenneth Tan, Head of FX CFD
Kenneth Tan graduated from Nanyang Business School with a Master of Science in Financial Engineering. Having worked as a spot and NDF trader for a top bank in Japan and an option dealer with one of France's top five banking groups, Kenneth has devoted more than 15 years to developing the FX business and strongly believes that investing in FX instruments is essential to every investor. He enjoys learning about how automated strategies can enhance trading experience for clients. 
The bid-ask spread is the difference between the bid and ask price for a given trading instrument. The bid price represents the highest price a buyer is willing to pay for the instrument, while the ask price represents the lowest price a seller is willing to accept. There are many ways an investor can interpret what a bid-ask spread represents for the instrument, including:
Barometer of Liquidity: a smaller spread suggests higher liquidity, meaning more buyers and sellers are willing to negotiate in the market.
Trading Risk: a wide bid-ask spread presents greater risk of not trading the instrument at the best prices possible.
Guide to Type of Order to be placed: normally, if the bid-ask spreads are narrow, you can get the best price with the market order itself. However, if the spreads are wider, then a limit order will be a better choice.
Direction or Momentum of the market: narrowing and widening of the bid-ask spread is an indication of the direction or momentum of the market movement.
Over-the-counter trading, or OTC trading, refers to a trade that is not made on a formal exchange. Instead, most OTC trades are between the investor and his broker. The broker is therefore termed as the "principal" to the trade. The most popular OTC market is forex (i.e. foreign exchange), where currencies are bought and sold via a network of banks. Forex trading is decentralised and can take place 24 hours a day, as opposed to an exchange's open and close timing restrictions. With the broker acting as the principal, it is therefore important to understand that both the bid and ask prices are determined by the broker, a process often referred to as "market-making". The prices determined are often based on two components, namely, (1) what the broker is able to hedge their risk at; and (2) markups. This is also why OTC products can be offered at zero commissions as the intended commissions are represented as markups in prices.
So what do these mean for you?
A bid-ask spread primarily represents transactional cost to an investor. Why is this so? When you enter a trade, you will eventually need to exit. The turnaround costs to an investor would therefore be buying at the ask price (where a seller is willing to sell), and selling at the bid price (where a buyer is willing to buy), even without any changes to the asset's price. Just on this transactional operation, the investor would have incurred a cost based on how wide the bid-ask spread is.
The bid-ask spread is therefore important as an investor would not want the erosion of profits by high trading costs. Furthermore, when investors uses stop-loss type orders, they should have the assurance that the prices provided by their brokers are competitive (i.e. not a wide bid-ask spread) at least 90% of the time to prevent large slippages.
Example of how transactional costs are calculated through a forex bid-ask spread

Not surprisingly, across various trading instruments, trading forex incurs one of the least transactional costs due to its extremely competitive bid-ask spread. The forex market also offers one of the highest leverage levels among all forms of investing. Therefore, adding forex into your portfolio (either for hedging or speculative purposes), is at a fraction of capital requirement and at very low transactional costs.
Screenshot for illustrative purposes on typical spreads provided by PhillipCapital's POEMS platform

It is also important to choose the right broker as the counterparty and "market-maker" to your trades.  It is essential to understand if your broker is providing these at zero commission with no financing charges, no platform fees, and no added market data fees.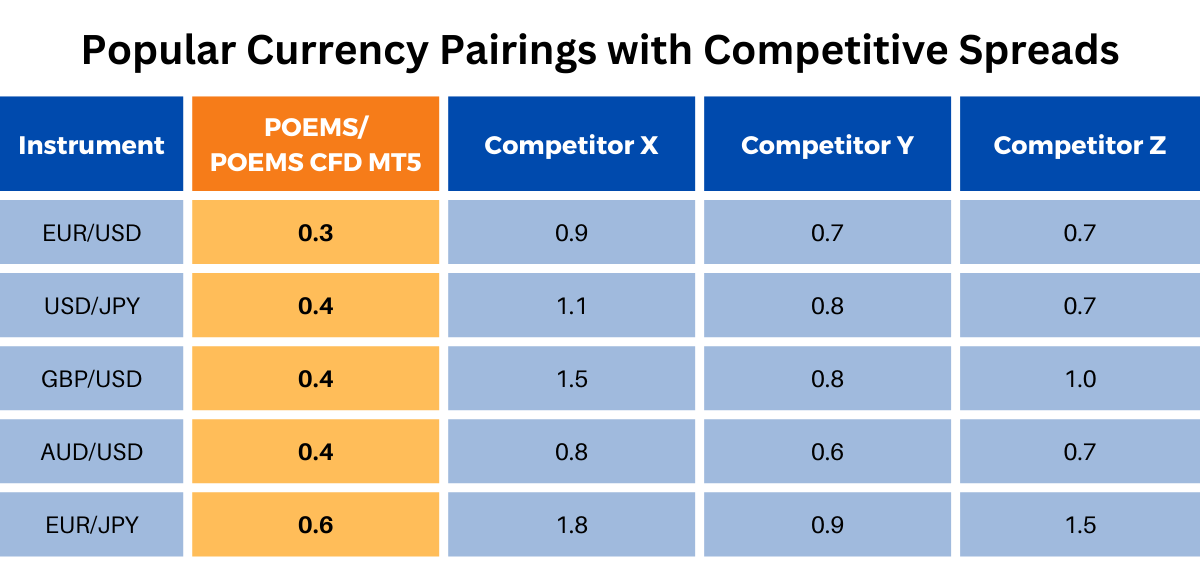 Source: Pricing available on websites of competitors as of 18 July 2023.
In conclusion, it is important to understand the transactional cost involved in the trading instrument of your choice. The bid-ask spread can also be representative of how competitive your broker is.
PhillipCapital offers a wide range of forex (FX) CFDs to trade from, allowing traders to diversify their portfolio with the forex market. You can find the list of FX CFD currency pairs available here.
How to get started with POEMS
As the pioneer of Singapore's online trading, POEMS's award-winning suite of trading platforms offers investors and traders more than 40,000 financial products across global exchanges.
Explore an array of US shares with brokerage fees as low as US$1.88 flat* when you open a Cash Plus Account with us today. Find out more here (terms and conditions apply).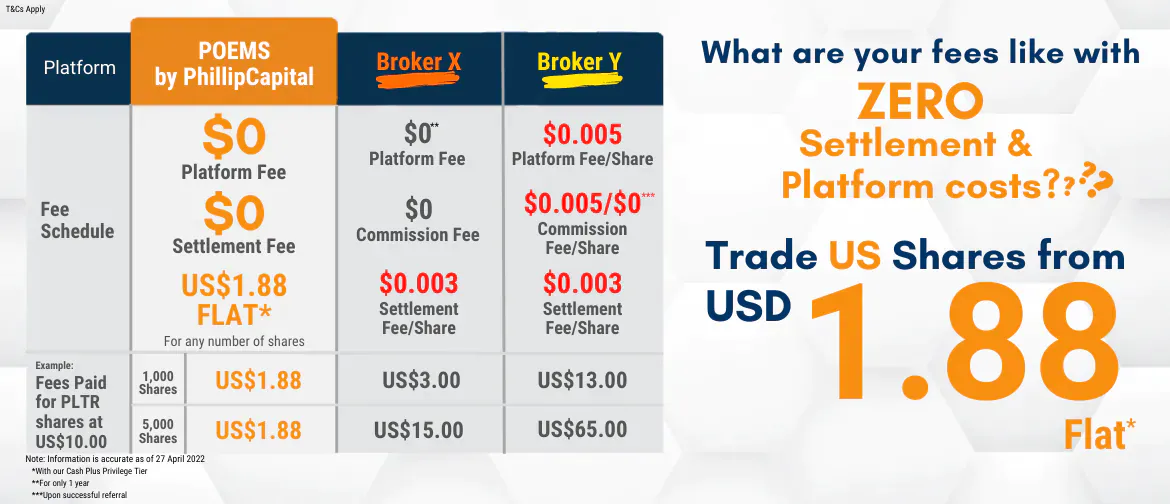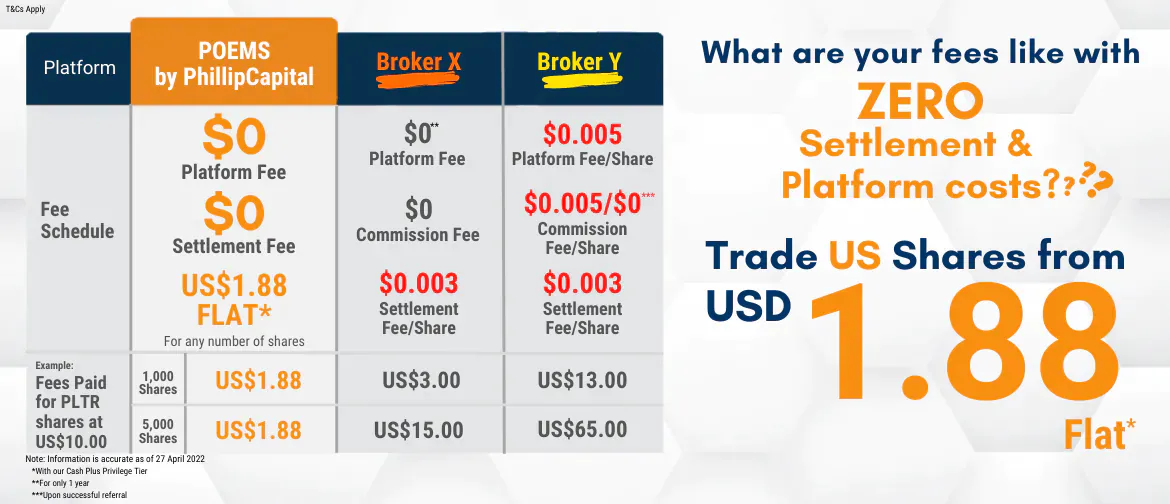 We hope that you have found value reading this article. If you do not have a POEMS account, you may visit here to open one with us today.
Lastly, investing in a community is much more fun. You will get to interact with us and other seasoned investors who are generous in sharing their experience and expertise.
In this community, you will be exposed to quality educational materials, stock analysis to help you apply the concepts, unwrap the mindset of seasoned investors, and even post questions.
We look forward to sharing more insights with you in our growing and enthusiastic Telegram community. Join us now!
For enquiries, please email us at cfd@phillip.com.sg.
Promotions

Earn up to S$360 cash credits when you trade FX CFDs!
From 3 July to 29 September 2023, enjoy up to S$120 cash credits every month and earn up to S$360 cash credits when you trade FX CFDs on POEMS for 3 consecutive months (July, August and September).
*T&Cs Apply.
For more information, click here.
Disclaimer
This material is provided to you for general information only and does not constitute a recommendation, an offer or solicitation to buy or sell the investment product mentioned. It does not have any regard to your specific investment objectives, financial situation or any of your particular needs. Accordingly, no warranty whatsoever is given and not liability whatsoever is accepted for any loss arising whether directly or indirectly as a result of your acting based on this information.
Investments are subject to investment risks. The risk of loss in leveraged trading can be substantial. You may sustain losses in excess of your initial funds and may be called upon to deposit additional margin funds at short notice. If the required funds are not provided within the prescribed time, your positions may be liquidated. The resulting deficits in your account are subject to penalty charges. The value of investments denominated in foreign currencies may diminish or increase due to changes in the rates of exchange. You should also be aware of the commissions and finance costs involved in trading leveraged products. This product may not be suitable for clients whose investment objective is preservation of capital and/or whose risk tolerance is low. Clients are advised to understand the nature and risks involved in margin trading.
You may wish to obtain advice from a qualified financial adviser, pursuant to a separate engagement, before making a commitment to purchase any of the investment products mentioned herein. In the event that you choose not to obtain advice from a qualified financial adviser, you should assess and consider whether the investment product is suitable for you before proceeding to invest and we do not offer any advice in this regard unless mandated to do so by way of a separate engagement. You are advised to read the trading account Terms & Conditions and Risk Disclosure Statement (available online at www.poems.com.sg) before trading in this product.
Any CFD offered is not approved or endorsed by the issuer or originator of the underlying securities and the issuer or originator is not privy to the CFD contract. This advertisement has not been reviewed by the Monetary Authority of Singapore (MAS).