Battle of the E-commerce Giants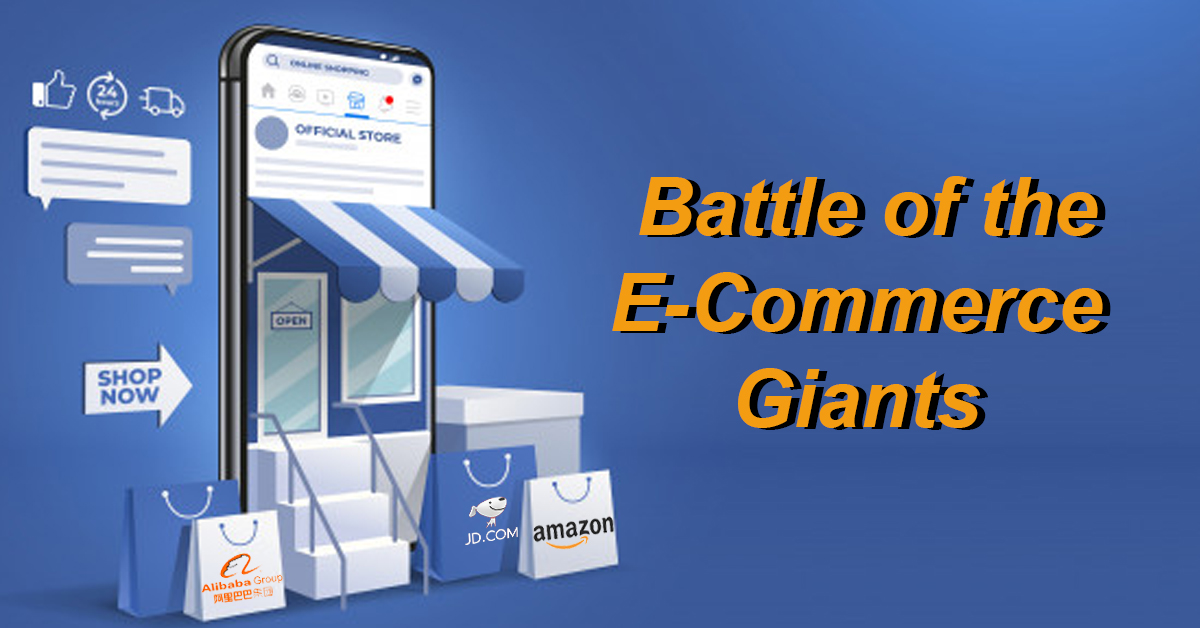 Mike Ong, Senior Dealer
Mike is a member of the largest dealing team that specialises in equities, ETFs, CFDs and bonds in Phillip Securities, managing 50,000 client accounts. He believes in investing long term for passive income and evaluates stocks using fundamentals. He is currently the Chief Editor of the HQ Education Series that aims to equip clients with the tools and skill sets to make better-informed investing and trading decisions.
In his free time, he enjoys educating himself on long-term investments and short-term trading as well as keeping up with the latest market news.
Chua Minghan, Assistant Manager, Dealing 
Chua Minghan graduated from the National University of Singapore with a Bachelor's degree in Economics. He is passionate about education and went on to get a post-grad Diploma in teaching. His vision is to educate clients to make informed decisions for their trading and investments.
Minghan enjoys learning fundamental analysis, technical analysis, and strives to use data analysis to improve his trading skills.
Tan Kean Soon, CFD Dealer
Kean Soon graduated from the National University of Singapore with a Bachelor's degree in Materials Engineering. He is a passionate CFD dealer who believes that equity markets can help grow one's wealth with the right mindset, risk management and investing discipline.
In his free time, he enjoys educating himself on long-term investments and short-term trading as well as keeping up with the latest market news.
What this report is about:
Online shopping has grown exponentially in the last few years. As such, it comes as no surprise that some of the biggest companies in the world today are e-commerce platforms.
In our simple comparison of the top 3 e-commerce companies in the world, Alibaba appears to be the winner out of 7 financial metrics.
Apart from buying their stocks, investors can get exposure to these top players through ETFs or CFDs.
The Great Singapore Sale (GSS) is an annual shopping extravaganza in Singapore. The sale is organised by the Singapore Retailers Association to promote Singapore's tourism industry.
In recent years, retail sales during GSS have been on a downtrend.  It is increasingly easier for consumers to get their hands on discounted items globally by shopping online.
Indeed, Singapore retailers' sales fell for the 24th straight month in January 2021. [1] Despite a reversal in February 2021, the outlook for brick-and-mortar retail sales remains gloomy.
Due to the ongoing COVID-10 pandemic, this year's GSS has shifted online, marking its first virtual sale in its 26-year run. This merely underscores the threat to physical retail stores from e-commerce. Worldwide, e-commerce sales totaled US$4.28tr in 2020. They are projected to grow to US$6.388tr by 2024.[2]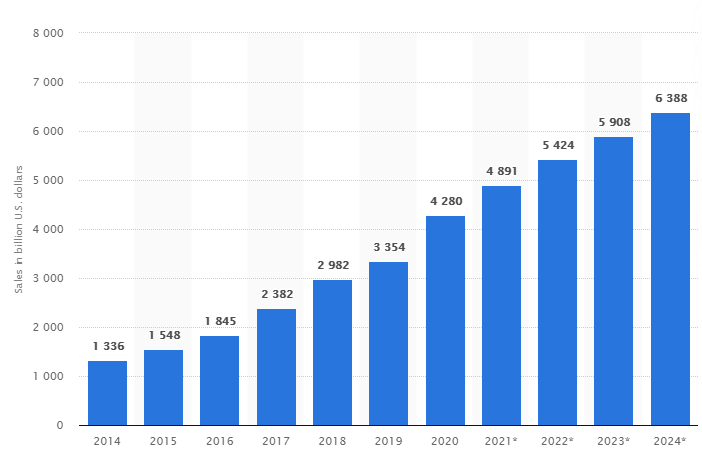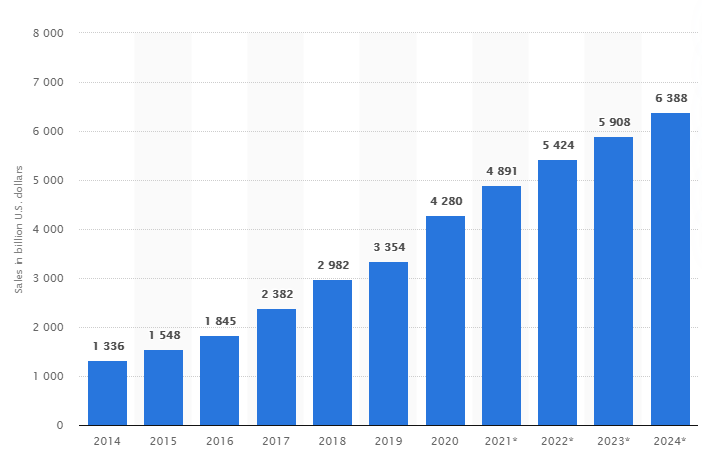 Figure 1: Retail e-commerce sales worldwide [2]
Which are the top-3 e-commerce companies in the world?
ALIBABA (NYSE: BABA & HKEx: 9988)
Alibaba is a Chinese tech company that has completely upended the way people shop and do business.
You may have heard of Jack Ma but did you know that Alibaba had 18 founders?
Since its founding in 1999, the group has acquired over a million users and blossomed from a domestic company to a global one. Along the way, it has created various businesses in e-commerce to serve specific target groups:
Chinese domestic market (1688.com)
Global market (Taobao)
Luxury goods market (Tmall).
In 2016, the group acquired other e-commerce set-ups such as Lazada to expand its customer base. To occupy the entire value chain, Alibaba penetrated the wholesale (1688.com) and retail segments (Lazada). It also built up logistics services to fulfil last-mile deliveries.


Alibaba has shown careful planning and bold execution. This has resulted in an e-commerce giant that is far ahead of the pack in gross merchandise value (GMV), where Alibaba's topped US$1 trillion in 2020.[3]
For Alibaba's future growth drivers, read our previous article here.
Competitive strengths
Alibaba.com connects Chinese and overseas suppliers to overseas wholesale buyers. 1688.com is a leading wholesale marketplace in China that links manufacturers and wholesale sellers to wholesale buyers in China. Tmall caters to consumers of premium products.
AliExpress is a global marketplace that brings together buyers and sellers around the world.
Regardless whether you are a local or foreign buyer or seller, Alibaba makes sure it covers all the ground.
Sheer variety of products
If you want to buy anything and everything, you would end up on Alibaba's platform. In 2016, Alibaba further ventured into fresh foods. From consumer discretionary to consumer staples, Alibaba has a hand in everything. For those who like food to be delivered, there is also Ele.me they can turn to.
Personalised shopping experiences
Taobao.com is China's largest online shopping platform, providing personalised shopping experiences in mobile commerce, supported by big data and AI.
Freshippo allows consumers to use a mobile app to place orders for groceries. Ele.me enables consumers to order meals online. After order confirmation, you can track your order using the group's Cainiao global parcel tracking network. Local goods are delivered within 24 hours in China and 72 hours globally.
Alibaba has other businesses as well. This is why we think Alibaba has not reached its full potential yet. The bulk of its revenue still comes from e-commerce and it is still striving to grow it through other businesses. It is also moving into businesses which have room for growth.
| | | | | | |
| --- | --- | --- | --- | --- | --- |
| US$ mn | 2020 | 2019 | 2018 | 2017 | 2016 |
| Free cash flow | 19,417 | 15,102 | 14,505 | 9,334 | 7,234 |
Source: Alibaba's annual reports [3]
With its rich and increasing free cash flows, Alibaba can afford to invest in myriad businesses.
It has acquired a controlling stake in Youku, a top-3 online video platform in China. On one hand, Youku has increased Alibaba's overall user base. On the other, Alibaba is slowly building this video-streaming platform into the Netflix of China.
Alibaba's fashion e-commerce business is enhanced by their shows on Youku as users tend to buy what their favorite artistes wear.
Alimama uses algorithms to analyse online data, allowing the group to optimise its online marketing services to sellers.
The backbone of the Alibaba group is Aliyun or Alibaba Cloud. Aliyun provides cloud services globally to online businesses as well as Alibaba's own e-commerce ecosystem. Alibaba's push into cloud computing is strategic to its plan to harness the enormous amounts of data generated daily and spearhead its international expansion.
For the last mile, Alibaba's Cainiao works with logistics partners to meet the needs of merchants and consumers on a large scale. Co-founded by Alibaba in 2013 to organize Chinese e-commerce logistics, Cainiao and Alibaba Cloud are researching smart technologies to provide digital full-chain logistics solutions and revolutionize the entire supply-chain industry.
| | | | | | |
| --- | --- | --- | --- | --- | --- |
| US$ mn | 2020 | 2019 | 2018 | 2017 | 2016 |
| Core commerce revenue  | 62622 | 48198 | 32347 | 19904 | 14524 |
| YoY growth | 30% | 49% | 62% | 37% | – |
| Core commerce revenue weightage | 86% | 86% | 86% | 85% | – |
Source: Alibaba's annual reports [3]
Alibaba's e-commerce business continues to grow year-on-year. It has top-of-the-mind recognition in China and has been expanding aggressively in Asia, Europe and the Middle East. With its competitive strengths in e-commerce, Alibaba is a giant few can challenge.
AMAZON (NASDAQ: AMZN)
When Jeff Bezos founded this e-commerce company in July 1994, it was named Cadabra. It was not until a few months later after a lawyer misheard the name as "cadaver" that Mr Bezos   changed it to "Amazon", named after the largest river in the world [4].
Jeff Bezos left his investment-banking career at Wall Street firm D.E. Shaw & Co. in 1994 to begin his ambitious plan of creating his own Internet retailing company. Believing that the market for literature was huge, he started out as an online bookseller [5].
Amazon became a listed company in May 1997 [6].
After Amazon's popularity took off, it started to attract lawsuits from several competitors. Bookstore chain Barnes & Noble sued Amazon for making the claim that it was "the world's largest bookseller" in May 1997 [7]. A year later, Walmart sued Amazon for stealing trade secrets by hiring ex-Walmart employees [8]. As late as March 2021, Amazon was still being sued by book retailers and publishers for allegedly fixing prices in the print-book market in the US [9].
Despite its popularity, Amazon's losses piled up. Bezos, however, remained optimistic.
Amazon made a series of acquisitions later, snapping up online music retailer CD Now [13], Chinese e-commerce company Joyo.com [14], e-Book software firm MobiPocket.com [15], on-demand publishing firm CreateSpace.com [16] and on-demand printing firm BookSurge [17].
A pivotal moment came in 2005 with the group's introduction of Amazon Prime. A subscription service that provides customers with unlimited free shipping, it was a game-changer for Amazon [18]. Amazon's free shipping and free access to streaming movies and TV shows proved to be huge incentives to consumers. Amazon found its Prime members spending almost twice as much per year on its platform as non-members. As a membership programme, Amazon Prime also locks in customers and ensures long-term customer loyalty to Amazon. Amazon's business continued to grow and it eventually became part of the S&P 500 index on 18 November 2005 [19].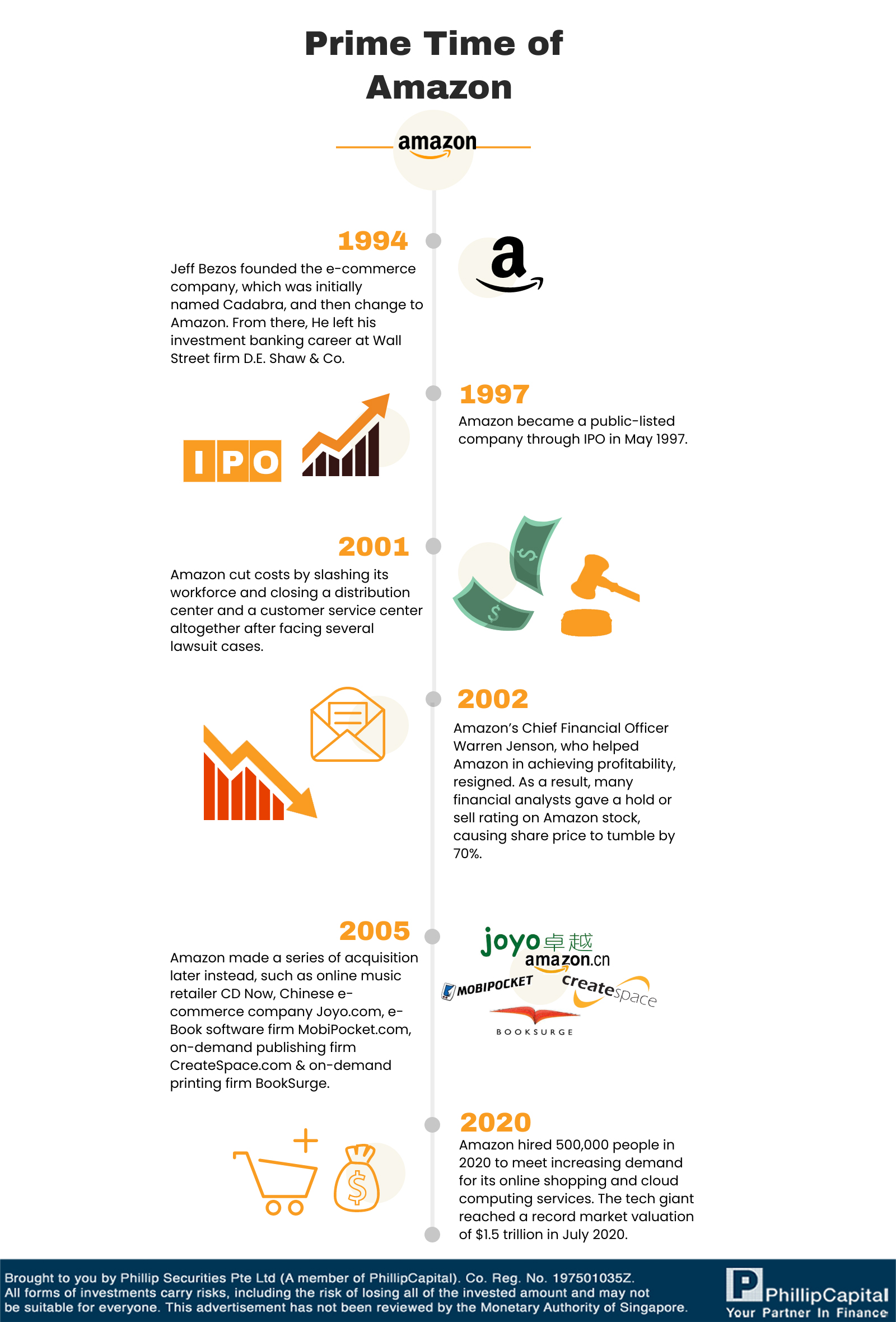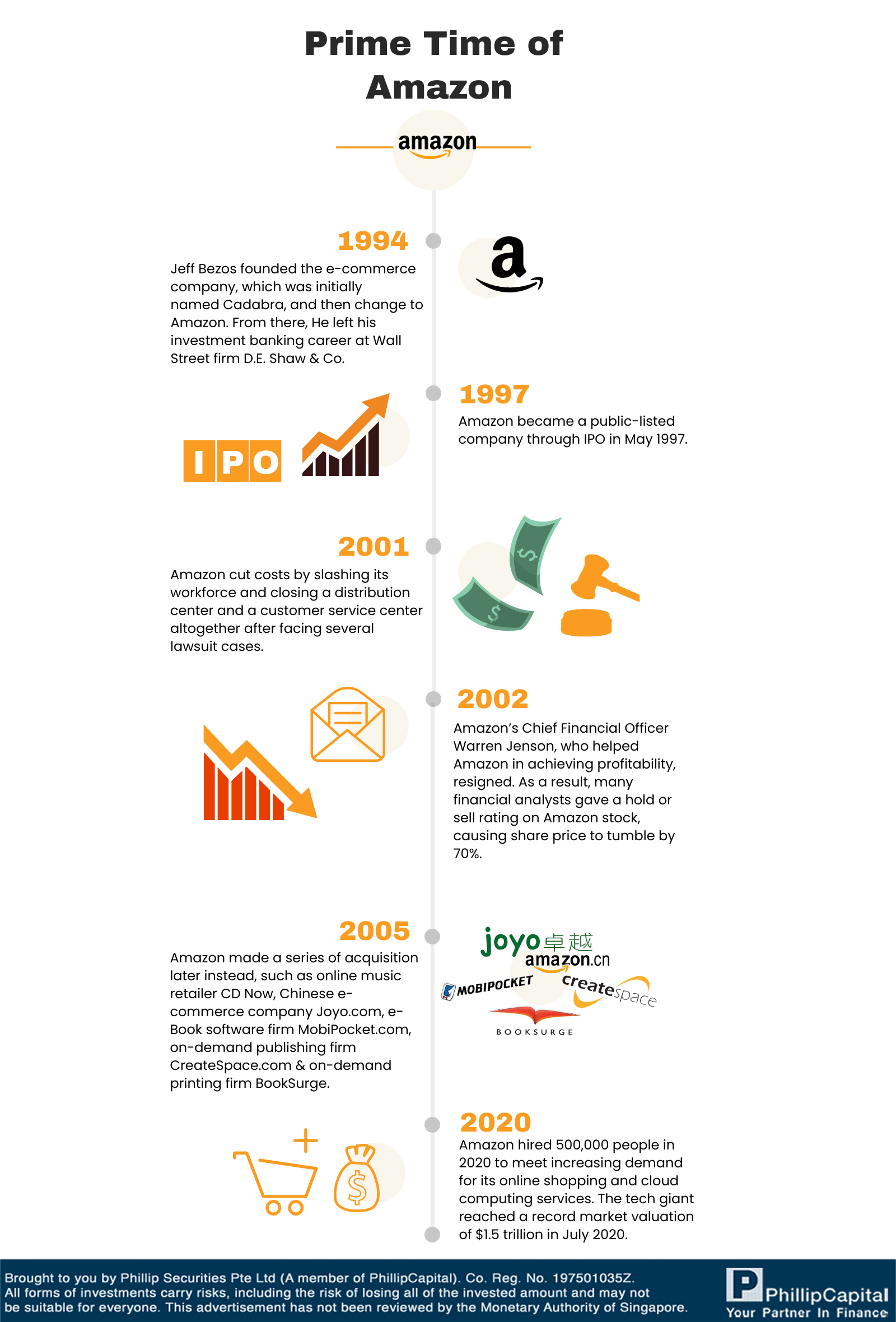 Competitive strengths
World's leading online retailer; dominant e-retailer in the US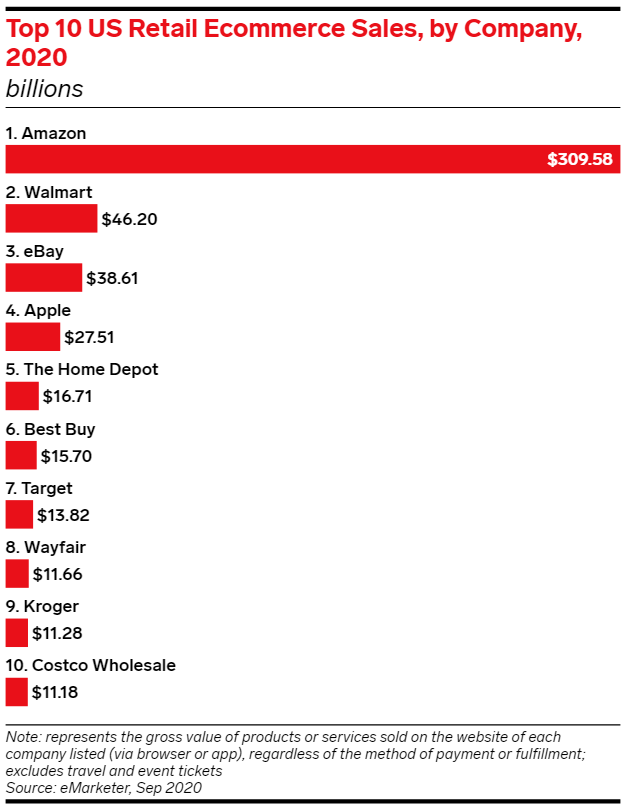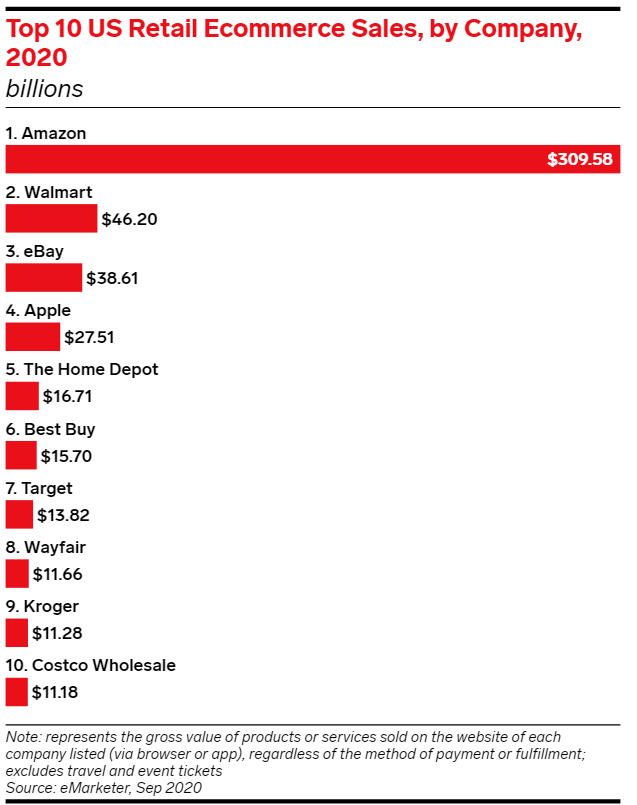 Source: https://www.emarketer.com/ [20]
Amazon was at the top of US retail e-commerce sales in 2020 [20]. The combined retail sales of its nine other competitors were outmatched by Amazon single-handedly. Amazon is further expected to seize 50% of the entire e-commerce retail market in 2021 [21].
Amazon's massive scale and technological innovation allow it to continue disrupting well-established industries [22].
Strong commitment to value creation for customers
Amazon prides itself on offering compelling values on a continuous basis to its customers with its "obsession over customers" principle [23].
As an example, Amazon's search recommendations, free delivery of Prime goods and a one-click "Buy Now" feature make the buying experience so much more seamless for its customers. Through Alexa, Amazon's virtual assistant device, customers can also conveniently order their favourite products or stream music with their Amazon Prime accounts [24].
Because of the convenience Amazon offers, consumers prefer to shop online on Amazon more than on any other platform. This in turn attracts more brands and advertisers to list their products on Amazon. According to Marketplace Pulse, about 78% of Amazon searches are unbranded and this provides brands and advertisers greater chance of converting a sale on an advertisement on Amazon [25].
Sharp focus on product innovation
Amazon was able to grow from a small online book seller into the behemoth it is today thanks to its unceasing innovation.
It didn't stop at online book selling. It slowly expanded into music and became a third-party sellers' marketplace. It also launched Amazon Prime, Kindle and other products and services [26].
Amazon Web Services (AWS) was first to market with a modern cloud infrastructure service in 2006. Today, AWS is the frontrunner in cloud computing, far ahead of Microsoft and Google [27].
Amazon prioritises product innovation over profit optimisation. It continuously reinvests money back in its businesses. This may explain its razor-thin profit margins, despite steady revenue and cash-flow growth over the years.
| | | | | | | |
| --- | --- | --- | --- | --- | --- | --- |
| US$ mn | 2020 | 2019 | 2018 | 2017 | 2016 | 2015 |
| Total revenue | 386064 | 280522 | 232887 | 177866 | 135987 | 107006 |
| YoY revenue growth | 38% | 20% | 31% | 31% | 27% | NA |
| Operating income | 22899 | 14541 | 12421 | 4106 | 4186 | 2233 |
| Operating profit margin | 6% | 5% | 5% | 2% | 3% | 2% |
| Operating cash flow | 66064 | 38514 | 30723 | 18365 | 17203 | 12039 |
| YoY operating cash flow growth | 72% | 25% | 67% | 7% | 43% | NA |
Cloud infrastructure dominance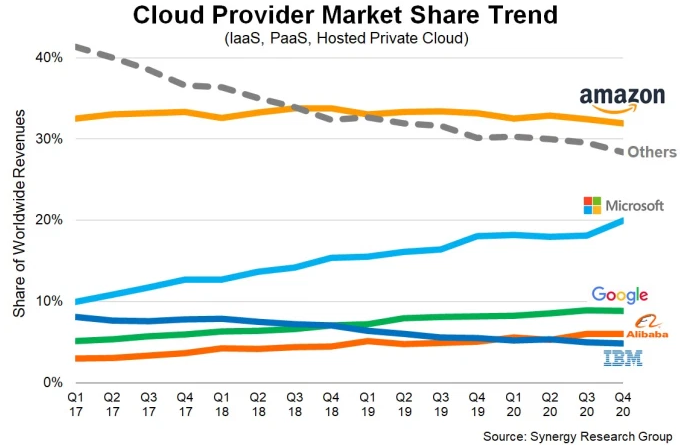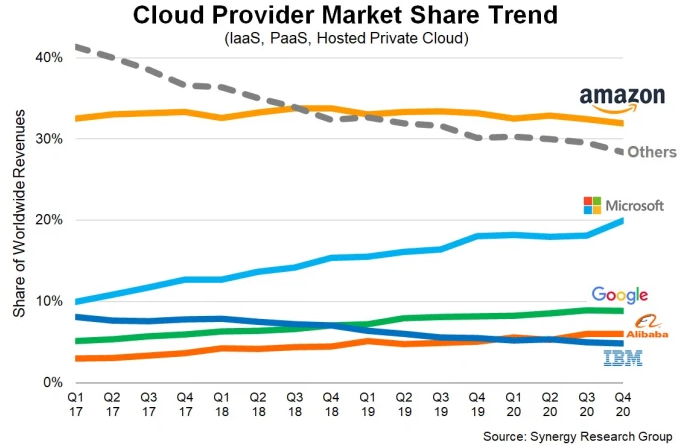 Source: Synergy Research Group [23].
AWS is a broad set of on-demand technology services that include data warehousing, data analytics, machine learning and other services for software developers and enterprises of all sizes worldwide. AWS currently owns about 33% of the global market in cloud infrastructure, surpassing Microsoft, Google, Alibaba, IBM and the rest [28].
As more businesses increasingly adopt cloud, the demand for cloud infrastructure is expected to explode. This should benefit AWS, given its market power.
JD.com (Nasdaq: JD & HKEx: 9618)
Founder Richard Liu started by selling magneto-optical drives in 1998 when he established JD Multimedia, the business that would eventually become JD.com. During the SARS outbreak, he discovered the opportunity of e-commerce and closed his brick-and-mortar store to move his business online. From its roots in e-commerce, JD has been transformed into a leading supply-chain-based technology and service provider. The company believes that it can deliver superior customer experience only by managing the entire supply chain. It wants to enable consumers to buy whatever they want, whenever and wherever they want it. Between 2008 and 2010, JD transformed itself into a full-fledged e-commerce platform offering an expanse of products to consumers. In 2013, it established JD Finance, which also launched China's largest crowdfunding platform.[27]
JD is China's first major e-commerce company to list on the Nasdaq, even before Alibaba did, in 2014. JD continues to expand its business and spin off companies like JD Health and JD Logistics. In 2020, JD achieved net revenue of US$114.3bn. Its active customer accounts rose 30.3% to 471.9mn.[28]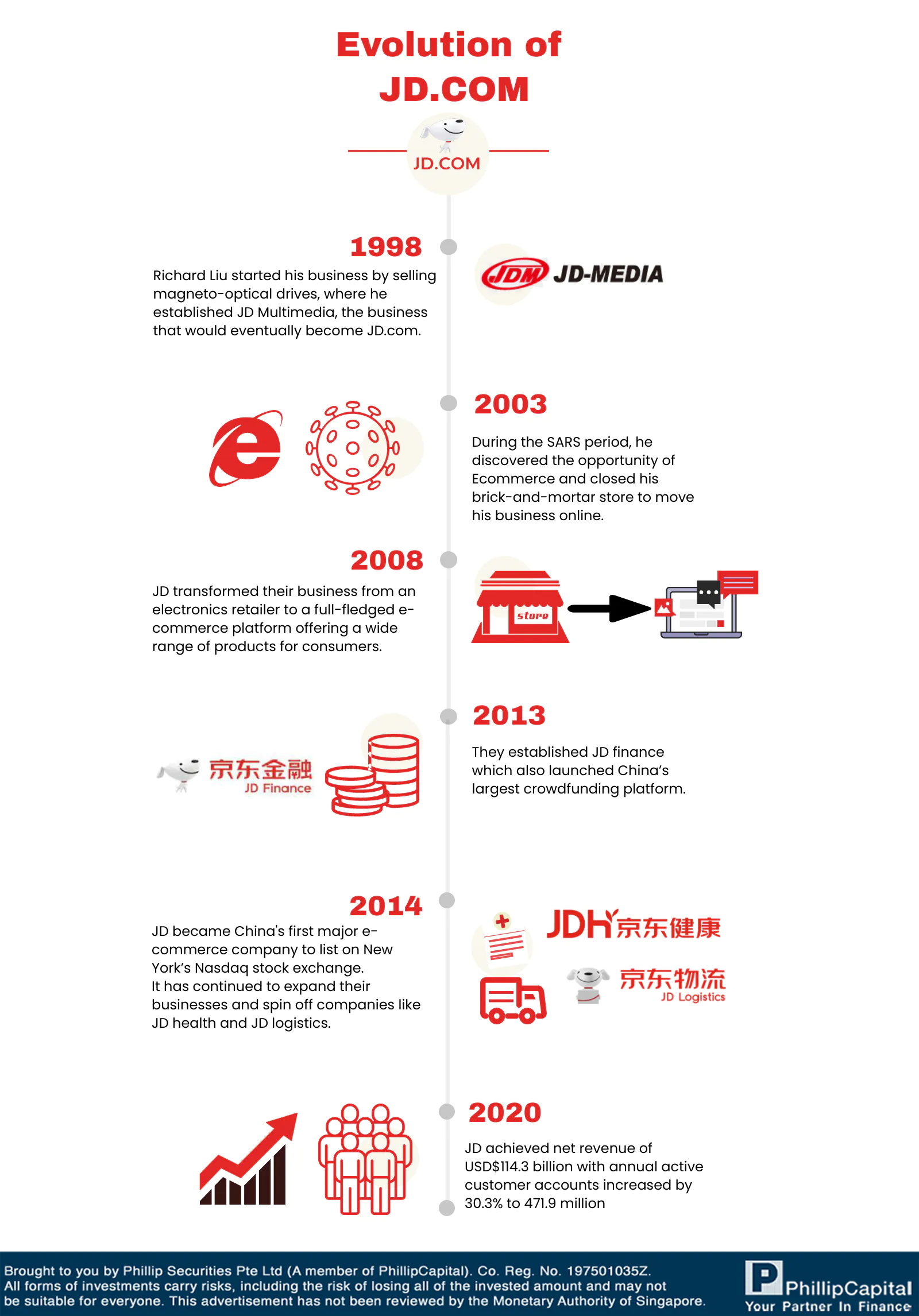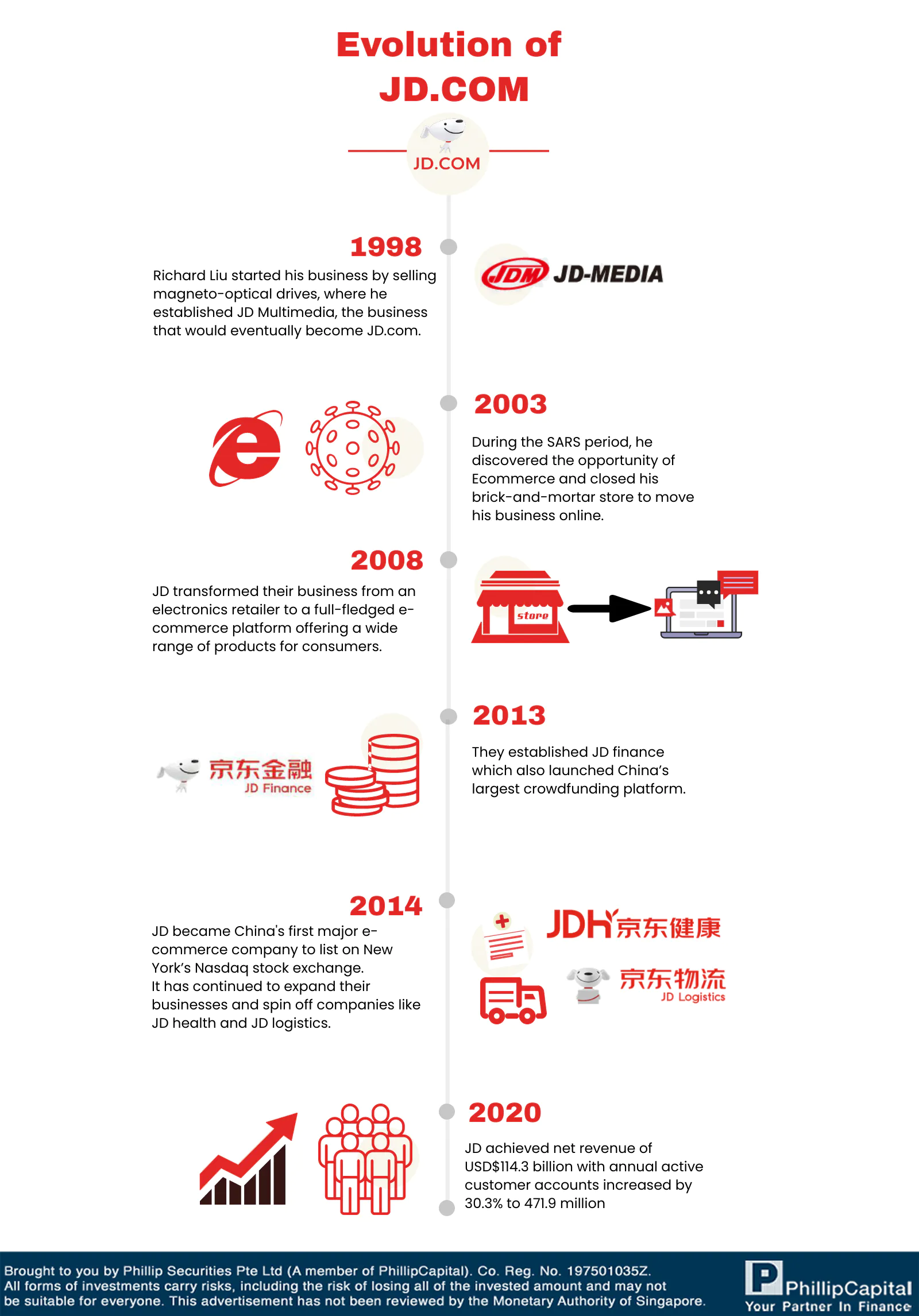 Competitive strengths
JD uses a direct-sales model that is similar to Amazon's. Unlike Alibaba, JD.com warehouses, markets and ships merchandise directly to Chinese consumers through its national shipping network. Its cross-border platform, JD Worldwide, also enables brands from other countries to sell directly to Chinese consumers. JD's aim is to deliver goods to Chinse consumers at amazingly fast speeds and provide them with a truly one-stop shopping experience. [29]
To achieve fast speeds, a strong logistics network is needed. JD Logistics (2618.HK) is a business under JD.com which uses advanced technologies and logistics expertise to provide smart supply-chain and logistics solutions. It has one of the largest fulfillments infrastructures of any e-commerce company in the world, with over 1,000 warehouses occupying over 21mn square meters. [30]
With its belief in technological innovation driving smart logistics, JD built the world's first fully-automated warehouse in Shanghai in 2018.[28] It continues to develop its own delivery drones and automatic delivery robots. In 2019, JD started live delivery testing in Changsha and Hohhot. [31] At the height of the COVID-19 pandemic in 2020, JD's autonomous delivery robot successfully made its first delivery in Wuhan, at a time when it was imperative to reduce human-to-human contact. [32]
JD Technology used to be known as JD Digits and before that, JD Finance. It is the fintech arm of JD.com. In the same vein of JD.com versus Alibaba, JD Technology competes with Ant Financial. They focus on being partners to financial institutions through technology solutions. JD Technology takes full advantage of technology integration and cross-company synergies to offer safe and customised financial services to corporate, retail and rural customers.
JD Technology launched Yiqipay, an enterprise solution for B2B payments, in 2020. Yiqipay supports e-yuan, China's digital currency that is backed by its central bank. [33] With this, the second-biggest online retailer in China has made yet another record, of being the country's first virtual mall to use the e-yuan, ahead of Alibaba. [34]
In order to compete with strong players like Alibaba internationally, JD.com turned to strategic partnerships. In 2014, Tencent (0700.HK) bought a 15% stake in the company. Under the deal, JD.com took over full control of Tencent's e-commerce business, which included subsidiaries such as QQ Wanggou and Paipai. [35]
In 2016, Walmart sold its stake in Yihaodian, its Chinese e-commerce marketplace, to JD.com.[36] Over the subsequent years, Walmart increased its stake in JD.com and also co-invested with JD.com US$500mn in Dada JD Daojia, an on-demand delivery business that ships groceries and daily necessities to local consumers. This business leverages Walmart's stores as fulfillment centres.[37]
In 2018, Google, too, invested US$550mn in JD.com as part of a strategic partnership.  By combining JD's supply-chain and logistics expertise with Google's technology strengths, the two aim to explore the creation of next-generation retail infrastructure solutions. [38]
Through these partnerships, JD.com has been able to acquire other expertise and grow stronger.
JD.com places innovation at the heart of everything it does. It aspires to be at the forefront of robotics and automation, such as being the first company in the world to make commercial deliveries using drones. It has also developed unmanned delivery vehicles, warehouses and stores. Through its continued R&D in smart logistics, smart supply chains, artificial intelligence, AR/VR and security, JD.com hopes to build a global e-commerce empire.
Comparison
After scanning the history and strengths of these 3 e-commerce giants, let's do a simple comparison to see which company has the best financial metrics.
 

Alibaba

Amazon

JD.com

Strengths

Wide reach of consumers

Wide variety of products

Personalised shopping experiences

Other businesses to enhance e-commerce revenue

Leader in e-commerce in the US

Global leader in cloud infrastructure

Strong customer focus and product innovation.

Direct retailer sales mode

JD Logistics

Strategic partnerships

Technology focus

Gross profit margin (%)

41.28

40.01

14.41

Net profit margin (%)

20.99

6.42

6.47

Return on equity (%)

17.76

31.91

38.06

Return on assets (%)

10.03

9.89

15.26

Total debt to total capital (%)

12.10

49.38

12.68

Operating cash flow (US$ mn)

34239.2

67213.0

5403.3

Trailing 12-month free cash flow per share (USD)

10.59

43.57

2.26
Source: Bloomberg data as of 22 June 2021
Alibaba has the highest gross margins and net margins along with the lowest total debt to total capital.
JD.com has the highest ROE and ROA of the three.
Amazon has the highest operating cash flow and trailing 12-month free cash flow per share.
To wrap up
Alibaba appears to be the winner in our comparison of 7 financial metrics. If you find it hard to comb through and make out all the financial numbers, you may also get exposure to these tech giants through ETFs.
Here's a list of ETFs in e-commerce:
| | | | |
| --- | --- | --- | --- |
| Stock | Stock Code | Market | Features |
| Amplify Online Retail ETF | IBUY | AMEX | Tracks an index of global stocks with revenue predominantly from online retail sales |
| Global X E-commerce ETF | EBIZ | NASDAQ | Tracks a market-cap-weighted index of global e-commerce companies, including online retailers, retail platforms and supporting businesses |
| ProShares Online Retail ETF | ONLN | AMEX | Tracks a global, modified market-cap-weighted index of stocks classified as online retailers |
With China's recent crackdown on technology companies and the US' current antitrust movement against Big Tech, tech stocks could come under some pressure, near term. Investors looking at companies that are under regulatory heat can consider using Contracts for Differences to hedge their positions or short-sell to capture downside opportunities.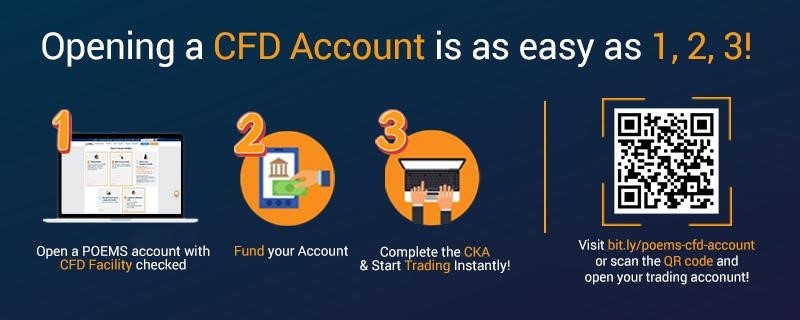 We hope this article provides you with an overview of the e-commerce giants. Be sure to check out our other articles and free webinars and courses.
If you have any questions on trading or investing, do drop us an email at cfd@phillip.com.sg. We will be glad to assist you through your investment journey.
Trade on our award-wining suite of POEMS Platform. Open a CFD Account now!
Disclaimer
This material is provided to you for general information only and does not constitute a recommendation, an offer or solicitation to buy or sell the investment product mentioned. It does not have any regard to your specific investment objectives, financial situation or any of your particular needs. Accordingly, no warranty whatsoever is given and not liability whatsoever is accepted for any loss arising whether directly or indirectly as a result of your acting based on this information.
Investments are subject to investment risks. The risk of loss in leveraged trading can be substantial. You may sustain losses in excess of your initial funds and may be called upon to deposit additional margin funds at short notice. If the required funds are not provided within the prescribed time, your positions may be liquidated. The resulting deficits in your account are subject to penalty charges. The value of investments denominated in foreign currencies may diminish or increase due to changes in the rates of exchange. You should also be aware of the commissions and finance costs involved in trading leveraged products. This product may not be suitable for clients whose investment objective is preservation of capital and/or whose risk tolerance is low. Clients are advised to understand the nature and risks involved in margin trading.
You may wish to obtain advice from a qualified financial adviser, pursuant to a separate engagement, before making a commitment to purchase any of the investment products mentioned herein. In the event that you choose not to obtain advice from a qualified financial adviser, you should assess and consider whether the investment product is suitable for you before proceeding to invest and we do not offer any advice in this regard unless mandated to do so by way of a separate engagement. You are advised to read the trading account Terms & Conditions and Risk Disclosure Statement (available online at www.poems.com.sg) before trading in this product.
Any CFD offered is not approved or endorsed by the issuer or originator of the underlying securities and the issuer or originator is not privy to the CFD contract. This advertisement has not been reviewed by the Monetary Authority of Singapore (MAS).