Mobile Gaming: The Next Big Thing?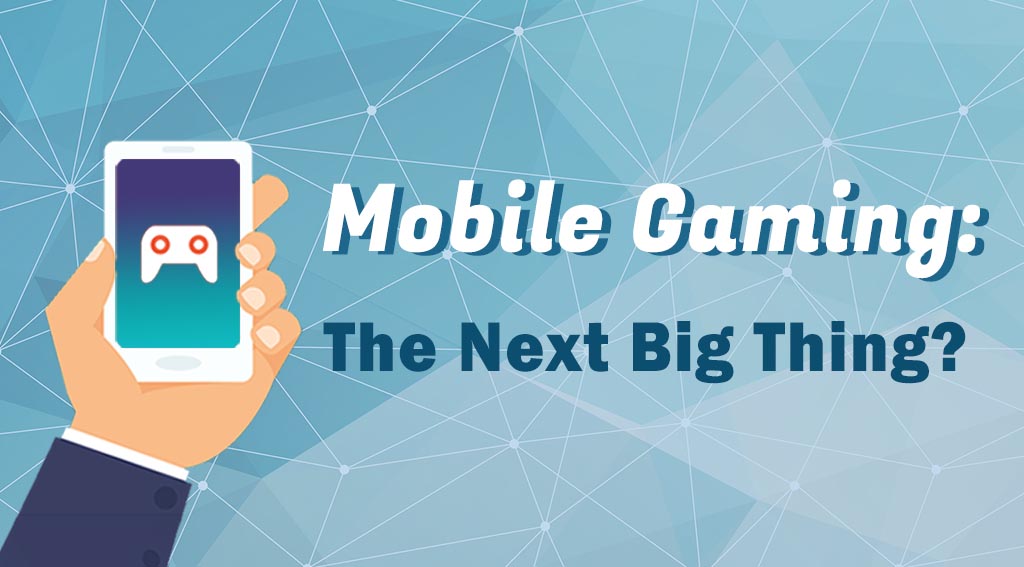 Dear Readers,
The next time you are in a public place, take a good look at the people around you. Observe how many people of all ages are on their phones swiping or tapping away on their mobile gadgets. Take a mental note of how many people are playing video games on their mobile phones.
The video gaming industry has always fascinated me. Firstly, video games create a whole different user experience as compared to traditional screenplay. Unlike traditional screenplay, video mobile gaming allows you to participate in the story, you can do this alone or with a group of friends. Imagine teaming up with your friends to topple an evil monarch or working together to defeat a rival snobbish faction.
Secondly, the mobile gaming industry possesses one of the most efficient feedback loops. This is because the video gaming industry is able to garner almost instant feedback from their consumers. They can utilise the live data collected to create a better gaming user experience for their consumers.
In recent years, mobile games have been included in Esports competition. Clash Royale, a popular mobile game had a tournament called the 2019 Clash Royale League finals. Held on 7 Dec 2019 in Los Angeles, the tournament saw a turnout of 32 teams across the globe to compete for  $400,000 worth of cash prizes.1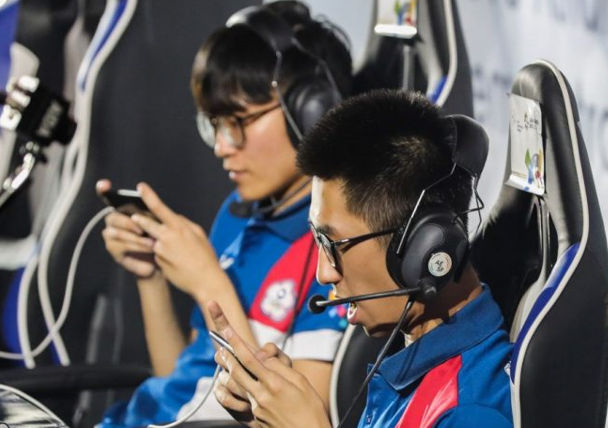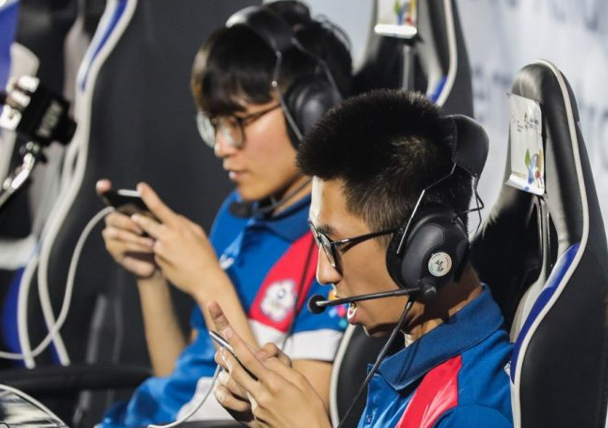 Mobile Esport players competing in a demonstration match at the 2018 Asian games in Jakarta2
I've put together this quick read summary with the intention of helping you to understand the mobile gaming industry. Whether you are a long term buy and hold investor or attempting to gain exposure to this industry via Contracts For Differences, this article is likely to benefit you.
Sign up for our mailing list now! Get notified with the latest articles, free webinars and more.
The Mobile Gaming Industry
In this segment, this infographic is based on the data I collated from Esports analytics firm Newzoo with segmentation of the revenue generated via region, device and smartphone usage. You'll see the potential growth of this exciting new industry.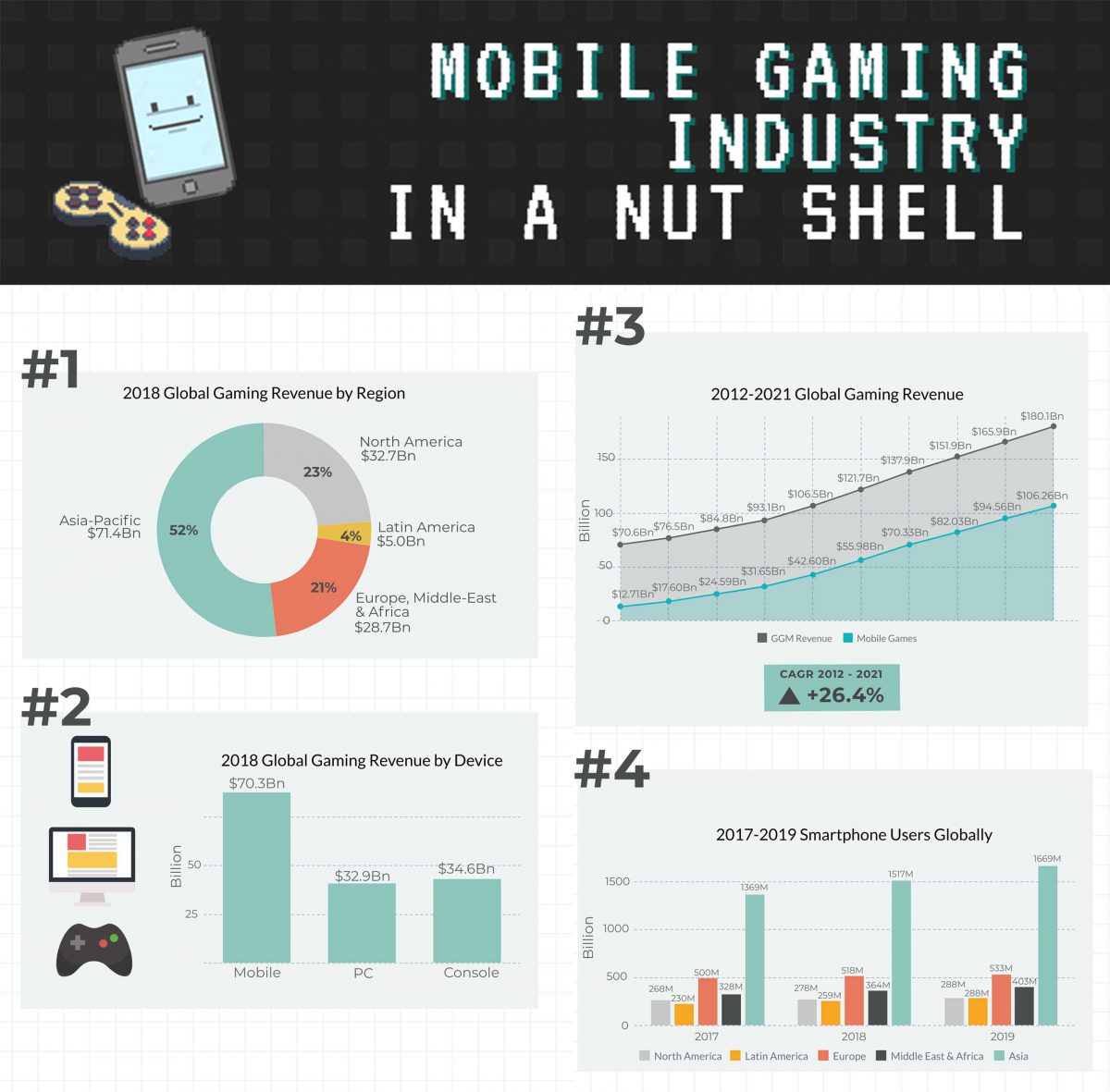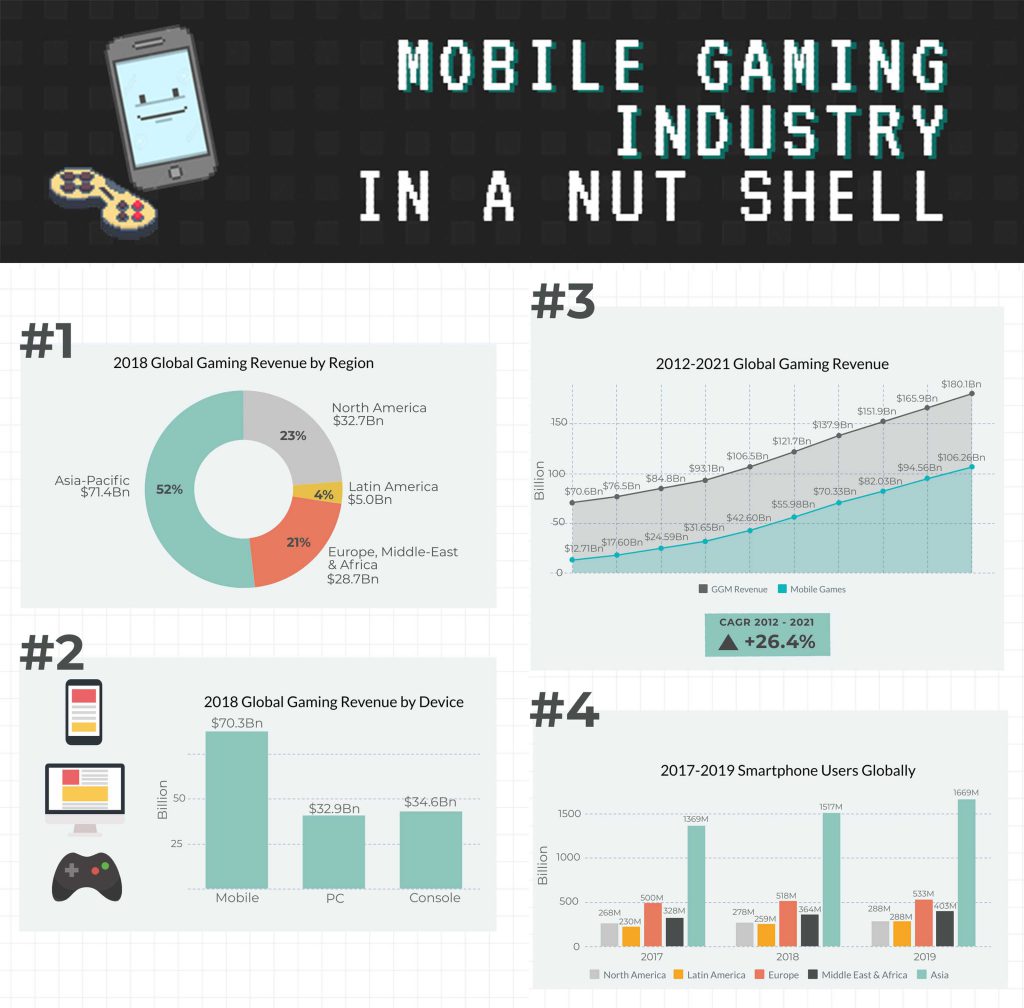 (Click to enlarge)
Statistics adapted from NewZoo3 4
Analysing the Mobile Gaming Industry
The mobile gaming industry is notoriously competitive. To avoid unnecessary risks, it is crucial to look beyond the curtains of glamour and pick only the winners in the industry. In order to do so, it is necessary to be aware of what metrics and figures to look out for. Below is a sequential checklist which you can use when analysing counters in this industry.
Monetisation Methods
Mobile gaming companies generate their revenues from a myriad of sources. Their revenue can come from subscription fees, royalties, marketing or consultant services. It is crucial to be able to understand their historical and current revenue breakdown by segment. When analysing their subscription fees, you should analyse the number of games which they generate revenue from.
Mobile gaming companies mainly operate out of 2 models, a Freemium-based model and a Subscription-based model. Subscription-based models require players to pay a monthly fee to play. A freemium-based model (also known as the free to play model) allows players to utilise the basic features of the game. However, should players desire a heightened experience such as more game features, extra quests or more powerful game equipment, they would need to pay a fee.
Take IGG (0799.HKSE) as an example. We understand that their revenue streams in August 2019 were generated from 4 games, and 80% of their revenue comes from Lords Mobile with 240 million registered users. IGG operates using the Freemium-based model.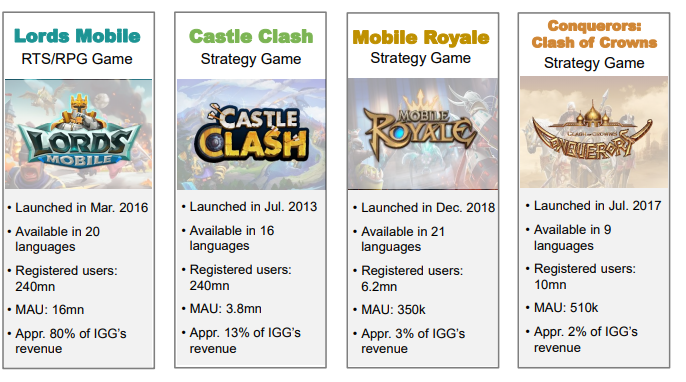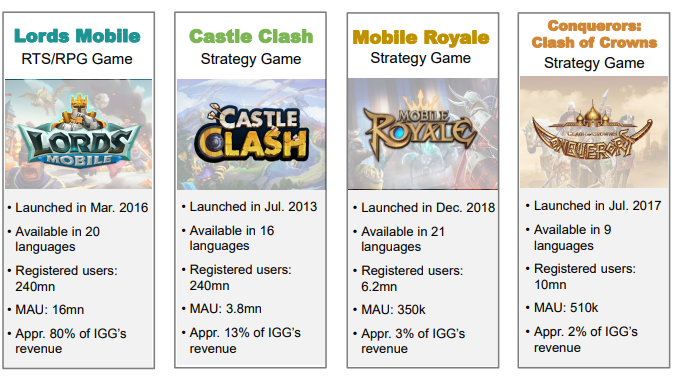 IGG Interim 2019 Presentation Slides 5
It is also crucial to find out the operating systems that the counter's games are played on if any of the games are Esports games. This will give you insights into their potential growth story and future monetisation methods. For example, Angry Birds was first offered on the iPhone operating system. However due to the increasing popularity of the game coupled with catchy characters, Angry Birds expanded to Android operating system, video gaming consoles and the PC.6
Operating Metrics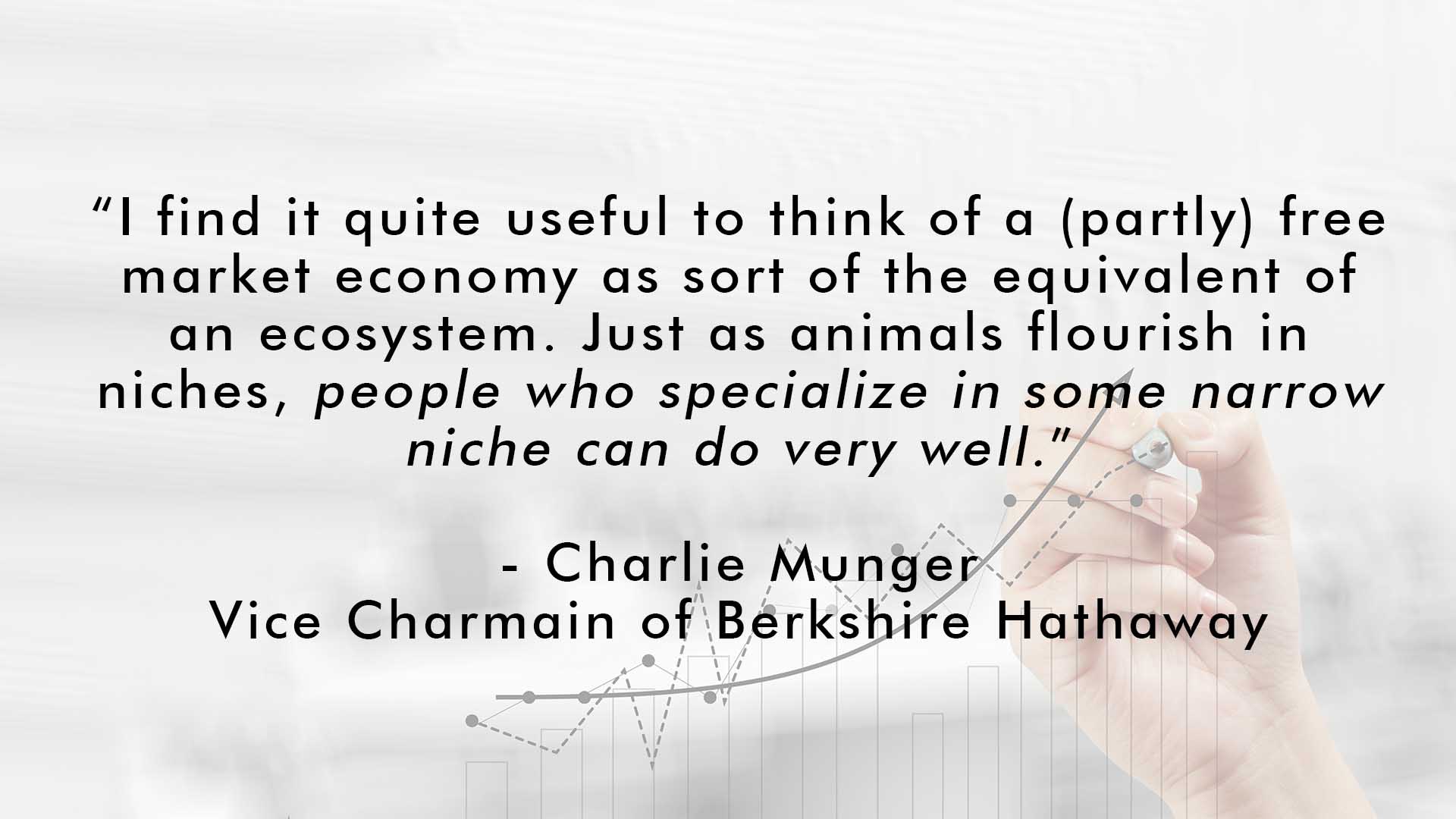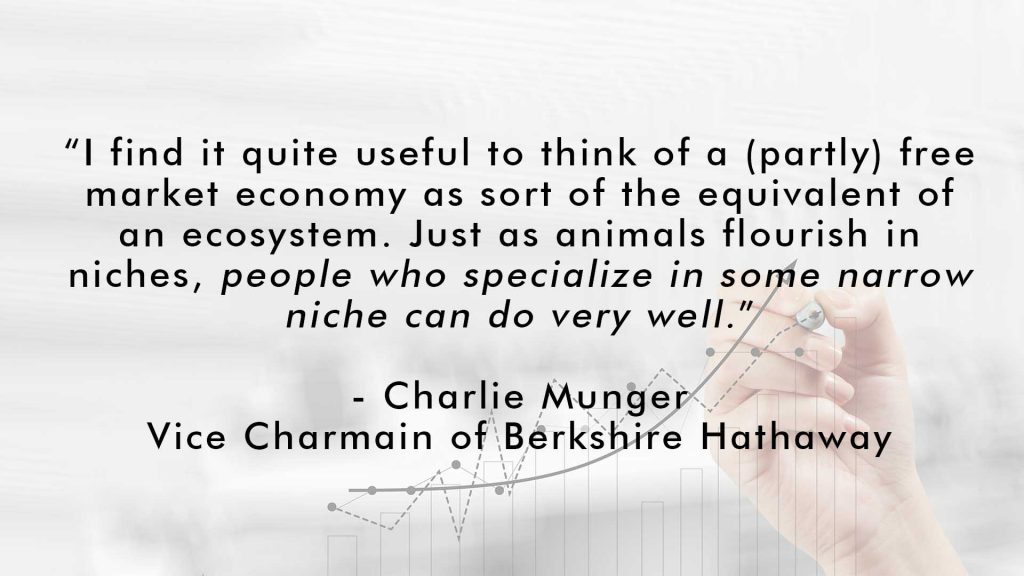 When analysing counters in the mobile gaming or the subscription-based industry, it is crucial to understand the metrics to look out for.
It is important to understand the user metrics such as the number of installs for each game, monthly active users, daily active users, the average time spent on the video game, genre of games, and the proportion of active users to inactive users. Plotting this out on a time series chart and comparing it to other mobile gaming counters will give you a better understanding of the industry and the edge a certain counter may have against their competitors.  Understanding the genre of games which the company focuses on will give you an insight into their core competencies and strategies.
Next, analyse the company's research and development (R&D) and marketing expenses as a percentage (%) of revenue. Mobile games change rapidly, and companies need to constantly spend money to research and market their new games. For every dollar spent on R&D and marketing, you need to understand how much is translated to revenue.
Hedge Your Portfolio against Rising Uncertainty
"The Markets generally are unpredictable, so that one has to have different scenarios. The idea that you can actually predict what's going to happen contradicts my way of looking at the Market"

~ George Soros
Contrary to popular opinion, Contracts for Differences (CFDs) are not restricted to technical traders. Long term investors can utilise CFDs to hedge their positions against unforeseen events and uncertainties.
One can use CFDs as a hedge in these 2 possible scenarios:
1) When the price of your existing positions has already moved/is moving against you.
2) When you anticipate future gains in your existing positions to be marginal due to an increasingly negative market sentiment.
A practical application of CFD Indices for most buy and hold investors is hedging. This is an alternative to using a CFD to short sell each individual counter which they are currently holding. CFD indices generally have minimal commission fees and low margin requirements.
CFD Trading Example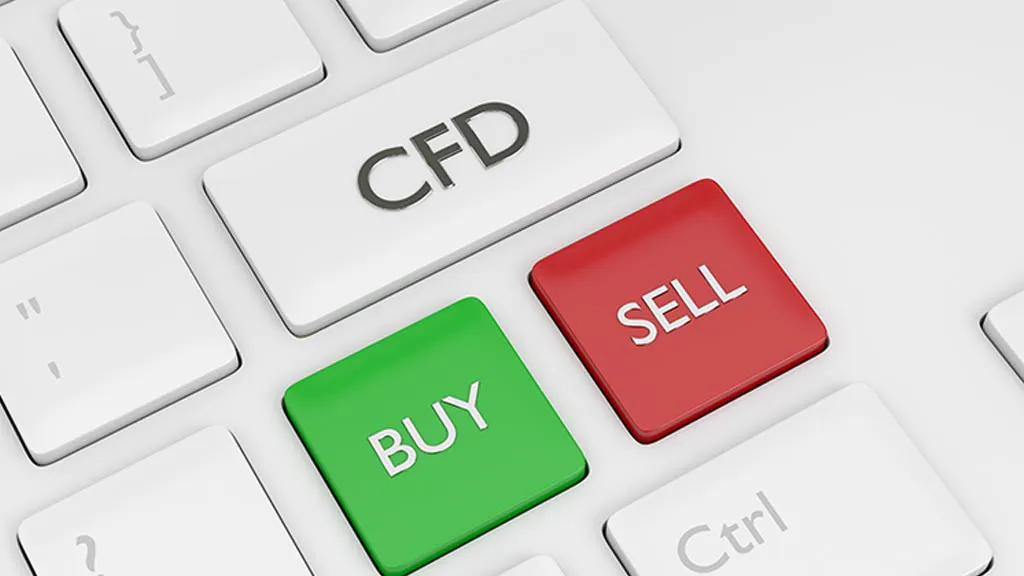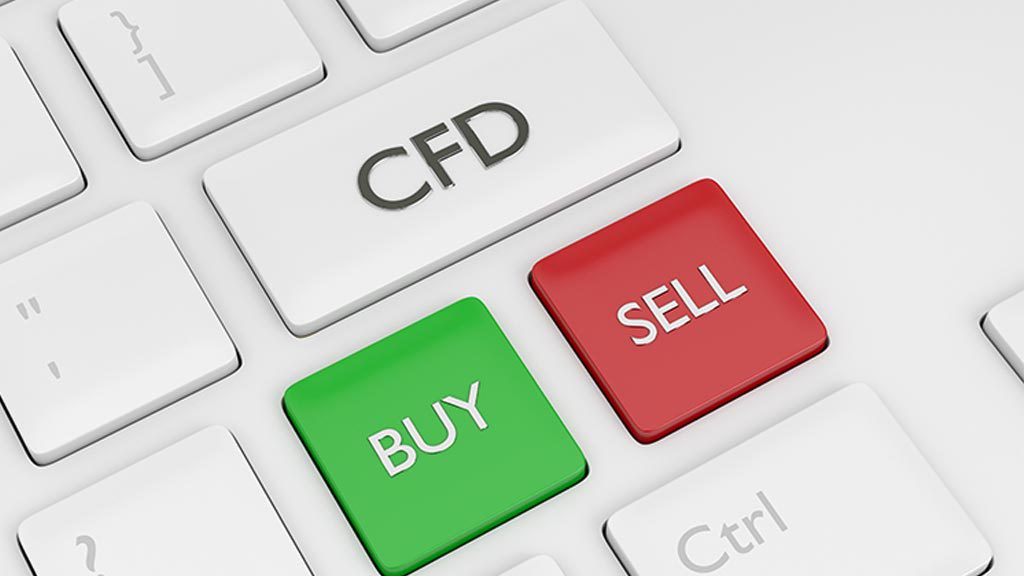 George is a long-term investor with a $100,000 portfolio of stocks. Assuming most of George's equity holdings are main constituents of Index X.
Let us assume the following:
1 Contract value of Index X = $3300
Amount of Index X Contracts: $100,000/$3300 = 30
Given the price of Index X, George would need approximately 30 contracts to perform a partial hedge.
Assuming Index X has a margin requirement of 5%, and has an exposure of $1 per point, George's Initial Capital outlay for Index X would have been:
$3300 * 5% * 30 = $4950 with a $99,000 short exposure.
A decline in the value of George's equity portfolio would have been potentially offset by the gains in his short index position.
Do note that this example is just a conceptual example on hedging. Charges such as commission and financing charges are not included in this example.
This scenario is ideal for people seeking capital preservation for their nest egg as opposed to high frequency trading or speculation.
Below is a list of CFD counters that have Mobile Gaming Industry exposure:
| | | | |
| --- | --- | --- | --- |
| Name | Ticker Symbol | CFD Margin Requirement | Notable Mobile Games |
| Activision Blizzard | ATVI | 20% | Call of Duty: Mobile ,Candy Crush Saga, Candy Crush Soda Saga, Hearthstone |
| Bilibili | BILI | 50% | Three Body Problem |
| Changyou.com | CYOU | 20% | TLBB Series,Blade Wars, Zentia |
| Electronic Arts | EA | 20% | The Sims Mobile, Fifa Mobile, NBA Live Mobile, Madden Overdrive |
| IGG | 0799.HKSE | 50% | Lords Mobile, Castle Clash, Mobile Royale |
| NetEase | NTES | 20% | Marvel Super War,LifeAfter,Hearthstone, |
| Take-Two Interactive | TTWO | 25% | NBA 2K, WWE 2K, World Poker Tour |
| Tencent Holdings | 0700.HKSE | 10% | League of Legends, Fortnite, Ring of Elysiun, Huo Ying Ren Zhe, King of Glory |
| Zynga Inc | ZNGA | 50% | Words with Friends, Empires & Allies, Farmvile |
Summary
Whether you are a buy and hold (long-term) investor or a hit and run (short-term) trader, it is crucial to understand the fundamentals of the industry. Given the increasing power of smart phones and the growing popularity of mobile games, you do not need to be a consumer to see the potential opportunities in this sector.
Whether you are a long-term buy and hold investor or attempting to gain exposure to this industry via CFDs, I believe this article will be beneficial for your understanding of the world of mobile gaming and CFDs.
Sign up for our mailing list now! Get notified with the latest articles, free webinars and more.
References:
[1]https://esports.clashroyale.com/finals/en/
[2]hasia.nikkei.com/Business/Business-trends/Mobile-esports-shine-on-Asian-Games-debut
[3]https://newzoo.com/insights/articles/global-games-market-reaches-137-9-billion-in-2018-mobile-games-take-half/
[4]https://newzoo.com/insights/articles/newzoos-global-mobile-market-report-insights-into-the-worlds-3-2-billion-smartphone-users-the-devices-they-use-the-mobile-games-they-play/
[5]https://statics.igg.com/news/9900/2019/10/16/20191016030447_8939_2780.pdf
[6]https://angrybirds.fandom.com/wiki/Angry_Birds_(game)
Disclaimer
This material is provided to you for general information only and does not constitute a recommendation, an offer or solicitation to buy or sell the investment product mentioned. It does not have any regard to your specific investment objectives, financial situation or any of your particular needs. Accordingly, no warranty whatsoever is given and not liability whatsoever is accepted for any loss arising whether directly or indirectly as a result of your acting based on this information.
Investments are subject to investment risks. The risk of loss in leveraged trading can be substantial. You may sustain losses in excess of your initial funds and may be called upon to deposit additional margin funds at short notice. If the required funds are not provided within the prescribed time, your positions may be liquidated. The resulting deficits in your account are subject to penalty charges. The value of investments denominated in foreign currencies may diminish or increase due to changes in the rates of exchange. You should also be aware of the commissions and finance costs involved in trading leveraged products. This product may not be suitable for clients whose investment objective is preservation of capital and/or whose risk tolerance is low. Clients are advised to understand the nature and risks involved in margin trading.
You may wish to obtain advice from a qualified financial adviser, pursuant to a separate engagement, before making a commitment to purchase any of the investment products mentioned herein. In the event that you choose not to obtain advice from a qualifies financial adviser, you should assess and consider whether the investment product is suitable for you before proceeding to invest and we do not offer any advice in this regard unless mandated to do so by way of a separate engagement. You are advised to read the trading account Terms & Conditions and Risk Disclosure Statement (available online at www.poems.com.sg) before trading in this product.
Any CFD offered is not approved or endorsed by the issuer or originator of the underlying securities and the issuer or originator is not privy to the CFD contract. This advertisement has not been reviewed by the Monetary Authority of Singapore.