Published On: 5th September 2019 | 05:00 PM
Kah Chee Liew, CFD Senior Dealer
Straits Times Index CFD - Your Ideal Tool to Battle the Ongoing Trade Wars
Are you getting frustrated by the lacklustre performance of your trades and investments in your portfolio of Singapore stocks?
Are you experiencing frequent Singapore stock losses by intraday swings and market opening gaps in current volatile market conditions?
Fret not, you are not alone, and Phillip CFD is here to help!
What is the Straits Times Index?
The FTSE Straits Times Index (STI) is a market capitalisation weighted index that tracks the performance of the top 30 companies listed on Singapore Stock Exchange (SGX). With CFDs, traders are able to trade the STI on leverage.
The Straits Times Index (STI) CFD has only registered a slight gain of 2.1% as compared to the S&P 500 which is up 18% year-to-date (as of the close of 04/9/2019).
It has been consolidating in a trading range nested in the middle of a wider two-year trading range for the most part of 2019 and it has been characterised by volatile intraday / intra-week trading ranges.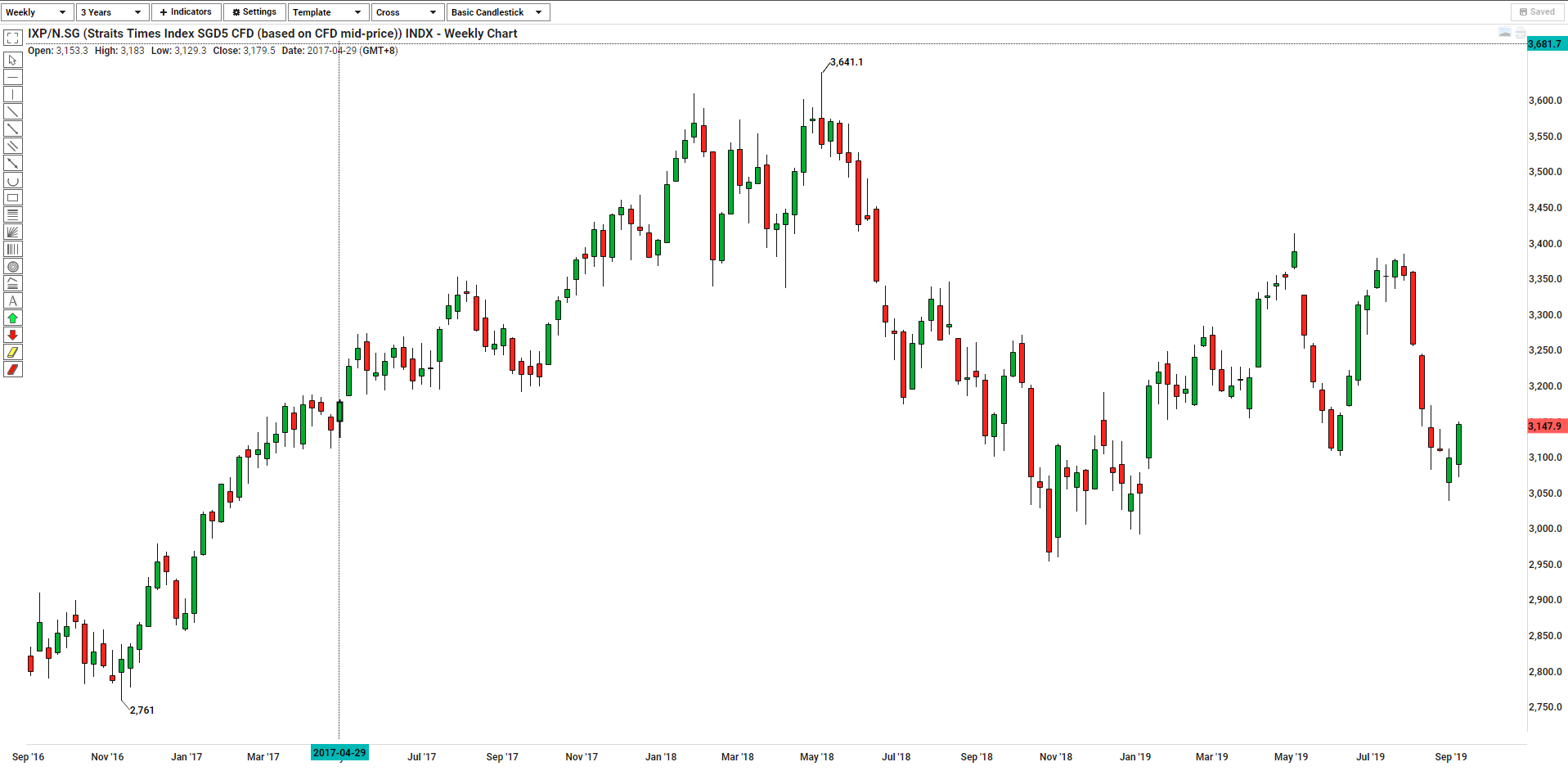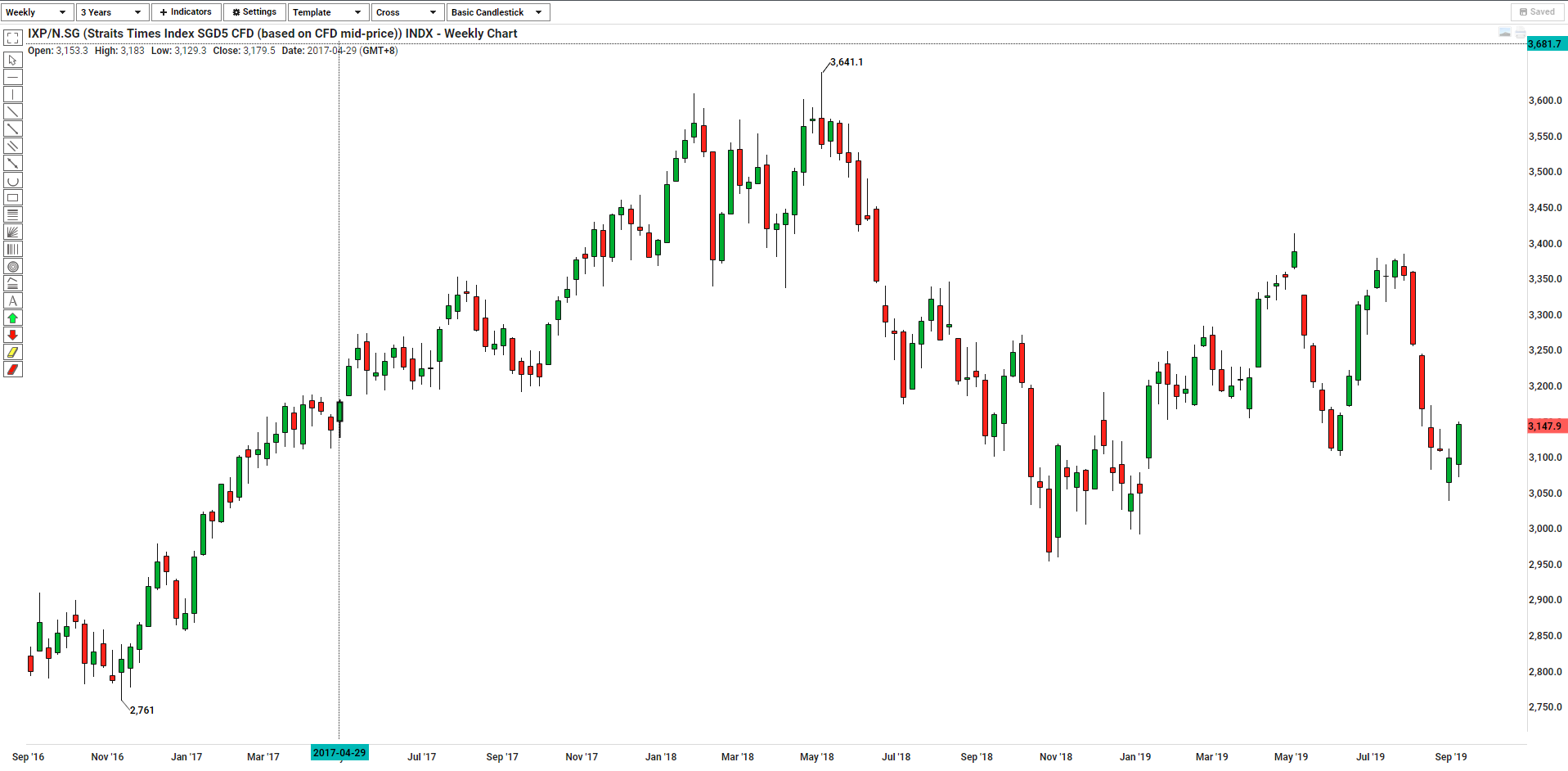 Straits Times Index SGD5 CFD (4th Sept 2019)
As major equity markets hover near multi-year highs, global slowdown in economic growth, aggravated by current ongoing and potential trade wars weigh heavily on global economies. Downward pressure exists at major resistances in stock markets worldwide, resulting in increased volatility.  Long-only traders and investors are finding it difficult to profit from such volatile markets.
STI CFD VS Singapore Equity CFD
Here are few key pointers outlining the differences between STI CFD and Singapore Equity CFD counters.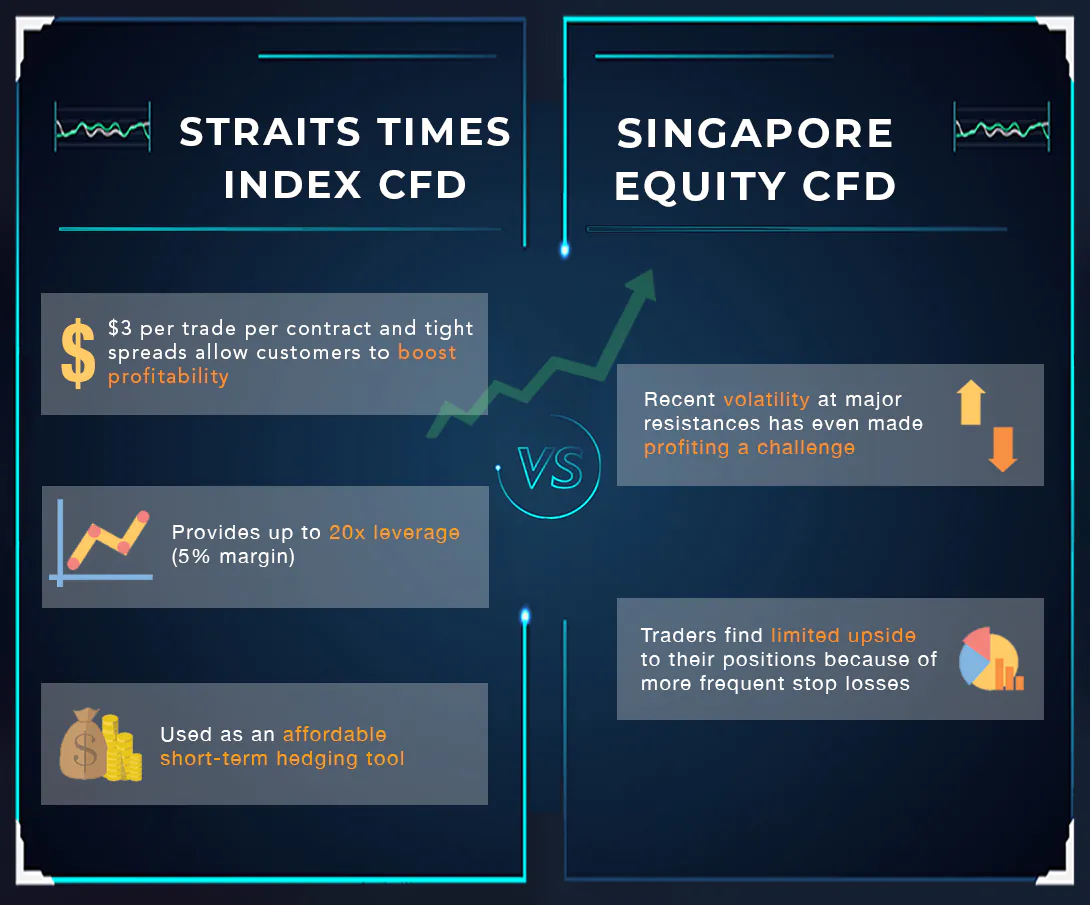 Why should you add STI CFD to your Trading Portfolio?

Many of Phillip Securities Pte Ltd (PSPL)'s local customers are very familiar with the Singapore stock universe.  However, recent volatility at major resistances has even made profiting a challenge for the more versatile CFD customers who are adept at longing and shorting Singapore Equity CFD counters.
STI CFD, costing only $3.00 per trade per contract with its consistently tight spreads, is a rare tool which Phillip CFD proudly offers to active customers seeking to have an edge in trading Singapore's most popular basket of component stocks.

With the increased volatility and with markets not moving in a clear direction, both intraday traders as well as long term traders are finding limited opportunities to enter into profitable trades.
The low cost STI CFD provides up to 20x leverage (5% margin) and can easily be utilised as an affordable short-term hedging tool for traders and investors who do not want to be affected by the daily price fluctuations in their Singapore equity positions.
To end off, here is a quote by Robert Kiyosaki.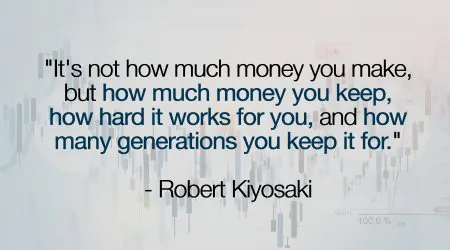 Straits Times Index SGD 5 CFD
Begin Your Trading Journey With Us!
Disclaimer
This material is provided to you for general information only and does not constitute a recommendation, an offer or solicitation to buy or sell the investment product mentioned. It does not have any regard to your specific investment objectives, financial situation or any of your particular needs. Accordingly, no warranty whatsoever is given and not liability whatsoever is accepted for any loss arising whether directly or indirectly as a result of your acting based on this information.
Investments are subject to investment risks. The risk of loss in leveraged trading can be substantial. You may sustain losses in excess of your initial funds and may be called upon to deposit additional margin funds at short notice. If the required funds are not provided within the prescribed time, your positions may be liquidated. The resulting deficits in your account are subject to penalty charges. The value of investments denominated in foreign currencies may diminish or increase due to changes in the rates of exchange. You should also be aware of the commissions and finance costs involved in trading leveraged products. This product may not be suitable for clients whose investment objective is preservation of capital and/or whose risk tolerance is low. Clients are advised to understand the nature and risks involved in margin trading.
You may wish to obtain advice from a qualified financial adviser, pursuant to a separate engagement, before making a commitment to purchase any of the investment products mentioned herein. In the event that you choose not to obtain advice from a qualified financial adviser, you should assess and consider whether the investment product is suitable for you before proceeding to invest and we do not offer any advice in this regard unless mandated to do so by way of a separate engagement. You are advised to read the trading account Terms & Conditions and Risk Disclosure Statement (available online at www.poems.com.sg) before trading in this product.
Any CFD offered is not approved or endorsed by the issuer or originator of the underlying securities and the issuer or originator is not privy to the CFD contract. This advertisement has not been reviewed by the Monetary Authority of Singapore (MAS).