Putting the Red Dot on the Map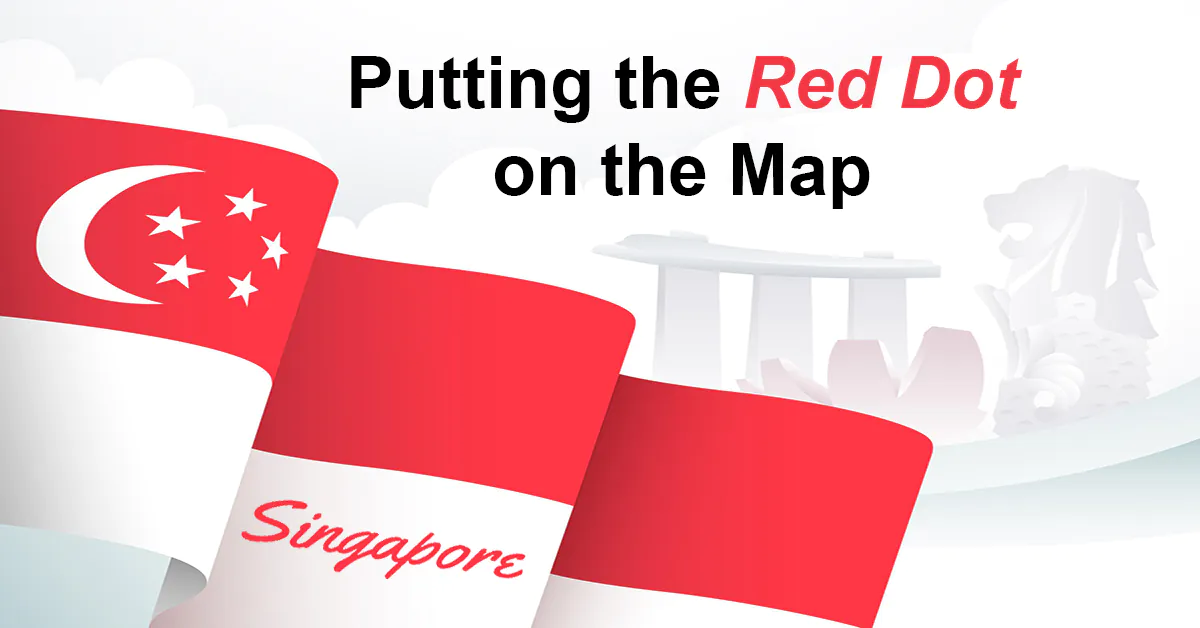 Mike Ong, Assistant Manager, Dealing 
Mike is a member of the largest dealing team that specialises in Equities, ETFs, CFDs & Bonds, and manages >50,000 client accounts in Phillip Securities. He believes in investing long-term for passive income and evaluates stocks using fundamentals. 
He is currently the chief editor of the HQ education series that aims to equip clients with tools and skill sets to make better investing and trading decisions.
Chua Minghan, Assistant Manager, Dealing 
Chua Minghan graduated from the National University of Singapore with a Bachelor's degree in Economics. He is passionate about education and went on to get a post-grad Diploma in teaching. His vision is to educate clients to make informed decisions for their trading and investments. 
Minghan enjoys learning fundamental analysis, technical analysis, and strives to use data analysis to improve his trading skills.
What this report is about:
As Singapore celebrates its 56th birthday, we commemorate by looking at 2 companies that have put the red dot on the world map.
Apart from buying their stocks, investors can gain exposure through ETFs or CFDs
The theme song for this year's National Day Parade is "The Road Ahead". It was composed by singer-songwriter Linying and music producer Evan Low.
As COVID-19 continues to ravage the globe, they hope to use their song to remind everyone that the road to recovery may be bumpy but there is strength to be found in unity.
Sea Ltd (NYSE:SE)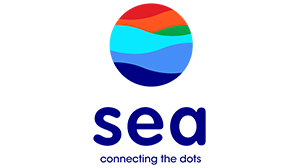 Back then:
Singapore-based Sea Ltd is often hailed as the Tencent of Southeast Asia.
The company was founded in Singapore in 2009 as Garena, an online gaming and social platform. Today, Garena is a leading online game developer and publisher with footholds in more than 130 markets. [1]
In 2014, the group established SeaMoney as a leading digital-payment and financial-service provider in Southeast Asia. Its mission is to improve the lives of businesses and people in the region through technology in financial services. SeaMoney's offerings include mobile wallets, payment processing, credit and other digital financial services and products. [2]
In 2015, the group further launched Shopee as a C2C mobile-centric marketplace. Since then, Shopee has moved to a C2C/B2C hybrid model. Its aim is to provide consumers with easy, secure, fast and enjoyable online shopping experiences.
Shopee is consistently ranked the top app in the shopping category in Southeast Asia by monthly active users, total time in app on Android and downloads by App Annie. [3]
Garena was renamed Sea Ltd in 2017, shortly before the group went for a listing on the New York Stock Exchange in October that year. The group continues to operates its businesses under its Garena, Shopee and SeaMoney brands.
Now:
Revenue grew at a 73% CAGR between 2014 and 2020. Gross margins have been consistently 20-30% except in 2018, which was affected by huge increase in cost of E-commerce and other services as they ramped up their E-commerce. Their profit margins have been improving in the past few years as the group scales up its businesses. In financial year 2020, Digital Entertainment is their biggest source of revenue and their most profitability segment in term of gross profit. [4]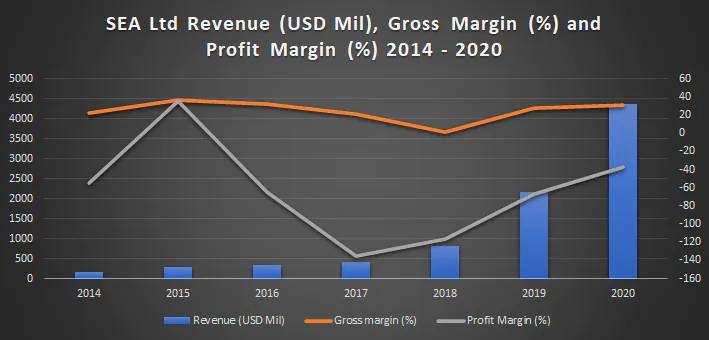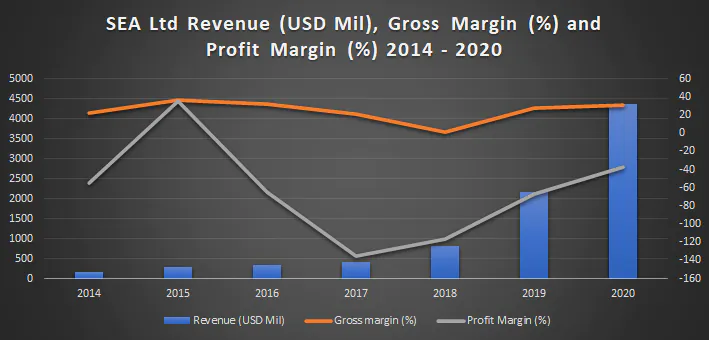 Figure 1: Sea's revenue (US$ mn), gross margins and net profit margins (%) in 2014-2020 [Company, PSPL]
In the first quarter of 2021, Sea's GAAP revenue was up 147% YoY. E-commerce was its largest contributor, growing 250% YoY. In digital entertainment, quarterly active users and paying users increased 61% and 124% respectively. [5]
In recognition of the stock's market value, Sea was recently included in the MSCI Singapore Index on 27 May 2021. Sea ADR (Singapore) was also included as one of the three largest additions to the MSCI World Index by full company market capitalization alongside Volvo A (Sweden) and Palantir Technologies A (US).
Future:
In a 2020 Temasek-Google-Bain report on the digital economy in Southeast Asia, 40mn new users were estimated to have come online in 2020. They joined the 100mn people who already started embracing the Internet in the previous five years.
COVID-19 had triggered a dramatic increase in digital consumption. About 94% of the new users said they would continue to tap online services after the pandemic. An exceptionally high 86% of users found that their financial needs could be better met online than in person or offline. [6] Based on this finding, demand for digital financial services can generally be expected to spiral further.
Sea's digital financial services only chalked up US$51.3mn in revenue in Q1 2021. This formed a fractional 2.9% of the group's GAAP revenue. [5]
Despite its smallest contribution, digital finance could be one of its game changers, particularly after the group was awarded a digital banking license in Singapore in 2020. This means Sea can now provide retail customers with traditional banking services such as account opening, collection of deposits as well as the issue of debit and credit cards. It can also serve corporate customers. This opens up a sea of opportunities in digital finance for Sea.
Razer (HKEx:1337)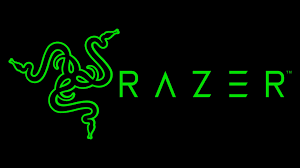 Back then:
Razer is a household name in gaming for its an ecosystem of gaming hardware, software and services. The company operates four businesses: peripherals, systems, software & services and others. [7]
Founded by Min-Liang Tan (Singaporean), and Robert Krakoff (an American) in 2005, Razer is a leading gaming brand in the US, Europe and China, with 17 offices worldwide. It listed on the Hong Kong Stock Exchange in 2017. Hong Kong's business magnate, Li Ka Shing, is invested in Razer.
From 2005 to 2010, Razer was the go-to brand for gaming mouse. It created the first dedicated professional mouse for gamers. From there, it went on to develop some of the best gaming keyboards, laptops and phones. It continues to innovate its high-end gaming hardware and build a gaming ecosystem, while extending its worldwide reach.
For its innovations in gaming, Razer has won the Best of CES Award at the annual Consumer Electronics Show in Las Vegas for seven years in a row.
Now recognised internationally, it is a regular sponsor of major esports tournaments.[8]
Now:
Revenue grew at a 25% CAGR between 2014 and 2020. Gross margins have been constant at 20-30% and net profit margins have been improving. Razer turned profitable in 2020, the year online entertainment exploded when people had to live, work and play at home.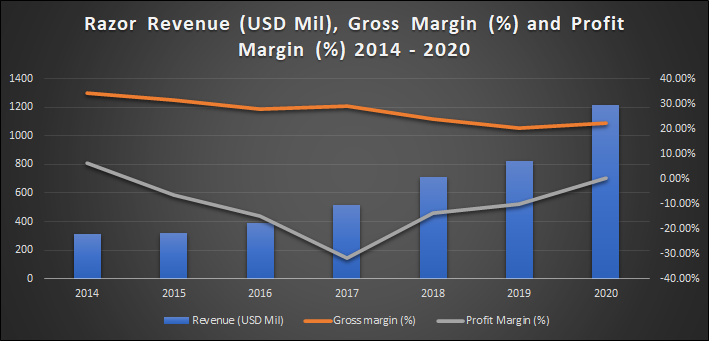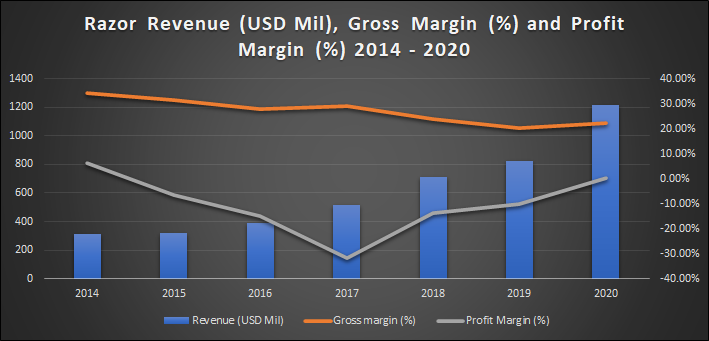 Figure 2: Razer's revenue (US$ mn), gross margins and net profit margins (%) in 2014-2020 [Company, PSPL]
After penetrating the fintech space in 2019, Razer is trying to set up digital banks in several countries. This is to serve its large base of gaming users in countries where vast sections of the populations remain unbanked. With digital banks, gamers can conveniently make payment while playing their games.
As Razer does not yet have any digital-banking licence, its fintech services are currently limited to payments. [9]
Future:
Revenue grew 66% YoY in 2020 for Razer's financial services [8]. Usage of fintech services is mushrooming in Southeast Asia and Razer is capitalising on the trend. It is highly likely that it will continue to develop its fintech business, even though it has encountered setbacks in obtaining a digital-banking licence in Singapore. The next two markets it intends to explore are Malaysia and the Philippines. [10]
In its bread-and-butter gaming business, Razer continues to scale up. [11]. Sitting on a pile of free cash, it plans to use it to roll out more hardware and software to enthrall its fans and capture more.
How to gain exposure
With economies worldwide slowly on the mend from COVID, investors have started to position their investments for the short, medium and long terms. Read our article on how rising yields affect markets and benefit some sectors more than others.
COVID has fanned the growth of the digital economy in Southeast Asia. Ongoing digitalisation will likely stimulate the further growth of companies in the digital economy.
We believe the above two companies will reap the fruits and continue to cast the spotlight on the red dot.
Investors and traders with a bigger risk appetite may consider using Contracts for Differences (CFDs) to gain exposure to these stocks.
CFDs are versatile tools for investors, particularly those who take an active approach to investing. They can be used for hedging, short-selling and leveraged trading. CFDs are traded on margin, which means you only need to put up a fraction of the full value of your trade upfront.
CFDs are also ideal tools for people with less capital but who wish to capitalise on the growth potential of certain industries. Or they may simply want to take advantage of the latest market movements regardless of direction.
A note of caution. Both your potential profits and losses are amplified when you trade CFDs. Hence, CFDs may not be suitable for investors whose investment objective is to preserve capital and/or whose risk tolerance is low.
To understand more, refer to our article on "Understanding Contracts for Differences".
Thank you for staying with us through this lengthy read! We sincerely hope that you've found value reading our article.
If you do not have a POEMS account, you may visit this link or scan the QR code below to open one with us today!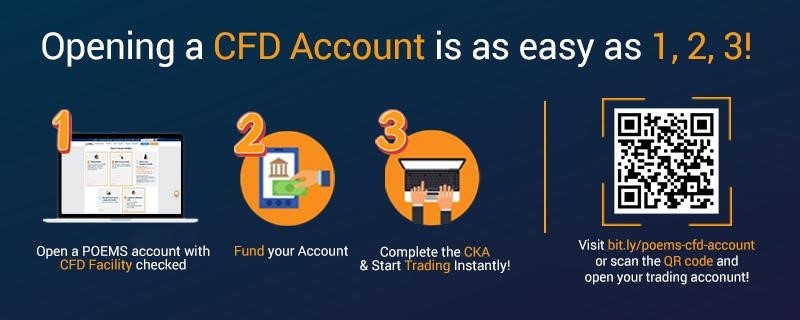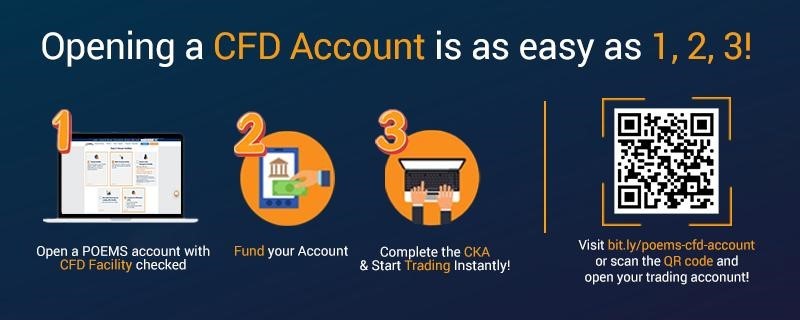 Trade on our award-wining suite of POEMS Platform. Open a CFD Account now!
Disclaimer
This material is provided to you for general information only and does not constitute a recommendation, an offer or solicitation to buy or sell the investment product mentioned. It does not have any regard to your specific investment objectives, financial situation or any of your particular needs. Accordingly, no warranty whatsoever is given and not liability whatsoever is accepted for any loss arising whether directly or indirectly as a result of your acting based on this information.
Investments are subject to investment risks. The risk of loss in leveraged trading can be substantial. You may sustain losses in excess of your initial funds and may be called upon to deposit additional margin funds at short notice. If the required funds are not provided within the prescribed time, your positions may be liquidated. The resulting deficits in your account are subject to penalty charges. The value of investments denominated in foreign currencies may diminish or increase due to changes in the rates of exchange. You should also be aware of the commissions and finance costs involved in trading leveraged products. This product may not be suitable for clients whose investment objective is preservation of capital and/or whose risk tolerance is low. Clients are advised to understand the nature and risks involved in margin trading.
You may wish to obtain advice from a qualified financial adviser, pursuant to a separate engagement, before making a commitment to purchase any of the investment products mentioned herein. In the event that you choose not to obtain advice from a qualified financial adviser, you should assess and consider whether the investment product is suitable for you before proceeding to invest and we do not offer any advice in this regard unless mandated to do so by way of a separate engagement. You are advised to read the trading account Terms & Conditions and Risk Disclosure Statement (available online at www.poems.com.sg) before trading in this product.
Any CFD offered is not approved or endorsed by the issuer or originator of the underlying securities and the issuer or originator is not privy to the CFD contract. This advertisement has not been reviewed by the Monetary Authority of Singapore (MAS).